---
Value Dramatically Outperforms Growth As Bonds & Bitcoin Slide
A quiet start to the last week of the month/quarter with bonds and the dollar down a bit, gold up a smidge, and all the volume in a rotation from growth to value (for a change) in equity-land.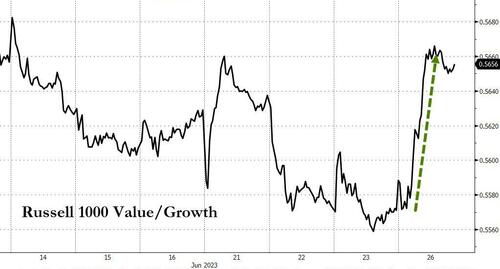 Source: Bloomberg
A weaker than expected Dallas Fed survey confirmed manufacturing is still f**ked in 'Murica as Independence Day looms, but on the day long-duration stocks (tech) significantly underperformed Small Caps (value-dominated). Late on, the entire market sold off (no obvious catalyst) with The Dow turning red along with the S&P and Nasdaq...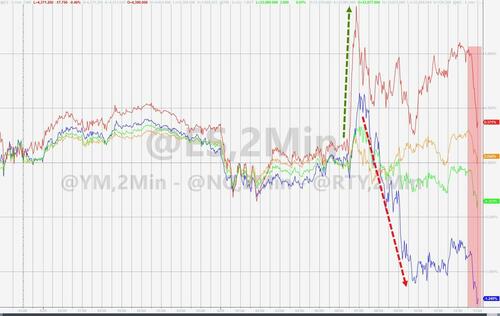 BTFD? As a reminder, the Nasdaq has not had a 'down July' since 2007...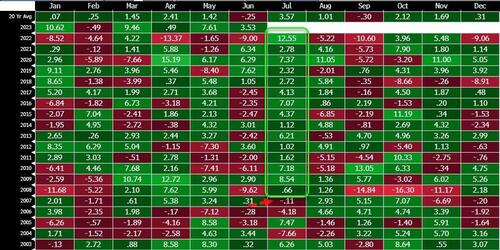 Source: Bloomberg
Notably the Nasdaq/Russell ratio found resistance once again and reversed...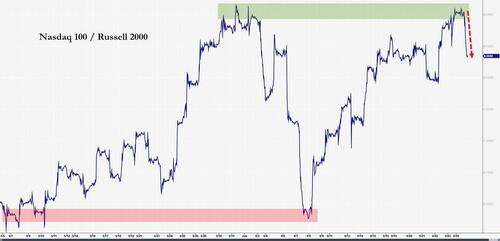 NVDA had an ugly day...
Treasuries were mixed on the day with the belly outperforming and the long-end lagging (30Y +1bps). NOTE that bonds were bid as Europe opened/Asia closed and then sold off on the US cash equity open - other than that, sideways...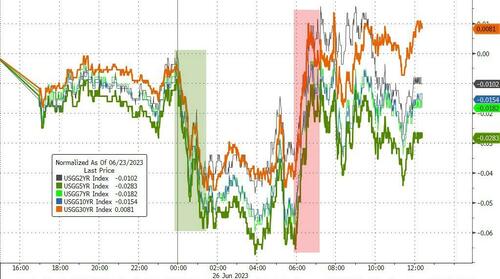 Source: Bloomberg
The dollar opened weaker on Sunday night and has barely moved since...
Source: Bloomberg
Bitcoin slipped back from almost $31,500 to $30,000 (and found support) for a small close lower...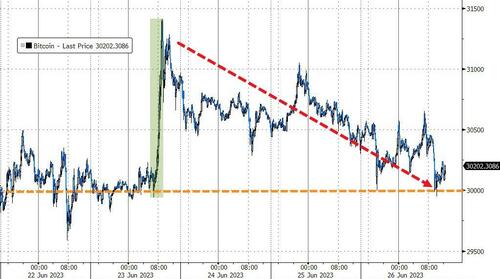 Source: Bloomberg
Oil managed gains on the day, but WTI was unable to break above $70...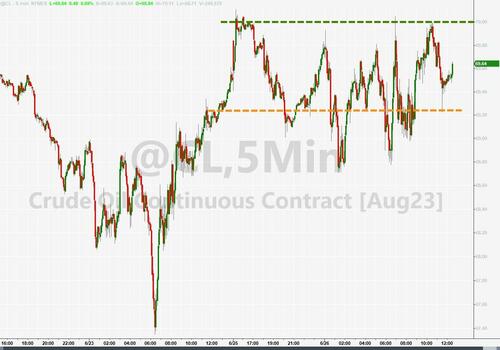 Gold clung on to very modest gains after a pump and dump intraday...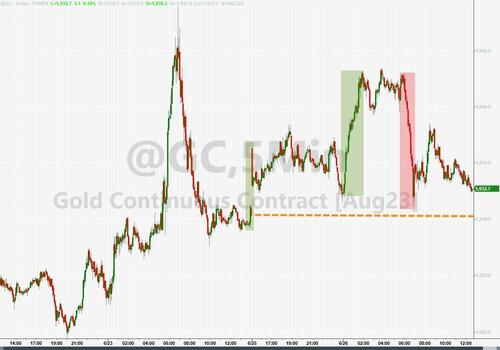 Finally, Nomura's Charlie McElligott warns that despite many long-term investors anticipating an eventual return to a larger thematic "Secular Disinflation" world as driven by the long-term realities presented from the "3 D's" (Demographics, Debt and Disruption—potentially supercharged now by AI) - many discretionary / tactical Macro investors are continuing to voice a conviction that it's unlikely to be a smooth glide path back to "the old world", and that we will continue to see overshoots in positioning and narratives as the "Frankenstein cycle" continues:
Service inflation remaining "stuck"

Worker wage renegotiations (higher) continuing around the globe

Food / Ag Commodity inflation again reaccelerating in the US

Broad "base effect" disinflationary tailwind again set to begin reversing course 3Q23 into 4Q23
But the market remains convinced The Fed will fold and start easing much more aggressively (i.e. weights a hard-landing/market-collapse with a higher probability than The Fed's Dots)...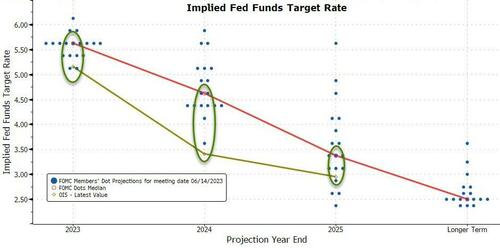 Source: Bloomberg
Perhaps it will be the collapse of the AI-Boom (or put another way, the demand pull-forward extrapolation error)...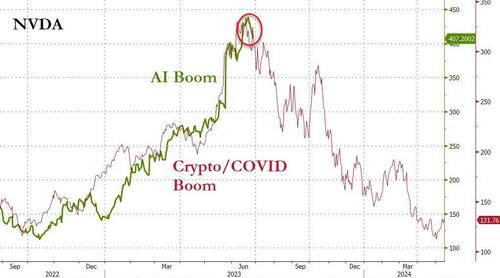 Source: Bloomberg
It's different this time though.
Loading...