---
Value-Rotation 'Cancelled' - Small Caps Slammed As Mega-Tech Meltup Accelerates
After a brief moment in sanity (perhaps) that saw headlines proclaiming a "value rotation" was about to begin, growth stocks have been panic bid for 8 straight days...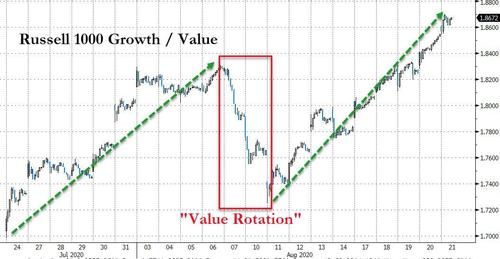 Source: Bloomberg
Simply put, value-allocators "get nothing"...
Sending growth to a new record high relative to value (note the trajectory of the move is very deja vu all over again)...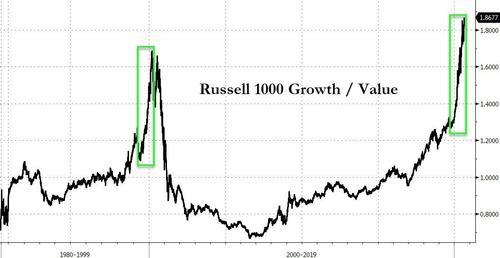 Source: Bloomberg
In fact, the last 3 months of growth outperformance has only been outdone by 1932 and 2000...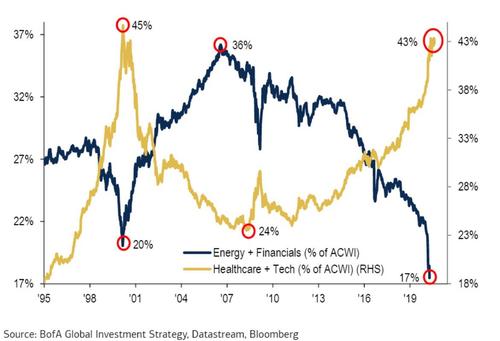 On the week, Nasdaq soared as Small Caps dumped...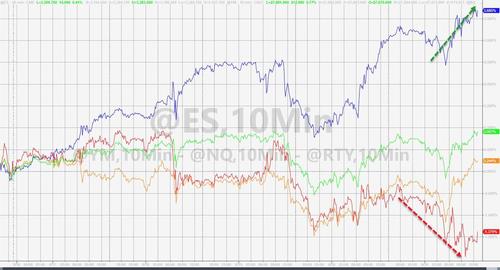 For yet another major swing in the Mega-Tech vs Small Caps weekly performance...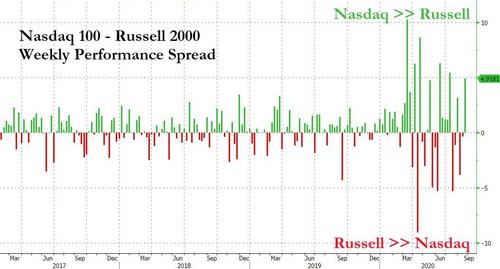 Source: Bloomberg
But breadth continues to confound...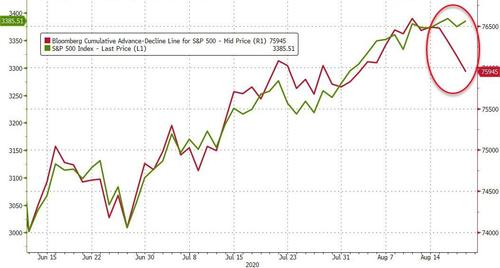 Source: Bloomberg
And Nasdaq is really decoupled...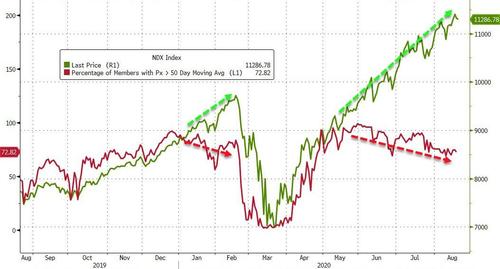 Source: Bloomberg
Apple shares continued to elevate adding simply stunning gobs of market capitalization every day ($110bn today!!)...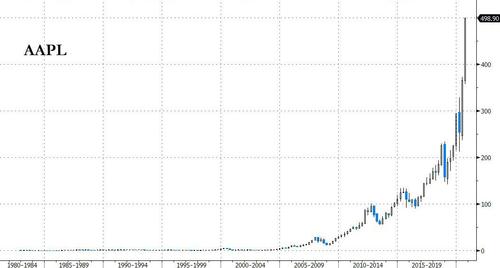 And TSLA won't stop ahead of its split...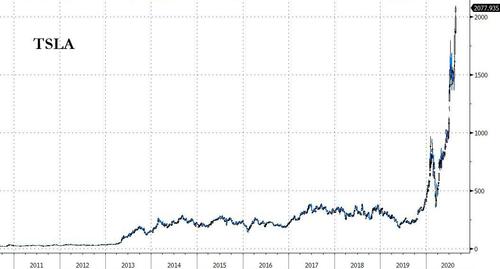 Treasury yields were all lower on the week with the long-end dramatically outperforming...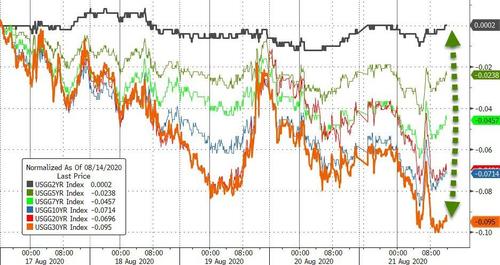 Source: Bloomberg
10Y Yields are back below 65bps...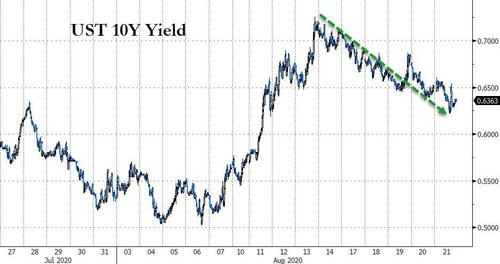 Source: Bloomberg
The yield curve flattened notably this week (after last week's huge steepening)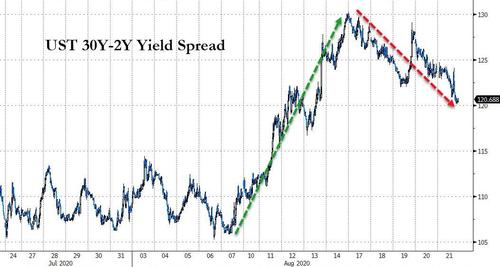 Source: Bloomberg
The dollar ended the week unchanged after a big roundtrip...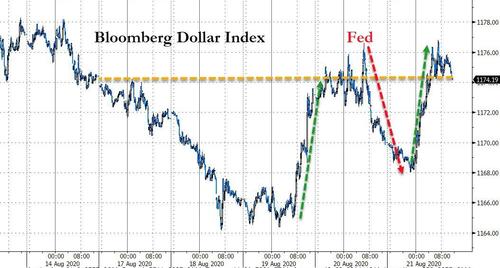 Source: Bloomberg
The dollar actually closed very very marginally lower at its lowest weekly close since June 2018 - making this the 8th weekly drop in a row (the longest streak since Aug 2010)...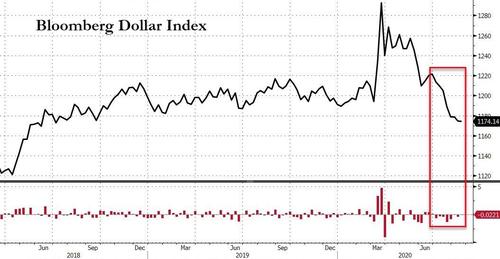 Source: Bloomberg
Ugly week for crypto with Ethereum's worst week since early May...
Source: Bloomberg
Did the DeFi boom just end?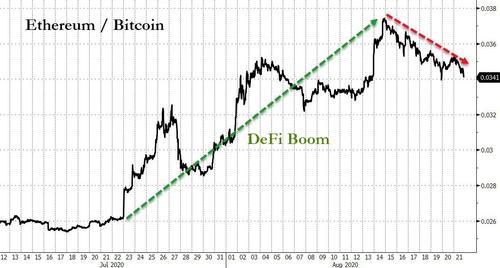 Source: Bloomberg
Copper outperformed on the week, gold and oil ended around unchanged with silver gaining modestly..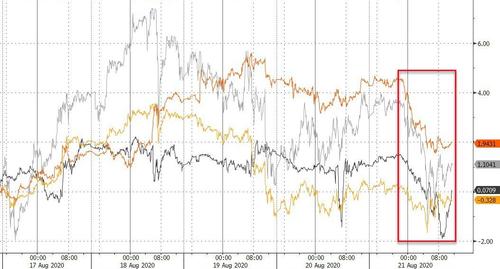 Source: Bloomberg
Gold closed back below $2000..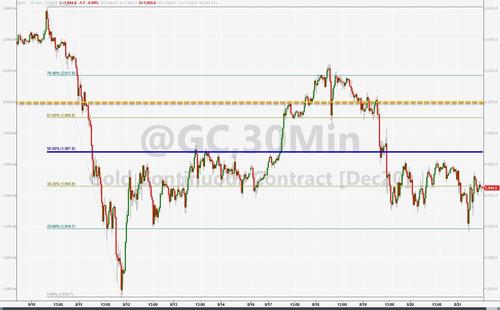 It seems like someone will stop at nothing to keep WTI above $42...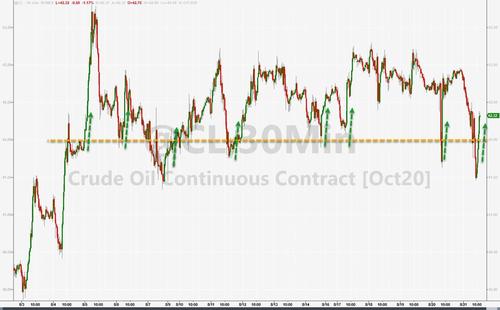 Finally, since around 2000 - when the world started to be flooded with liquidity - Wall Street has done well... but Main Street "got nothing"...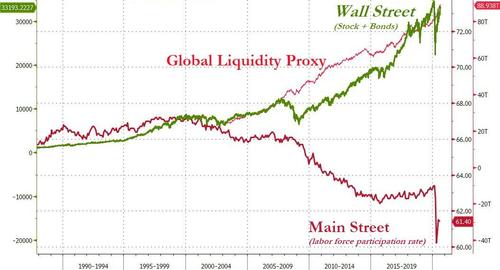 Source: Bloomberg
Can you handle that truth?
"There's this massive disconnect between fundamentals and markets," said Brian Payne, investment officer at the Teachers' Retirement System of Illinois.

"There's just too much capital chasing investments, the Fed is flooding markets and that leverage isn't going to the real economy. As we approach the election and concerns over a 'blue sweep' grow, that could be the inflection point where people's bullish sentiment turns bearish."
Not only is 'the market' not the economy, it's the opposite of the real economy?