---
Suez Canal Authority "Successfully Refloated" Vessel After Running Aground
Update (0240ET):
Leth Shipping Agency posted on Twitter that Xin Hai Tong 23 has been "successfully refloated." 
The Suez Canal Authority has successfully refloated M/V XIN HAI TONG 23 at 0740hrs.

The northbound convoy will enter at 0930hrs. https://t.co/r2aGSALXE0

— Leth (@AgenciesLeth) May 25, 2023
"The ship halted some traffic on the canal when it ran aground earlier in the day, but the Suez Canal Authority said traffic is back to normal in both directions," Bloomberg said. 
*   *   * 
Leth Shipping Agency posted on Twitter that a ship had become stuck in the Suez Canal in Egypt. The canal is one of the busiest shipping routes in the world. 
Tugboats are trying to refloat the vessel, Leth said, adding the ship's name is "Xin Hai Tong 23." 
M/V XIN HAI TONG 23 has grounded in the Suez Canal at KM 159/0400 hrs - leaving behind 4 vessels from the early convoy in addition to the ordinary group which was planned to enter Suez Canal at about 0600 hrs.

Suez Canal tugs are currently trying to re-float the vessel.

— Leth (@AgenciesLeth) May 25, 2023
Bloomberg data shows Xin Hai Tong 23 is a 189-meter bulk carrier built in 2010 sailing under the Hong Kong flag. The part of the canal where the bulk carrier is stuck appears narrow. Tracking data shows the vessel has run aground on the canal's bank.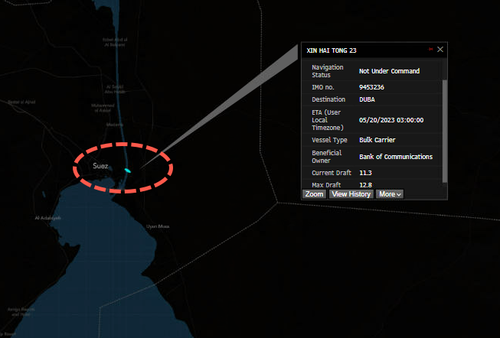 "Traffic in that section appears to have halted, with vessels waiting at both ends," Bloomberg said.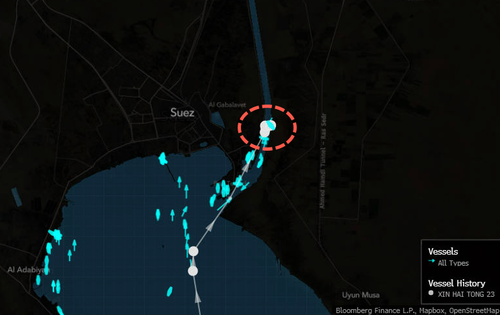 There have been several groundings in the canal over the last few years. The most significant disruption to global trade occurred in 2021 when the Ever Given containership blocked the canal for almost a week. 
Loading...