---
Vinyl Sales Eclipse CDs For First Time Since 1987
According to a new report by the Recording Industry Association of America (RIAA), vinyl records have experienced a resurgence in popularity, with sales outpacing those of CDs for the first time since 1987.
RIAA's report, published on Thursday, stated that in terms of physical units sold in 2022, records surpassed CDs with a total of 41.3 million sales, while CDs had 33.4 million sales. The industry group said vinyl sales had experienced sixteen consecutive years of growth. 
The vinyl boom is back for several reasons. During the pandemic, when concert venues were forced to shut down, some artists and their labels released music on vinyl to enhance the fan experience without them having to leave the house and offered a new untapped income stream for artists and labels. 
"I think that it was something that labels saw as a 'We can do this to generate some income [during the pandemic],'" Lyndsey Havens, a senior editor at Billboard, told Gizmodo recently. 

"That's why you see a lot of live albums that were rereleased on vinyl or pressed on vinyl for the first time. It's just a really good way to generate some extra income and then I think fans were responding well to that and now they're demanding it from their favorite artists," Havens said. 
Last year, revenue generated from vinyl records increased by 17%, exceeding $1.2 billion. This growth was especially significant during the pandemic. RIAA said that vinyl contributed to 71% of physical format revenue.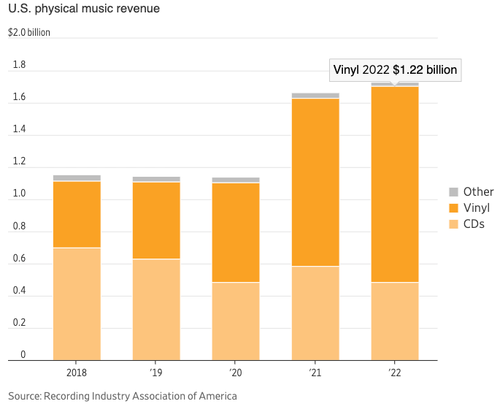 Meanwhile, RIAA said CD revenue fell 18% last year to $483 million. As we had previously noted in 2019, it was expected that sales of records would surpass those of CDs. 
A Substack article by Ted Gioia said, "if it wasn't for Taylor Swift, the vinyl market would have actually declined in 2022. This one artist did more to support vinyl sales than the much-hyped "Record Store Days.""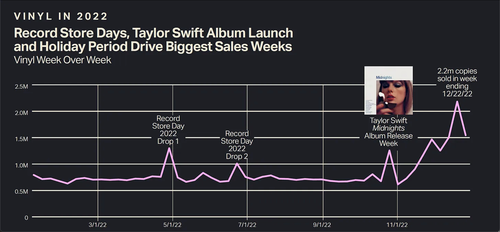 Gioia noted, "Half of the vinyl buyers don't own a record player. They apparently bought the Taylor Swift album as a kind of memorabilia—something a little nicer than a band T-shirt."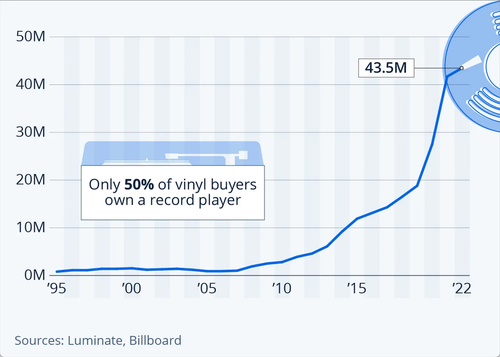 Gioia warned of a hype cycle in record sales.
Loading...