---
'Big CRE Short' Gains Momentum As Vornado Delays Dividend, Shares Plunge
The commercial real estate market faces impending turmoil as office and retail property valuations are anticipated to slide this year due to rising interest rates, which makes it challenging for owners of these properties to refinance the hundreds of billions, if not trillions, in debt coming due over the next several years.    
One tradeable real estate investment trust that has caught our eye is Vornado Realty Trust, an office, retail, and residential building owner, which slid as much as 13% in premarket trading, hitting a 27-year low.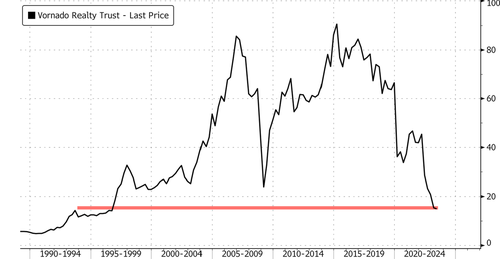 A rising rate environment typically results in annual declines for Vornado.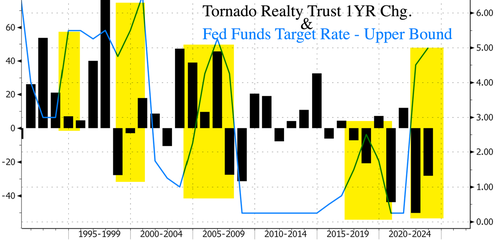 Investors are spooked by the 'surprise' announcement that Vornado delayed its dividend and authorized up to $200 million in stock buybacks. Analysts at PiperSandler said the move prompted them to downgrade the owner of offices. 
Here's more analyst commentary (list courtesy of Bloomberg):
Piper Sandler (downgrades to underweight from neutral, cuts PT to $11 from $16) 

Analyst Alexander Goldfarb says that, while he understands that many REITs aren't recognized for outsize dividend yields, a complete suspension this early in the year suggests more going on than the Street appreciates
If cash preservation is so critical, analyst wonders why the stock buyback program would be a good use of money 

Morgan Stanley (underweight, PT $13) 

Vornado's announcement comes as a surprise and follows the firm's previous dividend cut post-4Q, analyst Ronald Kamdem says 
While dividend-focused investors near-term could be disappointed, the share repurchases, if fully utilized, may be accretive to earnings

Bloomberg Intelligence 

Vornado suspending a quarterly dividend could save around $230 million over the next three quarters, which it might use to buy back shares under a new $200 million authorization, analyst Jeffrey Langbaum writes
Efforts to preserve cash are underway as the CRE landlords face higher financing costs. The surge in remote and hybrid work has notably impacted offices with rising vacancies. 
In a recent shareholder letter, Vornado Chairman and Chief Executive Officer Steven Roth warned:
"We are now approaching the eye of the economic storm, and I expect it will get even worse." 
Earlier this month, Kyle Bass, founder of Dallas-based Hayman Capital Management, explained office buildings in big cities need to be demolished because pre-pandemic demand is never returning. He insisted towers must be converted into apartments. 
"It's one asset class that just has to get redone, and redone meaning demolished," said Bass.
Recall the regional bank crisis in March. Days after the collapse of numerous banks, we outlined to readers the next big domino to fall: New "Big Short" Hits Record Low As Focus Turns To $400 Billion CRE Debt Maturity Wall.
VNO 27 year lowhttps://t.co/t7kb6ZsSk1

— zerohedge (@zerohedge) March 23, 2023
We pointed out the next big short: BBB- tranches of CMBX Series 15, due to its outsized exposure to office commercial real estate...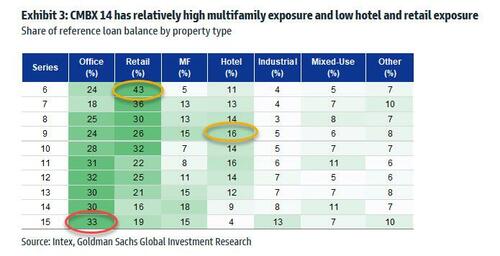 We also cautioned about a considerable maturity wall in the commercial real estate sector, with $400 billion of debt due this year. Morgan Stanley data shows $2.5 trillion in CRE debt comes due over the next five years.
The collapse in the share price of Vornado is a harbinger of what's to come for the CRE space. 
Loading...