---
Wall Street Bonuses Plunge 26% in 2022, Largest Drop Since Global Financial Crisis
In 2022, Wall Street bonuses plummeted, as per the annual data published Thursday by New York State Comptroller Thomas P. DiNapoli. The average bonus dropped 26%, amounting to $176,700, compared to $240,400 from the prior year. 
The plunge in bonuses comes as no surprise considering capital markets had a rough last year with the Federal Reserve hellbent on increasing interest rates in the most aggressive fashion in decades to combat inflation. In doing so, capital markets were roiled, and deal flow for mergers and acquisitions also dried up, resulting in significantly lower profits for Wall Street banks versus a record 2021 year. 
"As a result, bonuses returned to pre-pandemic levels, which will mean a decline in related income tax revenue, as anticipated by New York state and the city," the New York State Comptroller wrote in a press release.
DiNapoli said that bonuses in 2022 reverted to pre-pandemic levels after record highs in 2021. 
"Wall Street's cash bonuses were expected to fall as several factors weighed on the securities' industry profitability in 2022.

"A 26% decline brings the average bonus closer to what financial employees received prior to the pandemic. While lower bonuses affect income tax revenues for the state and city, our economic recovery does not depend solely on Wall Street. Employment in leisure and hospitality, retail, restaurants and construction must continue to improve for the city and state to fully recover."
We anticipated that banker bonuses would plunge. Recall:
However, the trend in bonuses comes as Wall Street banks added 10,500 jobs. Total employment increased to 190,800 in 2022 from 180,300 the year before. 

Notice how bonuses are sliding but number of Wall Street employees are rising?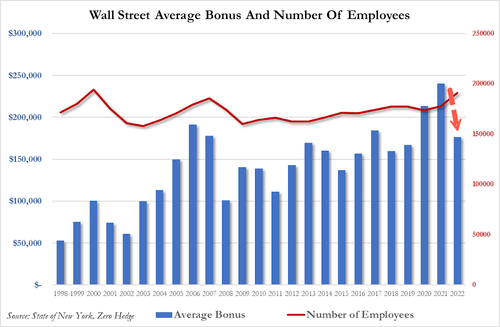 Meanwhile, the 2022 bonus pool of $33.7 billion experienced a 21% decline compared to the previous year's record-setting $42.7 billion, marking it the most significant drop since the Great Recession.

As a major source of revenue, DiNapoli estimates that the securities industry accounted for 22% ($22.9 billion) of the state's tax collections in state fiscal year (SFY) 2021-22 and 8% ($5.4 billion) of city tax revenue in city tax collections for city fiscal year (CFY) 2022. 
In a testament to how much NYC relies on the industry for its tax base, the securities industry provides roughly one-fifth of private-sector wages despite accounting for just 5% of that sector's employment. 
We suspect if capital markets continue to flounder and dealmaking activity remains depressed, 2023 will be a horrible year for bonuses -- this could further impact the city's economic recovery. 
Loading...