---
Wall Street Bonuses To Plunge Up To 40% Despite Buybacks, Record Trading, Dealmaking & Fee Revenue
Never let a good scapegoat go to waste. For 2020, the excuse that keeps on giving is definitely Covid-19 - perhaps with a side of "wokeness"...
These are the excuses that banks are likely to lean on when they pull the bonus carpet out from underneath their employees. That's right: as banks once again tee up large chunks of their own stock to buy back - and while fee revenue, trading revenue and investment banking revenue all scorch to record levels - bonuses are still expected to fall about 30% this year and firms are "considering layoffs to preserve profits", according to Reuters.
And if the media is going to be complicit in labeling the cuts a result of "Coronavirus stress", why wouldn't you take these last few months of the pandemic to throw out everything but the kitchen sink?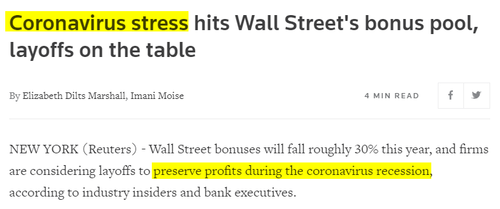 Maybe someone should tell Reuters banks had a great year and - for the rich - there is no recession. 
Regardless, a compensation consultant said Wednesday that bonuses could "as much as 40%" and that "Wall Street firms are likely to cut pay for almost everyone and defer more of it to save cash." 
The consultant, Alan Johnson of Johnson Associates, says "great" employees could see a 15% decline in bonuses with "meaningful deferrals" and that "sub-par" employees could see bonuses drop 50% or more. 
Even Johnson admits, the time is ripe for change: "Now is the time to get rid of the people you probably should have gotten rid of before. The industry has been carrying some extra weight for a while."
Firms are trying to decide between cutting bonuses and laying off employees, one executive told Reuters. Another exec said that stalled M&A and IPO deals were making it tough for banks to "support the expense base". 
Meanwhile, as FT noted just this morning, banks have brought in a record $124.5 billion in fees this year.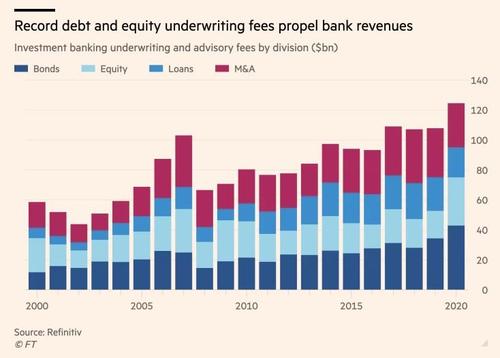 The same piece notes that Wall Street's biggest firms have generated a record $37 billion of investment banking fees in 2020. Here's how that stacks up over the past decade: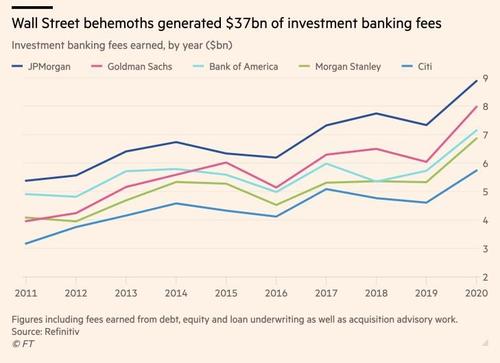 In fact, Jason Goldberg, an analyst at Barclays, said: "It was a "very robust year for underwriting both debt and equity. You saw a bump this year as companies looked to access capital markets to shore up their balance sheets in the face of pandemic-related uncertainty."
We were the first to mention the potential 30% bonus cut figure as far back as May of 2020, when - 7 months in advance - we wrote about how bonuses could fall "as much as 30%" this year. In October, we followed up, stating that bonuses were still expected to fall despite record trading revenue. 
In December, we noted that Deutsche Bank was likely going to be paring back bonuses and not even a week ago, we noted that Credit Suisse had all of a sudden "grown a conscience" and that bonuses would be down at the bank. Credit Suisse's CEO had no problem blaming bonus cuts on taking the moral high-ground, as he said this week that "it's too early to say, but generally you have to expect that bonuses will be down compared to last year and this is part of our solidarity and social responsibility. This is a challenge, but it's something the whole industry is facing."
That news came just days after we reported that bonuses at Goldman could wind up jumping 20% for some employees - namely its trading division - this year. Other divisions at Goldman would likely see cuts, the report noted. Traders who were able to navigate the volatility associated with Covid during the year are more likely to earn fatter bonuses than those who worked in sales, maintaining client relationships, we wrote.