---
Wall Street Reacts To Credit Suisse Rescue: Stock Gains Fade Amid Doubts SNB Support Not Enough:
Credit Suisse shares jumped 40%, most on record, at the European open after the lender tapped the Swiss National Bank for as much as 50 billion francs and offered to repurchase debt, but have since trimmed gains in half amid speculation confirming our skeptical view voiced last night that the bailout would be insufficient. The shares fell 24% on Wednesday after its top shareholder ruled out a bigger investment.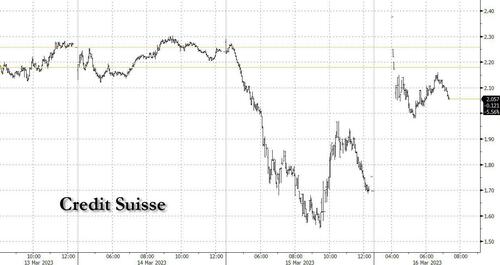 Below is a snapshot of hot Wall Street analyst takes.
Vontobel analyst Andreas Venditti (hold, PT CHF2.9) says CS's intention to borrow up to CHF 50b and launch tender offers for debt securities is a strong and important signal which should help calm markets
RBC analyst Anke Reingen (sector perform, PT CHF3) says a stronger liquidity position and a backstop provided by the Swiss National Bank with the support of Finma are positives; Says regaining trust is key for shares and adds that "measures taken should provide some comfort that a spillover to the sector could be contained, but the situation remains uncertain"
JPMorgan's Kian Abouhossein (neutral, PT CHF3.80) says the SNB liquidity support indicated last night as not enough; CS's situation "is about ongoing market confidence issues with its IB strategy and ongoing franchise erosion"; Says options from here include: full closure of the IB; the SNB stepping in with full deposit guarantee on all deposits or injecting equity to give CS time to restructure; a takeover scenario
BofA Securities (Alastair Ryan, buy PT CHF3.85) sees support as materially de-risking the bank from an investor perspective and notes the regulators' statement is clear that Credit Suisse in its current form will continue
Developing
Loading...