---
Wall Street Reacts To Powell's Surprising Dovish Presser
Talk about a heafake: with everyone expecting Powell to be super hawkish during his presser, imagine everyone's shock when Powell repeatedly - over and over - avoided and ignored, on purpose, every opportunity to be even remotely as hawkish as he could have been, and as a result we saw risk assets explode higher. Of course, that sparked a fresh round of even more laughable kneejerk reactions from much of Wall Street, with the cognitive bias and dissonance of so many bears so glaringly obvious.
New Edge Wealth
"The more the Fed leans against rate cuts, the more markets will price in rate cuts as a scenario that the Fed must catch up on the other side of much lower inflation. .. as that process goes on,.. equities can rally.. the January rally shouldn't be faded."
Jeff Rosenberg, portfolio manager at BlackRock
"there's real disconnect between what the Fed statement and Powell said on the one hand, and what markets heard on the other. Powell flubbed the question about whether the easing in financial conditions hurts the Fed's work. It absolutely matters."
Peter Tchir, Academy Securities
"I think we can now "safely" say the Fed is just about done hiking (and done hiking if I'm right on the data). Today we rally. We remain above key technical levels, and hearing a lot of chatter that people will pile into weekly call options on anything that moves (seems plausible)... I'm now at finger tapping the table bearish on risk and more or less neutral on rates (not all the way to pounding the table bearish, but up from mildly bearish - which was clearly wrong)."
Omair Sharif of Inflation Insights
"Not sure I get this obsession with a 'couple' of more rate hikes as being dovish. I thought it was dovish after I read the statement! The change in the inflation language in the statement combined with the change in the language from 'pace' to 'extent' suggested that they were debating when to pause and indicated that 5.1%, which was the median dot for 2023 in the December SEP, was the ceiling, barring any big changes in the data."
Roger Hallam, head of rates at Vanguard
"The bond market has extrapolated chair Powell's more balanced tone to think there is a pause coming soon. That is not what he said today, with at least a couple more hikes to come," and "he did raise the prospect of doing more if the data was stronger."
Mike Loewengart, head of model portfolio construction at Morgan Stanley Global Investment Office:
"As expected, the Fed raised rates by 25 basis points as the debate for investors has shifted from the size of hikes to when they will no longer be ongoing. Despite the market's initial reaction, it seems like the hike was priced in for the most part as we see a slight step back from January's bear-market rally. Remember that while inflation may have peaked, easing isn't the same as evaporating. And with each month that passes, the Fed may be getting closer to pausing rate hikes, but that's not the same as pivoting to rate cuts. Investors should likely prepare for the possibility that the volatility that dominated last year could re-emerge -- even if 2023 turns out to be an improvement from 2022."
Finally, here is Bloomberg's AI assessment of Powell's statement which is clearly the most dovish in about a year.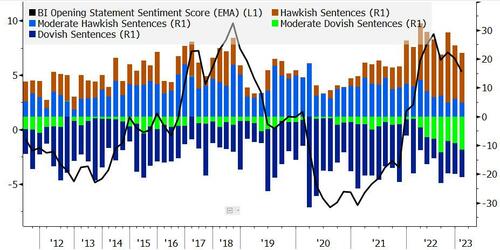 * * *
As usual, the only thing to kneejerk almost as fast as stonks after the FOMC statement release, is the barrage of bite-sized comments from the strategist/economist peanut gallery. And since today is no difference, with the digital ink on the FOMC statement still wet so to speak, here is the first barrage of sellside reactions.
Omair Sharif of Inflation Insights
"The FOMC statement was more dovish on inflation, albeit still cautious, but the one word change from the 'pace' of future rate hikes to the 'extent' of future hikes tells you that when the Minutes come out, we'll likely read that officials have begun to debate when to pause. "It seems that the market is taking this as somewhat hawkish because the Fed actually plans to follow through and get to 5.00%-5.25% on the funds rate as opposed to market participants' hope that perhaps this would be the last hike. No such luck, but I think acknowledging that inflation has moderated somewhat and signaling that the 'pause' debate is underway is dovish."
Ben Jeffery at BMO Capital Markets says:
"Biggest takeaway from the FOMC statement, along with the widely-expected 25 bp rate hike, was that the Fed opted to leave 'ongoing' within the formal language and indicated that there are more tightening moves to be realized this cycle."
Priya Misra at TD Securities says
"So far slightly hawkish message -- inflation has eased but remains elevated. They hiked 25bp and likely will hike a few more times in their base case. Should move front end rates higher. Not good for risk assets so long end might keep a bit of a bid. Focus on whether Powell talks about his current view on the terminal rate and fin conditions at the presser."
Dennis DeBusschere, of 22V Research
"As always, wait for the press conference, and in particular, how much Powell focuses on pain. The need for the economy to take some pain, or not. At the last meeting, he was very pain-focused."
Avery Shenfeld, chief economist at CIBC Capital Markets
"Nothing to see here, folks." But the retention of "ongoing increases" guidance could be, essentially, an effort to address the easing in financial conditions: "That could be an effort to push the bond market towards higher yields in the here and now."
Childe-Freeman, Bloomberg Intelchief G-10 FX strategist, says keep looking
"The dollar is up marginally on the Fed's confirmed hawkish bias, but this could prove a short-lived bounce, as there's nothing particularly new here and nothing to alter what remains a dollar-negative narrative this year."
Neil Dutta, Renaissance Macro
"Interesting change in the second-to-last paragraph. They took out 'public health' when discussing 'assessments will take into account a wide range of information...' -- Lines up with Biden's ending of the public health emergency. I know it is coming in May, but nonetheless."
John Bellows, Western Asset
"There is only so much Powell can say to push back on the divergence between markets and the Fed."
developing
Loading...