---
Wall Street Vet Says "Rocket Ship" Economy Will Take S&P 500 To 4,000 By 2021
Among CNBC's stable of roughly two dozen or so go-to talking heads, few have mastered the art of being unflappably bullish come hell or high water quite like Capital Wealth Planning's chief investment officer Jeff Saut. With his southern twang and folksy appeal, Saut is a regular on the channel because he knows how to inject a little showmanship into his soundbites.
And a critical component of that is by throwing out S&P 500 year-end targets that surpass even his most bullish colleagues from the sell-side research shops. Late last year, he was targeting 3,600 before Jan. 1, 2021. And during a brief appearance on "Squawk Box" Monday morning, Saut elicited an incredulous response from host Joe Kernen when Saut upped his year-end target on the S&P 500 to 4,000.
Asked to elaborate, Saut explained that he believes the US economic recovery is further along than many economists believe. With every body from the IMF to Goldman Sachs lower their outlook for 2020, Saut says he expects Q2 and Q3 earnings season will take many by surprise. Even if the Fed doesn't continue to expand its program of monetary stimulus, Saut believes the economic recovery would continue regardless, spurred by the strength of its own momentum.
To back up this claim, he cited a dubious example: the long-suffering restaurant industry.
"Y'all live in New York City. Go to the restaurants...the restaurants are full. Restaurants in St. Petersburg [note: not the one in Russia] are full. The economy is doing a lot better than most of the economists think," Saut said.
That's an interesting comment to make considering that 80% of these very same restaurants couldn't afford to make rent in June.
But none of this matters to Saut, apparently. Because his models show that the economy is coming back, baby. The market isn't reflecting the Powell Fed's willingness to push the boundaries of balance sheet expansion, but rather the indefatigable buying power of the American consumer, nevermind the fact that millions of Americans remain unemployed, and newly released data from the 'PPP' shows that some recipients still received grants despite laying off most of their workers.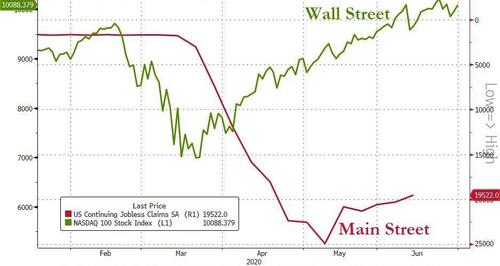 Apparently, there's only one figure that matters to Saut: The $5 trillion invested in money market funds just waiting to turbocharge the rally.
"People are woefully underinvested. There's $5 trillion in money market funds. So I think the markets are going up. I think they're going up a lot more than people think. We may stall here for a while...but I think you're gonna get a rocket ship coming in the fall this year," Saut said.
But that doesn't matter. Because more than any other analyst, Saut has the art of the CNBC interview down to a science. You don't need to talk about fundamentals, or data points or anything of substance, really. Just stay near the head of the bullish pack, and insist that all of those crackpots grousing about "Mt. Printmore" simply need to get out more.