---
Wall Street's Most Bearish Analyst Warns Of "Calamitous" Collapse In First-Half Earnings
The real groundhog day may have come and gone (with roughly 6 more weeks of winter on deck according to Punxsutawney Phil) but when it comes to markets, Monday had another case of deja vu day for traders, when JPMorgan did what it does at the start of every single week when it told its clients to buy the dip (assuming they still have money left to do that), while Morgan Stanley did the exact opposite, urging investors to sell the rally and trim exposure as stocks head for the bank's base case year-end target of 4,400 (which is not that much lower from current spot price), neither of which is surprising as it happens with clockwork regularity every single week ...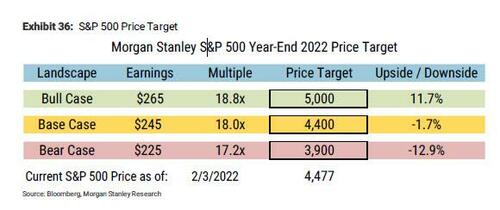 ... but what is new, is that in his latest weekly Equity Strategy note, the bank's chief equity strategist Michael Wilson picked up on what we said over the weekend (see "This Is The Worst Earnings Season Since Covid Emerged And It's About To Get Much Worse"), and warned that earnings beat rates for US stocks in the first half may fall below zero compared to current estimates, adding that earnings risk is increasing for a wider swath of the market than most investors expect as rising inventories meet waning demand.
But before we dig in more into Wilson's traditional pessimism, this is what JPM's habitual permabullish equity strategist Mislav Matejka had to say today to pump up the bank's client to buy more stocks:
We believe that equities still offer supportive risk-reward, and that the cycle is far from over. We look for more gains in earnings, bottoming out in China activity, after being cautious on the space last year, and expect the Fed not to turn ever more hawkish, relative to what is currently priced in, USD could be peaking. Investor sentiment has become too negative of late, as evidenced in Bull-Bear moving to lows of the range, which is typically a contrarian signal. We think it is wrong to position for a recession given still extremely favorable financing conditions, very strong labor markets, underleveraged consumer, strong corporate cash flows and banks' strong balance sheets.

The sector leadership remains risk-on, and it is not consistent with a continued slowdown. There was a very significant selloff in a number of high-multiple Growth areas, with Fintech down 35% to recent lows, non-profitable Tech down 40%, etc. The question is whether one should buy back Quality, especially if one sees a potential peak in inflation. In our view the key is the direction of bond yields – we expect them to continue moving higher, and that was always consistent with Cyclical leadership. Regionally, we reiterate our upgrade of UK to OW, after six years of a cautious stance.
In short, the same old BTFD.
Moving to Morgan Stanley, we first remind readers that on Saturday we observed a very ominous development in the current earnings season where 4Q consensus EPS was "tracking just 2% above where it stood on Jan 1, led by tech and financials, while revenue beats are even more precarious, tracking at just +1% versus consensus, which is far weaker than prior quarters since COVID when EPS was +11% on average vs. consensus by Week 3."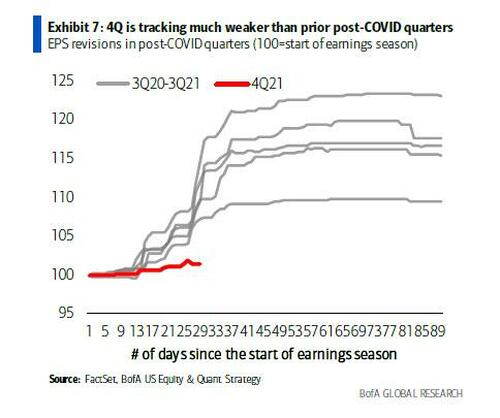 So picking up on this warnings, Wilson today writes that he "continues to be more focused on what growth is going to do rather than rates and believe investors are still too optimistic, particularly as it relates to consumption."
Indeed, we have long highlighted declining consumption as our biggest concern - and primary driver - behind the sharp slowdown in the US economy in Q1, and contrary to the prevailing groupthink that the slowdown is purely Omicron driven, and thus transitory, there will be no rapid rebound in Q2 from the Q1 contraction. In fact there won't be any rebound at all and instead the US economy will continue to grind into a slowdown, even as the Fed aggressively hikes into - and accelerates - the coming recession.
Indeed, Wilson also agrees with this bleak view, and warns that "signs of weakness go beyond Omicron." And here's why: "Overall, 4Q earnings season has been generally in line with a typical quarter...beat rates are back to 5% which is the long term average" as we ob first noted on Saturday. However, as we also noted, this is well below the beat rates of 15-20% observed over the past 18 months, "a period of over earning" according to Wilson. The key question now for investors is whether we are going to return to "normal" or will we experience a period of under earning first--i.e. payback?
Here Wilson reminds readers that he has long held the view, which just so happens is identical to ours, that "payback was coming in 1H2022 as the extraordinary fiscal stimulus faded, monetary policy tightened and supply caught up with demand in many end markets."
In short, Wilson thinks the first half of this year could see beat rates fall below zero, at least relative to current estimates "and before they are managed lower." Indeed, earnings revision breadth leads and recent trends suggest we are headed in that direction, and as Wilson warns "the companies with  the greatest earnings risk remain those businesses that benefitted from the pandemic pull forward the most."
One such glaring example of this kind of "over-earning" is Peloton. And while there are many potentially obvious candidates for a payback in demand over a year ago, Wilson cautions that "there is a little Peloton in everyone" and adds that over the past few weeks this view - which until recently was confined to "fringe blogs" such as Zero Hedge  - "has started to permeate the market as several leading companies like Netflix, Paypal and Facebook have disappointed with weaker than expected guidance. While Netflix may have been a more obvious one, the others were not and suggest the payback could be deeper and wider."
In sum, Wilson suspects "there will be more surprises on this front and is one of the reasons we think the 1H slowdown in growth will be worse than the consensus expects."
In addition to the payback for last year's over consumption, there is growing evidence that the consumer may be in a weaker position to spend even if she wants to. This, too, is a point we have been banging the table on for the past 3 months. A first warning comes from consumer confidence measures which continue to remain in recession territory, mostly due to inflation that could start to be demand destructive, particularly for discretionary items.

This risk is acute for the lower income cohorts where - as even Goldman admitted recently - inflation in necessities is eating into disposable income, largely due to the expiration of the child tax credit. Bottom line, Wilson thinks the consumer spending is at risk and and it's not all due to Omicron. Instead- and here we agree 100% - it is "a combination of government transfers running as prices rise to levels of demand destruction."
In other words, unless Biden wants a recession on his hands, and unless Powell wants to be hiking into a bloodbath, they better start getting the narrative/crisis for the next stimmy payment ready.
* * *
Here Wilson takes an aside from his regularly scheduled sermon of doom, to advise readers that the bank recently ran a survey of ~2,000 US consumers in conjunction to gauge consumer sentiment and spending intentions. It found that rising prices/inflation remains the number one concern for consumers with 56% of respondents (all-time high) citing it as one of their top concerns vs. 52% three months ago and 34% the same time last year. At the same time, consumer confidence in the economy continues to trend down, albeit at a slower rate; 33% expect the economy to get better (compared to 35% three months ago and ~43% same time last year).
Not surprisingly, Consumers on the lower end of the income spectrum have a more negative outlook on their household financial situation over the next 6 months (Exhibit 3). Consumers are feeling the impacts of high inflation and are very concerned about it as evidenced by 56% of them citing it as their primary concern. The percent of lower income consumers citing it as their number one concern also rose over the past quarter (Exhibit 4). 

The highest income group surveyed, those making over $150,000, saw little change in inflationary concerns and with 49% citing it as their primary concern. This is logical: inflation is particularly tough on lower income consumers as they spend a much greater percentage of their income and have little savings. Higher prices and the end of Covid related stimulus benefits is likely to continuing weighing especially hard on this group and could impact their demand for discretionary spending.
Meanwhile, consumers across the income spectrum are expecting to spend more on staples categories over the next 6 months vs the last 6 months. This is likely partially a function of inflation as consumers recognize the cost of their essentials is rising. Spending on durables, consumer electronics, and travel/leisure is expected to decline for lower income cohorts.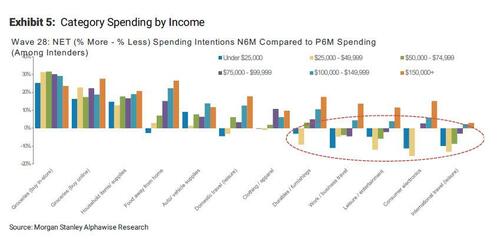 In other words, a big reason for the recent surge in retail sales and consumer spending is precisely because of runaway inflation as consumer hope to lock in prices before the next big move higher. This means that once the current reflationary period ends, and inflation expectations reset (whenever that may be), the next recession will be hammered by not just reduced economic activity but by a complete collapse of spending as consumer no longer feel an impetus to purchase ahead of even lower prices. That will be a nightmare scenario for the Fed which will then have no choice but to unleash a massive monetary stimulus (especially since after the midterms which the Dems will lose by an avalanche, there will be no more fiscal stimulus until at least 2025 at the earliest).
* * *
Which brings us to the last question addressed by Wilson in his weekly note: Will Rising Supply Help or Make it Worse?
According to the MS strategist, coming into this year, many investors and even the Fed were expecting supply chains to loosen up and alleviate some of the inflationary pressures described above (not this website). Labor shortages have also been an issue and why wage increases are the fastest in decades. And while Friday's employment report brought some good news on that front with a nice rise in the participation rate to 62.2%, up 30bps, it did not alleviate the wage pressure as unit labor costs far exceeded expectations, coming in at 5.7% y/y.
While those increases can help to offset inflation for the consumer, they haven't been keeping up. Real wage growth is deep in negative territory.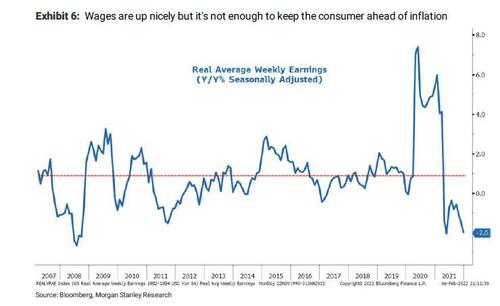 Not only is this the most negative real wages have been since the Great Financial Crisis but as Wilson notes, it's also in sharp contrast to where we were a year ago. He adds that "this simply increases the odds of consumption disappointing in the first half of the year even if Omicron proves to be the last major wave of this pandemic. In other words, Wilson doesn't expect better supply of labor to alleviate the wage pressures on overall inflation metrics in the near term. "Furthermore, these wage increases are unlikely to be big enough to alleviate consumers' concern about rising prices."
Another popular theme coming into the year highlighted by Wilson, was that inventory restocking would drive economic growth and help alleviate some of the inflationary pressures. Furthermore, companies that had been citing these bottlenecks as a reason for lost sales would now be able to meet that excess demand. While Wilson agrees with the premise of that argument--i.e. inventories would increase and drive economic growth and lower inflationary pressures, he remains quite skeptical it will lead a smooth "goldilocks" transition, here's why:
First, on the inventory growth has not disappointed. In line with MS economists' forecast, inventory builds are driving the bulk of GDP growth. In fact, it already started to show up in the fourth quarter. 4Q real GDP grew an impressive 6.9% but final sales grew just 1.9% meaning inventories grew approximately 5% (Exhibit 7).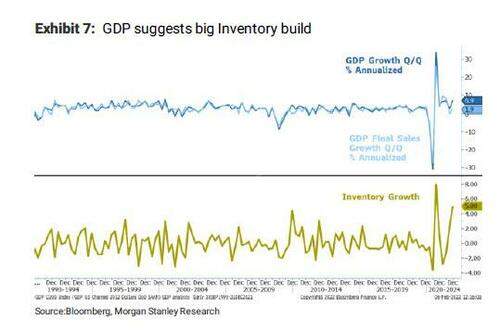 Outside of the pandemic's initial lock downs when demand dropped off a cliff, Wilson writes that "this is the single biggest increase in inventories ever witnessed. MS is forecasting a similar build in 1Q relative to total output. While this is good for economic activity it may not translate into better revenue or earnings growth for companies. Instead, it's potentially calamitous for those companies building these inventories at the wrong time--i.e. when consumption demand is fading due to lower real incomes and prices that are too high to pay."
The end result in Wilson's view, is that "we could end up with some significant discounting of inventories that were booked at much higher prices than a year ago. In short, we have the mirror image of what we experienced in 1Q21, a period of over earning. Instead, we get a few quarters during which companies under earn the performance of the economy as margins get hit."
Second, the wholesale and retail inventory data shows the same dilemma and highlights something that the MS strategist has been discussing for awhile: much of the inventory shortages have been due to logistical constraints as exhibited by the large divergence between wholesale and retail inventories. But, with the largest back to back increases in retail inventory, those constraints may be loosening up which means product is now reaching the end point where it is needed. This "shadow" inventory that's been stuck in warehouses, loading docks and barges may further exacerbate the problems described above.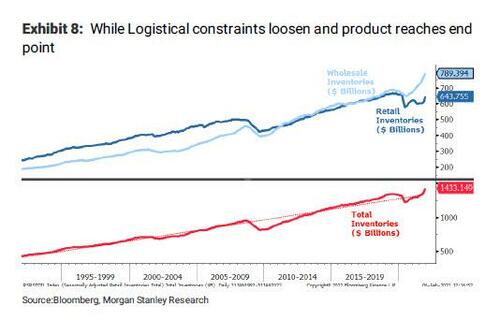 Third and final, is the risk of double ordering. When supplies get tight, businesses tend to order more than they actually need to secure as much supply as possible. As long as these shortages persist, so does the double ordering. However, as soon as supply catches up, those orders are cancelled. After all, there generally is no penalty for putting in more orders than one needs and then cancelling later. Based on the charts above, Wilson thinks "the moment of truth on this double ordering is about to be tested" and it's one of the reasons he has been so focused on the orders-inventories components of the ISM PMIs as a means of getting ahead of this risk. As seen in exhibit 9, this breakdown already began in 4Q as inventories started to rebuild. And if that wasn't enough, Wilson warns that "it will likely get much worse when orders start to get cancelled which has yet to occur."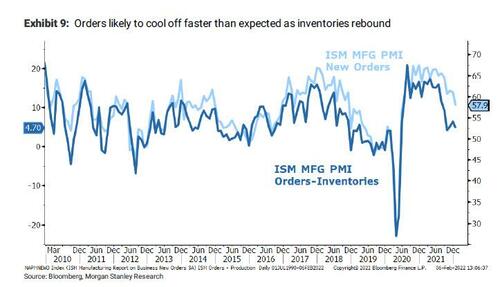 Bottom line, 1H22 will be Icy as all of these excesses are wrung out of the supply chains and order books making the economic slowdown feel a lot worse at the company and earnings level, just like it made it feel so much better a year ago.
There is much more in the full report is available to professional subs in the usual place.