---
Walmart Margin Signal Is Warning For Markets
By Emily Graffeo, Bloomberg reporter and analyst
With Walmart Inc. driving home that consumers are retrenching in the face of soaring inflation and rising borrowing costs, investors are grappling with the risk that Wall Street's expectations for US corporate profits are still too high.
Stock markets have shed trillions this year and a recession may be looming. Yet one key driver of equity valuations still shows analysts foresee earnings resilience, at least by historical norms. Projections for S&P 500 Index profit margins for the third quarter stand at 13.5%, versus the pre-pandemic quarterly average of 10.5%, according to Bloomberg Intelligence data going back to 2010.
But Walmart's move to lower its profit outlook this week as it cuts prices to pare inventories is a warning sign for profit expectations broadly, says Nick Colas, co-founder of DataTrek Research. If the world's largest retailer can't maintain margins in the face of high inflation and cooling economic growth, it's an ominous sign for others in that sector, he says. 
Walmart is "facing a stressed consumer, with worries about inflation, who is not buying as many discretionary items that have higher margins, and they overstocked on those things that now aren't selling, and have to discount them, hence the margin erosion," Colas said in an interview.
Earnings releases ahead from other retailers, including Amazon.com Inc. on Thursday after the close, will help investors and analysts decide whether Walmart's margin warning is company-specific or a harbinger of more widespread pain that could spell deeper losses in stocks.
On Wednesday at least, the mood was buoyant. Stocks surged after Federal Reserve Chair Jerome Powell said the central bank will slow the pace of rate hikes at some point. He spoke after officials lifted their benchmark rate by 75 basis points for the second straight month.
Bloomberg Intelligence's Poonam Goyal, for one, says Walmart's profit cut likely won't bleed over to Amazon.com. The latter's customer base is more affluent, and better-positioned to navigate inflationary challenges that have forced consumers to shift spending to low-margin food items, from higher-margin discretionary purchases, the analyst said in a report.
Since Walmart lowered its profit outlook on Monday, a series of earnings reports have eased the gloom around the strength of the consumer, including from Chipotle Mexican Grill Inc., hotel chain Hilton Worldwide Holdings Inc. and Visa Inc.
It's also worth noting that analysts' expectations for the third quarter have already been declining in recent months as angst grows about a possible recession, according to BI strategist Michael Casper.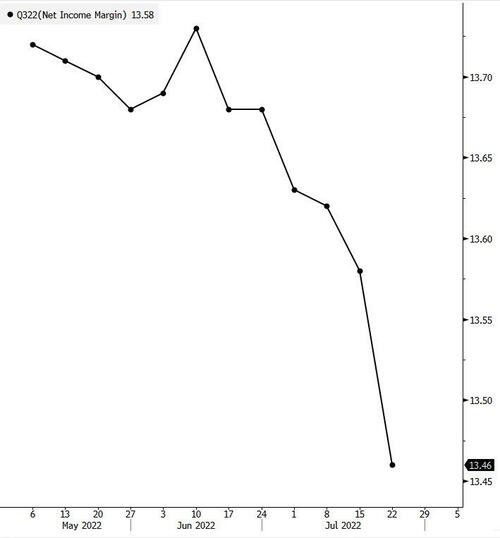 Source: Bloomberg Intelligence
Colas says elevated profit-margin expectations have been a key driver of equity valuations in recent years, helping keep the S&P 500 above pre-pandemic levels. Now those assumptions are being questioned.
"We are coming off a period of exceptional S&P 500 profitability," he wrote in a note this week. "Analysts and investors may be anchoring their margin expectations on unsustainably high 2021 profit margins."