---
Walmart Shares Slide After DoJ Sues US' Biggest Retailer For "Fueling The Opioid Crisis"
The Justice Department is suing Walmart, alleging the company unlawfully dispensed controlled substances through its pharmacies, helping to fuel the opioid crisis in America, a person familiar with the matter told The Associated Press.
Walmart operates more than 5,000 pharmacies in its stores around the country.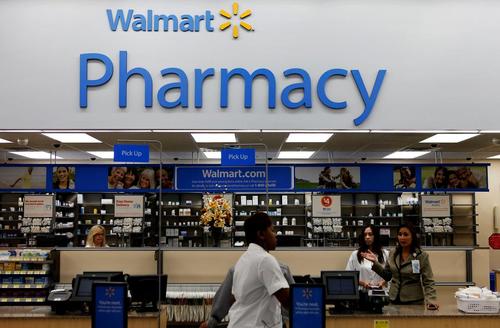 The Justice Department's lawsuit claims that Walmart sought to boost profits, understaffed its pharmacies and pressured employees to fill prescriptions quickly. That made it difficult for pharmacists to reject invalid prescriptions, enabling widespread drug abuse nationwide, the suit alleges.
"Rather than analyzing the refusal-to-fill reports, the compliance unit viewed '[d]riving sales and patient awareness' as 'a far better use of our Market Directors and Market Manager's time,'" the Justice Department said, quoting a company compliance director.

"Given the nationwide scale of those violations, Walmart's failures to follow basic legal rules helped fuel a national crisis."
Walmart shares are down over 1.5% on the news, back at their lowest in six weeks...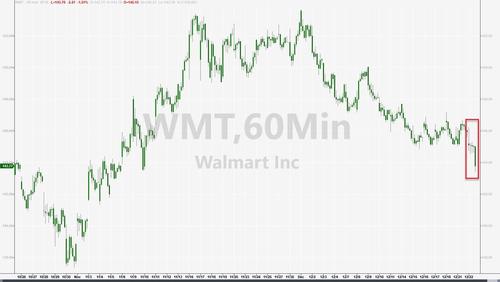 The Justice Department's lawsuit comes nearly two months after Walmart filed its own preemptive suit against the Justice Department, Attorney General William Barr and the Drug Enforcement Administration.
In its suit, Walmart accuses the Justice Department and Drug Enforcement Administration of attempting to scapegoat the company for what it says are the federal government's own regulatory and enforcement shortcomings.
As WSJ reports, the Justice Department's lawsuit alleges Walmart created a system that turned its network of 5,000 in-store U.S. pharmacies into a leading supplier of highly addictive painkillers. The allegations date to June 2013, according to the suit.
The Centers for Disease Control and Prevention said last week that there is mounting evidence the opioid crisis is worsening even further during the Covid-19 pandemic, which has complicated treatment while increasing isolation and stress.
President Trump has pushed the Justice Department to take action against companies, though primarily opioid makers.