---
Walmart Wants To Beat Amazon At Its Own Game
By John Paul Hampstead of Freightwaves
Well aware of the storm clouds brewing on the macroeconomic horizon, Walmart is doubling down on its supply chain-led transformation into an omnichannel retailer with an integrated, flexible and intelligent distribution and fulfillment network. For Walmart, leveraging its supply chain to unlock new margin gains is integral to "Everyday Low Cost," which enables "Everyday Low Prices." 
Walmart doesn't expect to grow fast in 2023. For the year ending Dec. 31, 2022, (Walmart's fiscal year 2023), Walmart's U.S. comparable sales grew 6.6% year over year (y/y) and 13% against a two-year stack. But the annual guidance reiterated at Tuesday's Investment Community meeting in Tampa, Florida, has U.S. comp sales growing just 2 to 2.5% this year. In other words, Walmart expects significantly slower growth this year, though CEO Doug McMillon recommitted to management's 4% annual sales growth target over the next five years.
Revenue headwinds are due to the stress that inflation is putting on the American consumer, stress that Walmart management has observed and commented upon. Higher-income shoppers are choosing to go to Walmart; general merchandise sales gave way to daily essential "consumables"; and in grocery, private label growth beat out the name brands. 
Walmart management believes there are (at least) two big ways that supply chain investments can address the overall business environment. First, for Walmart, supply chain has always been a place of experimentation, where small investments that have proven to generate operating leverage can then be scaled. Second, e-commerce is the fastest part of Walmart's business — growing 17% y/y in the fourth quarter — and connecting all of its inventory and rationalizing its network helps power that growth.
But connecting all of its available products to an e-commerce application and building intelligent fulfillment for hundreds of thousands of SKUs wasn't easy. In his supply chain-focused Investment Community meeting presentation, Walmart U.S. CEO and President John Furner explained the evolution of the company's supply chains.
"When Walmart started, customers came to stores, and they bought general merchandise and consumables," Furner said. "So we built an ambient supply chain that served stores. As our store footprint grew, that network grew. When we added grocery and supercenters, we built a perishable supply chain — with buildings to handle cold and frozen items. That one also serviced stores. Then came e-commerce. So we built another fulfillment network and partnered with carriers to move products from FCs to customers' homes. And we layered in pickup and delivery too — from our stores. 
"We got by serving customers with these resources … but they weren't connected. They operated in parallel, and they weren't flexible. They were each effective at completing the task they were built to perform. Now that's changing. We've reengineered our supply chain networks to connect all the assets we have," Furner said. 
Freight market down cycles, when transportation capacity is loose, rates are low and shippers have pricing power, are natural times for shippers to think beyond the day-to-day struggle to control costs and maintain service. Trucking capacity is exceptionally loose in the United States now, as carriers are rejecting just 3.1% of the shipments tendered to them by shippers.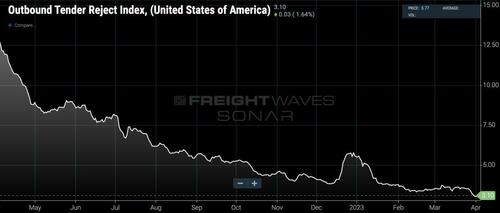 Having realized savings on rates and cleaned up their routing guides, now major shippers are embracing expansive supply chain reorganizations, taking advantage of the first real breather many of them have gotten since the pandemic struck in March 2020. For Walmart, that means improving visibility, connectivity and optimization across supply chains that had been operating in relative siloes, both for the purposes of improving customer experience and driving sales higher, but also for gaining internal efficiencies. 
Furner went on to give specific examples of how Walmart was connecting these four previously disparate supply chains, starting with building an integrated digital catalog that had visibility into all inventory and connecting digital profiles of customer intent across multiple inventory systems to optimize the separate physical supply chains as if they were one. New organizational structures were put into place to oversee this supply chain reengineering: Now Supply Chain and Stores both report up to the End to End team led by Chris Nicholas, the Walmart U.S. chief operating officer.
CEO McMillan said at the Investment Community day that Walmart is best described as a "people-led, tech-powered omnichannel retailer dedicated to helping people save money and live better."
This renewed focus on driving efficiency out of existing assets, inventory optimization and network velocity may have already started paying off. In the fourth quarter of 2022, Walmart's U.S. comp sales were up 8.3%, while its consolidated operating expenses as a percentage of sales dropped by 44 basis points. Meanwhile, Amazon's net product sales were down 1.2% y/y to $70.53 billion, while cost of sales and fulfillment expenses were both up, 3.3% and 2.9%, respectively. 
In fact, Amazon's net product sales have been flat for three years:

Walmart's outperformance has been in part due to a changing mindset, which has once again placed ambitious supply chain initiatives at the center of the company. During his Investment Community day presentation, Furner sounded as much like a full-service third-party logistics provider as he did a retailer.
"We're now able to fulfill customer needs with a flexible, connected omnichannel network, enabled by data," Furner said. "We know what we own, where it is, and what we're actually doing is using data to optimize how much inventory we buy and where we place it. In many cases, we don't need to build a new facility. We're able to use the existing assets we have more flexibly and efficiently for new ways of working. And importantly, we're able to consolidate an order as early as possible — even offshore — and deconsolidate it as late as possible — even in the customer's driveway. That serves customers with the flexibility they want. It creates density across first, middle and last mile."
In other words, Walmart is demonstrating that data integrations across its inventory systems and separate physical supply chains — ambient, perishable and e-commerce — can improve more than just the customer experience. Inventory visibility at the SKU level that's appropriately connected across the organization also generates substantial operating leverage. That technology allows Walmart to consolidate earlier and deconsolidate later in order to drive density along core lanes and better utilize its facilities and carrier network. In some cases, Furner said, the efficiencies were significant enough that new facility construction could be avoided.
Loading...