---
Ross Gerber Appears To Have Taken Out Another PPP Loan - This Time As A Sole Proprietor
By now, if you're active on FinTwit, you probably know that CNBC staple, Tesla uber-bull and "financial advisor" Ross Gerber, is on record has having received PPP money for his firm back when the program was first put into place in the early stages of the pandemic. This was, of course, after publicly railing about the program and calling it "another big Trump scam".
Incidentally, the reason we only know this now? Unlike many other wealth firms that took the loans, Gerber Kawasaki declined to update their SEC filings in order to make this fact public.

— Alex Rosenberg (@AcesRose) July 6, 2020
Back then, Gerber who takes extreme pride in molding his public image of a successful, sophisticated investor, took out a total of $515,458 in PPP funds via Wells Fargo, bizarrely classifying his company as a "Motorcycle, ATV and All Other Motor Vehicle Dealers."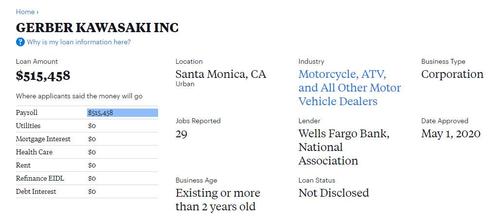 But what you may not have known is that is appears it wasn't just Gerber's firm who was approved for a PPP loan - it also looks like Ross Gerber himself was approved for a $20,833 loan as a sole proprietorship, according to information on ProPublica. 
The website lists a "Ross Gerber" as "approved" for a PPP loan of $20,833 as of March 29, 2021. The loan is earmarked for "payroll" of Gerber's sole proprietorship. The status of the loan says "not fully disbursed".

Though the website lists the location as Pacific Palisades, CA, we were unable to independently confirm that it was the same Gerber. However, Gerber's bio on his company's website says he resides in Pacific Palisades, CA. 

Recall, back in July of 2020, we first pointed out that Gerber's firm, Santa Monica-based Gerber Kawasaki, was among the many firms nationwide to take PPP money. 
The disclosure came as part of a broader disclosure of firms who took PPP loans and confirmed that Gerber's firm took a loan ranging from $350,000 to $1 million through Wells Fargo Bank. While PPP loans were given out in exchange for "retaining jobs", in the case of Gerber Kawasaki that particular number is unknown as the excel cell is empty.
The irony, of course, came from the fact that on April 27, 2020, just 6 short days before his firm's loan was approved, Gerber virtue signaled to the #resistance by tweeting that "this whole PPP thing looks like a scam. Another big Trump scam".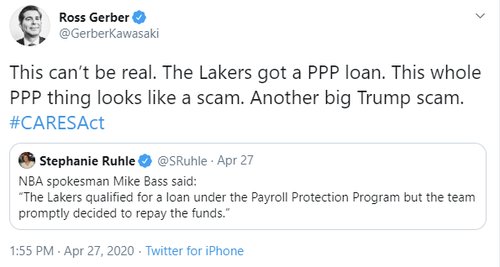 ... A scam which Ross Gerber had applied for weeks prior and was eagerly waiting approval which he eventually got.
Then, during the same thread about "another Trump scam", when Gerber was called out for having Trump derangement syndrome, he doubled down and said "you can correlate PPP loans and Trump supporters" before suggesting "they should publish the list of companies and amounts."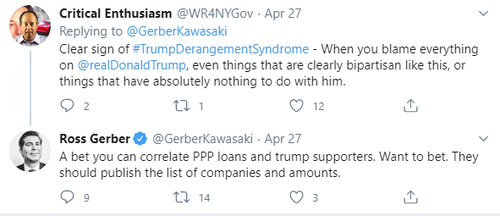 Well, Ross, they did. And your firm is on it as receiving up to $1 million in PPP grants.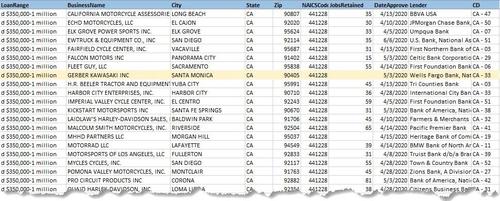 This thread, posted days ago by popular FinTwit account @keubiko, lays out the timeline behind Gerber's first PPP cash grab.
Let's take a little trip down memory lane now that @Gerberkawasaki is gaslighting on his PPP loan, implying that because of the loan he "was able to keep my whole staff employed last year" 1/n pic.twitter.com/OWdkdKQnxk

— Keubiko (@Keubiko) April 29, 2021
And now, Ross, we have to ask: could it be possible you were trying to extend your "eligibility" for another $20,000 in taxpayer funded bailout money, this time not under the guise of your corporation but representing yourself as a self-employed individual, all while crowing on Twitter about your firm's fantastic returns.