---
Watch: Boeing 737 Engine Catches Fire Over Ohio After Bird Strike
On Sunday morning, an American Airlines Boeing 737 jet took off from an airport in Colombus, Ohio, only to be struck by a flock of birds, resulting in one of its engines spewing fireballs, reported The National Desk. A dramatic video of the incident was shared on Twitter. 
American Airlines flight 1958 to Phoenix, Arizona, took off from John Glenn International Airport just after 0740 local time. After being airborne for several minutes, the plane struck a flock of birds. 
"American Airlines flight 1958, with service from Columbus (CMH) to Phoenix (PHX), returned to CMH shortly after takeoff due to a mechanical issue.

 "The flight landed normally and taxied safely to the gate under its own power. The aircraft was taken out of service for maintenance and our team is working to get customers back on their way to PHX. Safety is our top priority and we thank our customers for their understanding," American Airlines, who operated the plane and flight in question, wrote in a statement.
Here's the video of fireballs coming out of the 737's right engine.
American Airlines Boeing 737-800 (N972NN, built 2015) safely returned to land at Columbus-Intl AP (KCMH), OH after flames and smoke was seen coming from the right engine. Flight #AA1958 to Phoenix landed back on runway 28L 25 minutes after take-off. No one was hurt. @Cbus4Life… pic.twitter.com/YsAxsJ3D1O

— JACDEC (@JacdecNew) April 23, 2023
Flight tracking website Flightradar24 shows the plane made a giant loop around the Colombus metro area before safely returning to the airport.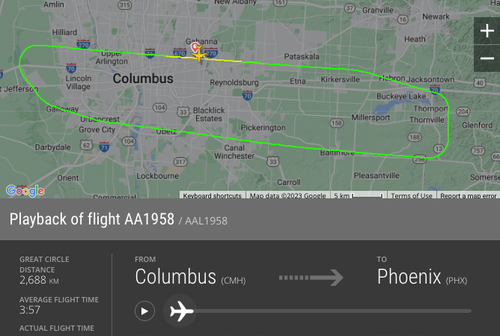 Emergency crews were dispatched to the American Airlines jet when it landed. 
#AA1958: post landing images are showing traces of bird impacts on the #2 engine cowling and right wing leading edge. @GreaceMonkey98 pic.twitter.com/SVsGZjvkta

— JACDEC (@JacdecNew) April 23, 2023
A person on the ground told Daily Mail the plane's right engine sounded "as if it was about to give up." 
Loading...