---
Watch: A Furious Lindsey Graham Loses It After SCOTUS Pick Defends Light Sentences For Pedos
Sen. Lindsey Graham (R-SC) grilled Biden Supreme Court Nominee Ketanji Brown Jackson over lenient sentences handed down to defendants in child pornography cases.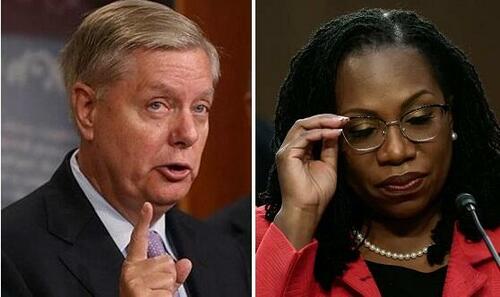 "I think the best way to deter people from getting on a computer and viewing thousands and hundreds and over time, maybe millions" of images is "to put their ass in jail not supervise their computer usage."
Graham was responding to Jackson's explanation that as a trial judge she viewed deterrence as "one of the purposes of punishment," and that while incarceration was one tool, there are others available for convicts including "substantial periods of supervision" when using a computer.
"With one click, you can distribute tens of thousands [of child porn]. You can be doing this for 15 minutes and all of a sudden, you are looking at 30, 40, 50 years in prison," Brown said, returning to her argument that the internet makes it so much easier to obtain large volumes of child porn.
To which Graham replied: "Good!"
This is straight-up pedophile apologism

Jackson thinks criminal pedophiles are victims pic.twitter.com/BXlaBlaYJc

— Jack Posobiec 🇺🇸 (@JackPosobiec) March 23, 2022
Democratic Judiciary Chair Dick Durbin defended Jackson, saying she is "not an outlier" when it comes to federal judges sentencing pedophiles.
Graham also questioned Jackson about representing Guantanamo detainees as a public defender in Washington DC, and noted that many of those she helped free returned to their terror cells - some even earning high-ranking positions within the Taliban.
Graham asked Jackson if she considers herself to be an activist judge, which she denied.
Read more about the heated exchange here.
And of course, Democrats  thought Graham's line of questioning was 'beyond the pale.'
A visibly angry Sen Leahy left the hearing room and called Graham's questioning of Judge Jackson "beyond the pale...As the Dean of the Senate…I'm just distressed to see this kind of a complete breakdown of what's normally the way the Senate's handled...he's badgering her"

— Chris Jansing (@ChrisJansing) March 23, 2022
Seriously?