---
Game Stopped For Griffin? Maxine Blasts "Financial Threat" Citadel For "Fleecing" Retail Investors
The big day has finally arrived.
Now that the hearing is over, readers who are so inclined can go back and watch all five hours of it here below:
*  *  *
Update (1715ET): Roughly five hours after the start of Thursday's "Gamestopped" Congressional hearing, AOC and Rashida Tlaib finally had their opportunity to speak (as the party continues to generally sideline the highly influential crypto-marxist "Squad" leader) as the two squad members slammed the witnesses, though one of their testimony - AOC's - was much more engaging than the other.
Yep. My turn comes up towards the very end, so anywhere between 40-70 minutes from now depending on attendance. https://t.co/D67frdTnuU

— Alexandria Ocasio-Cortez (@AOC) February 18, 2021
While Tlaib's question mostly focused on boilerplate about economic inequality and taxes, AOC went straight for Robinhood CEO Vlad Tenev's throat, accusing him and Robinhood of failing to follow its own rules and risks (especially when it comes to margin requirements) while also suggesting that Robinhood has used "payment for order flow" to disguise the quiet costs consumers actually pay for the supposedly "free service."
JUST IN: Rep. @AOC grills Robinhood CEO Vlad Tenev at #Gamestop hearing: "Doesn't that mean that trading on Robinhood isn't actually free to begin with b/c you're just hiding the cost, the cost in terms of potentially poor execution or the cost of lost rebates to your customers?" pic.twitter.com/BdwNwVeoMg

— Forbes (@Forbes) February 18, 2021
Citing an question asked earlier by another progressive colleague, AOC insisted that "Robinhood owes its customers a lot more than an apology...Mr. Tenev would you be willing to commit today to Voluntarily pass on the proceeds of payment for order flow for Robinhood customers?"
After a rambling response about how removing Payment for Orderflow would force the company to start charging commissions again, she finished Tenev off by accusing him of deliberately misleading customers with the 'payment for order flow' concept, claiming that Robinhood actually taxes its customers in other ways, poor execution being one example. 
During his response, Tenev noted that, in the beginning, investors were skeptical whether the company's zero-commission model could even work. But now, it has become the industry standard.
She also slammed the company for its frequent crashes and lapses in services, especially when volatility surges.
After AOC and a few more Witnesses, Chairowman Waters returned for her closing remarks, in which she blasted Ken Griffin and Citadel for helping to "fleece" retail day trading customers via its relationship with Robinhood, while also potentially representing a major "financial threat" to the whole system.
As the hearing comes to a close, here are what Bloomberg sees as the key takeaways from the epic hearing drama:
This wasn't a GameStop hearing, it was a Robinhood hearing. Most of the members directed their questions to Robinhood CEO Vlad Tenev. Tenev was pressed on his firm's decision to restrict trading in GameStop and its use of payment for order flows to generate revenue.
That being said, Keith Gill, the trader known as "Roaring Kitty," still managed to prove his influence. He only spoke a few times but his comments appeared to be correlated to moves in GameStop, with the stock rising on his opening comments and at least one of his answers. GameStop ended the day 11% lower, underperforming the broader market.
Citadel CEO Ken Griffin managed to escape largely unscathed, though some Democratic lawmakers such as Brad Sherman of California and Rashida Tlaib of Michigan pressed him on his firm's practices and advantages in the market. Lawmakers didn't spend much time on the role of social media platforms -- namely Reddit -- played in fueling the stock frenzy. Reddit CEO Steve Huffman hardly spoke a handful of sentences over the course of the five-hour hearing.
Tenev revealed that Robinhood's biggest revenue stream is order flow, telling lawmakers that more than 50% of his firm's revenue is derived from that practice. The CEO admitted that Robinhood didn't have the funds to meet the initial $3 billion demand for deposits from its main clearinghouse in the early hours of Jan. 28. After his firm restricted trading in certain stocks, the deposit call fell to $1.4 billion.
Source: Bloomberg
Meanwhile, Waters reaffirmed that she's planning at least 2 more hearing to focus on how commission-free trading and payment for order flow impacts the market, with Maxine claiming that she feels traders are getting fleeced, while the system might pose a threat to the stability of markets. Representatives from regulators like the SEC, industry self-reuglator FINRA, the Depository Trust and Clearing Corp (aka the market's main clearinghouse) and others will be called in the hearings, she said, along with many other guests who can speak to the issue, she said, before banging the gavel and adjourning the hearing.
*  *  *
Update (1530ET): Rep. Vincente Gonzalez hit Griffin with a late but regardless still a solid question. The gist:: Gonzalez wanted to know how Citdal guarantees that  its market making arm doesn't allow any undue advantages to its hedge fund arm.
The conflict there is obvious, even though, as Griffing responded, Citadel owes a "duty of best execution" to every trade. Griffin mostly avoided the question, claiming he didn't understand the premise since Citadel has nothing to do with "clearing" or DTCC.
We suspect, deep down, he knew better.
*  *  *
Update (1500ET): Jim Himes, a Democrat from Connecticut who may have some of the most extensive experience with the financial services industry of anybody on the panel (he used to work for Goldman and even pronounces the word "finance" with a slight Midatlantic twist), compared Citadel to the "casino" in the WSB saga, and as most people know, the casino often wins.
The retail investor is known as "dumb money," Himes says. "As much as I support the democratization of finance, we need to be thoughtful about this." Himes added that he wants to know how much money retail traders lost trading GME and other "meme stocks" during their parabolic late-January explosion.
Earlier, other Democrats confronted Griffin and Tenev (who faced most of the questions) about the "payment for order flow" relationship and whether or not Robinhood's customers could actually trust the firm for best execution. Many of these questions touched on sensitive topics, but Tenev and Griffin hewed to their official line and mostly avoided any unsavory answers.
*  *  *
Update (1450ET): As the hearing nears the three-hour mark, Chairwoman Waters has said her committee will (ideally) have two more hearings on this subject. Meanwhile, here's a BBG summary of the highlights from the past few hours.
Lawmakers have mainly directed their questions to Vlad Tenev, the Robinhood CEO, wanting to know why trading was restricted and whether the company was pressured to restrict it by anyone.
Keith Gill, the retail trader known as "Roaring Kitty," only spoke a few times but his comments appeared to be correlated to moves in GameStop, with the stock rising on his opening comments and at least one of his answers.
Citadel CEO Ken Griffin felt the heat from at least one lawmaker -- Brad Sherman of California -- who laced into him after receiving what he apparently felt was a non-response to one of his questions on execution quality.
Despite intense scrutiny from lawmakers, the hearing so far has failed to yield much, if any, new information as Griffin and Tenev have proven adroit at sticking to their talking points.
*  *  *
Update (1310ET): As politicians dig in with questions, Robinhood's Vlad Tenev offered excuses, like claiming the spike in GME shares and other "meme stocks" was a "five sigma" event.  Meanwhile, Ken Griffin took a beating from one lawmaker, when the Citadel founder refused to say what might happen if Citadel receives two orders from Fidelity and Robinhood of roughly the same size - whose would get executed first? Griffin refused to offer a definitive answer to Rep Brad Sherman before later going to insist Citadel helps retail investors get better prices, despite representing essentially another intermediary.
Sherman got pretty heated with Griffin, chiding him with a "you are wasting my time" and interrupting him several times. But that exchange with the California Dem is about as testy as things have gotten so far. 
Also remember, when it comes to Citadel and market makers handling retail order flow, it's not "frontrunning", it's "price improvement."
If you keep saying "price improvement" everyone will forget that it is just frontrunning

— zerohedge (@zerohedge) February 18, 2021
*  *  *
Update (1245ET): The price of GME shares soared as 'RoaringKitty' delivered his prepared remarks...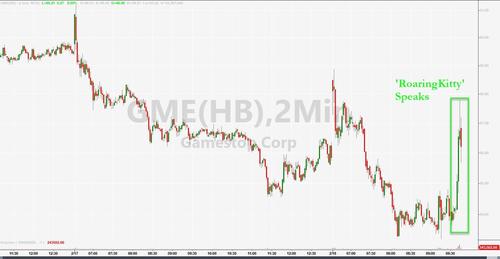 *  *  *
As we detailed earlier, several of the main players in the "Meme stock" trading frenzy saga - which infamously led to Robinhood and other digital brokerages halting orders related to certain securities, most notably GameStop, as prices soared - will sit for testimony before the House Financial Services Committee, led by Chairwoman Maxine Waters, where they will be asked to explain exactly what happened, and why Robinhood, Citadel and others did what they did.
As a reminder, here's the full list of guests who will testify (with Dave Portnoy notably absent).
The witness list for the virtual hearing is as follows:
Vlad Tenev, Chief Executive Officer, Robinhood Markets

Kenneth C. Griffin, Chief Executive Officer, Citadel

Gabriel Plotkin, Chief Executive Officer, Melvin Capital Management

Steve Huffman, Chief Executive Officer, Co-Founder, Reddit

Keith Gill, independent investor

Jennifer Schulp, Director of Financial Regulation Studies, Cato Institute
We look forward to watching Chairwoman Waters and some of the leftist firebrands on the committee (including AOC, one of the first to call for a hearing into the trading fiasco) 'grandstanding' into all the witnesses, particularly the one megabillionaire (Griffin) among the group, as they grapple with the arcane topic of market microstructure while attempting to smear everyone as a bad actor (especially the Russians - who Reddit CEO said were absolutely not involved).
For those who have the privacy and the time, gamestop hearing-themed drinking games are already pouring forth from fintwit.
Drinking game for today's hearing:

WallStreetBets = 1 drink
Roaring Kitty = 2 drinks
Diamond Hands = 3 drinks
Stevie Cohen = 4 drinks
Stonks = 5 drinks
Tendies = 6 drinks
DeepFuckingValue = 7 drinks
YOLO = finish your drink

What else are we missing?

— Ramp Capital 💎 (@RampCapitalLLC) February 18, 2021
Along with hearing buzzword bingo.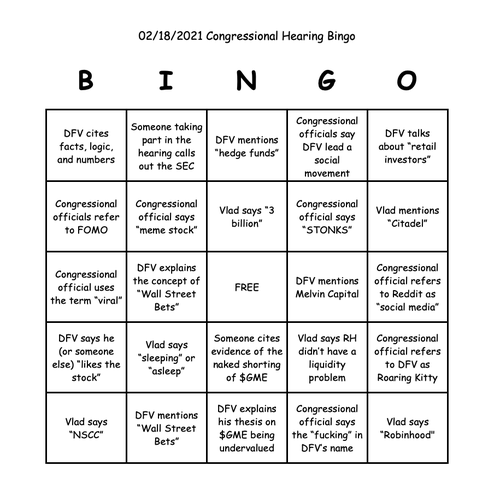 While Bloomberg TV has produced a viral moment of its own with this handy guide to Internetspeak.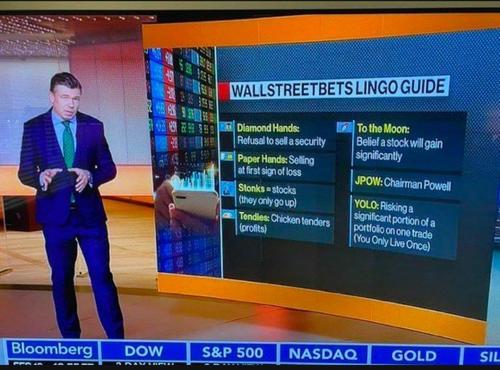 Along with this handy Internet slang language guide, though mass media has already introduced Americans to the terms "stonks".
As we all wait for what's expected to be a combative Q&A, Dave Portnoy, a leading critic of Robinhood's actions during the late-January trading frenzy, is promising to "lead a revolution in the streets much like the Tom Brady revolution".
https://www.zerohedge.com/markets/you-can-not-purchase-additional-share…
"RoaringKitty can't use his brain to make a profit? Get out of here," with Portnoy adding that RoaringKitty aka Keith Gill is "a great American". "
*  *  *
Testimony from several of the major players - notably Redditor Keith Gill, Robinhood head Vlad Tenev and Melvin Capitol's Gabriel Plotkin - was released yesterday afternoon, while prepared testimony from Citadel CEO Ken Griffin and Reddit CEO/co-founder Steve Huffman was released Wednesday evening on the East Coast.
In his remarks, Griffin, arguably the most important player to take the stand on Thursday, said that while Citadel is the biggest market maker and filler of retail trades in the US, the HFT market maker/hedge fund chief said he "wanted to be perfectly clear...we had no role in Robinhood's decision to limit trading in GameStop or any other of the 'meme' stocks. I first learned of Robinhood's trading restrictions only after they were publicly announced."
Not only did Citadel have nothing to do with Robinhood's decision, but on Wednesday and Thursday Jan. 27 & 28, the height of the trading surge, when digital brokers started cutting off order flow, Citadel apparently filled more retail trades "than the average daily volume of the entire U.S. equities market in 2019."
"During the period of frenzied retail equities trading, Citadel Securities was the only major market maker to provide continuous liquidity every minute of every trading day. When others were unable or unwilling to handle the heavy volumes, Citadel Securities stepped up. On Wednesday, January 27, we executed 7.4 billion shares on behalf of retail investors. To put this into perspective, on that day Citadel Securities executed more shares for retail investors than the average daily volume of the entire U.S. equities market in 2019. The magnitude of the orders routed to Citadel Securities reflects the confidence of the retail brokerage community in our firm's ability to deliver in all market conditions and underscores the critical importance of our resilient systems."
Read the rest of Griffin's testimony below:
Reddit CEO Steve Huffman, meanwhile, insisted in his testimony that WallStreetBets is "a real community" that just happened to experience a "traffic onslaught" during the run-up to the late January trading frenzy. Since Reddit has a "responsibility" to its communities to support them during times of attention-related stress, and so the company used its resources "working around the clock" to keep WSB online.
As for the "self-deprecating jokes" and "crass language" seen on the forum, well, that's just part of what makes it a community.
"I will stress that WallStreetBets is first and foremost a real community. The self-deprecating jokes, the memes, the crass-at-times language, all reflect this. And if you spend time on WallStreetBets, you'll find a significant depth to this community, exhibited by the affection its members show one another. They are just as quick to support a fellow member after a big loss as they are to celebrate after a big gain. A few weeks ago, we saw the power of community in general and of this community in particular when the traders of WallStreetBets banded together at first to seize an investment opportunity not usually accessible to retail investors, but later more broadly to defend all retail investors against the criticism of the financial establishment."
Additionally, Huffman confirmed that it wasn't "The Russians" or "The Chinese" or some other malevolent 'bad actors'...which we are sure will break a few narratives today.
We have since analyzed the activity in WallStreetBets to determine whether bots, foreign agents, or other bad actors played a significant role. They have not. In every metric that we checked, the activity in WallStreetBets was well within normal parameters, and its moderation tools were working as expected
Read the rest of his testimony below:
To rehash what we published yesterday, in his prepared testimony, Keith Gill, a Youtuber/Redditor best known as "RoaringKitty" and "DeepF*ckingValue" , who is facing a lawsuit related to his trading and online antics, insists that he still believes in his "fundamental case" for being long Gamestop, and insists he didn't try and pump the shares purely for his own profit.
In his testimony, Gill recounts how his family had an "incredibly difficult" 2020 after losing his sister to COVID.
"I did not solicit anyone to buy or sell the stock for my own profit. I did not belong to any groups trying to create movements in the stock price. I never had a financial relationship with any hedge fund. I had no information about GameStop except what was public. I did not know any  people inside the company, and I never spoke to any insider. As an individual investor, I use publicly available information to study the market and the value of specific companies."
He added that sharing the news with his family about his newfound financial success - that "we were now millionaires" - gave him tremendous joy.
In remarks from Melvin Capital chief Gabriel Plotkin,the hedge funder insists his firm learned a painful lesson from its GameStop short position, though he insisted it wasn't "bailed out".
He starts by noting that his firm had nothing to do with Robinhood's decision to pause trading in Gamestop, and that "it is very important to understand that absolutely none of Melvin's short positions are part of any effort to artificially depress or manipulate downward the price of a stock."
"When our research suggests a company will not live up to expectations and its stock price is over-valued, we might "short" a stock  . Like with our long positions, our practice is to short a stock for the long term after extensive research. We also short stocks because when the markets go down, we have a duty to protect our investors' capital. There are laws governing shorting stock, and of course we always follow them. In addition, it is very important to understand that absolutely none of Melvin's short positions are part of any effort to artificially depress or manipulate downward the price of a stock. And nothing about our short position prevents a company from achieving its objectives."
Read the rest of his full remarks below:
Finally, Robinhead co-founder and CEO Vlad Tenev claims that the events of that day, when the price of Gamestop shares soared above $300, were extraordinary, and that the firm did what it did to its clients - cutting off orders in certain "meme stocks" due to - as he has insisted many times before - clearing-related requirements.
"Robinhood has changed the investing world for the better", Tenev insists, adding that his firm didn't favor hedge funds.
"What we experienced last month was extraordinary, and the trading limits we put in place on GameStop and other stocks were necessary to allow us to continue to meet the clearinghouse deposit requirements that we pay to support customer trading on our platform. We have since taken steps to raise $3.4 billion in additional capital to allow our customers to resume normal trading across Robinhood's platform, including trading in the stocks we restricted on January 28. We look forward to continuing to serve our customers"
Read his remarks below: