---
Watch Live: Will Fed Chair Powell Pull The Dovish Rug Out From Under The Market?
If you're not confused, you're not paying attention.
Since Fed Chair Powell went full dove-tard during last week's FOMC press conference - driving asset prices vertically higher - a considerably stronger than expected payrolls print stole the jam out of the 'Fed pause/pivot'-party's donut, with stocks sinking back and bond yields exploding higher.
Furthermore, despite Powell's dovishness, rate-trajectory expectations have also literally exploded higher...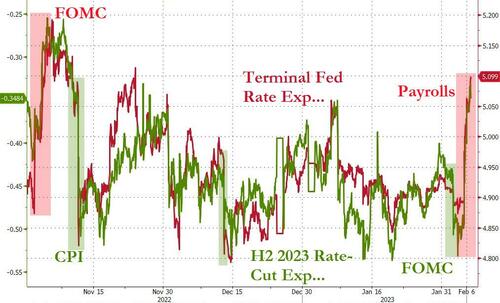 Stocks, however, continue to cling to the dovish hope (thanks in large part to 0DTE momentum ignition) while the rest of the market has shifted back to a more hawkish 'higher for longer' narrative...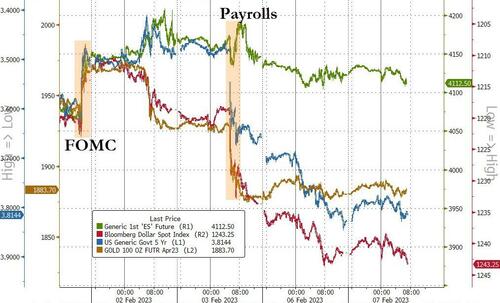 So, the big question today is, will Jay Powell flip-flop once again and pull the equity market's rug out from under it, reminding investors that in fact, financial conditions do actually matter when they are this decoupled from actual monetary policy projections...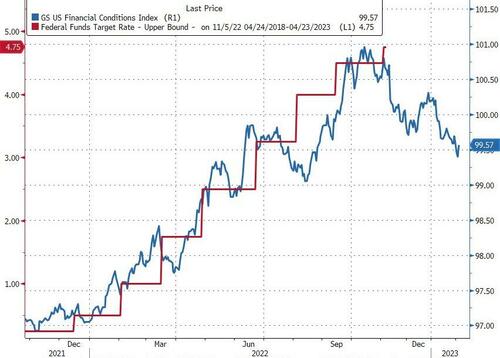 Or will he fold like an old lawn chair again and let the market lead him astray, prompting a 'Burns-ian' re-ignition of inflation and future rate-hikes?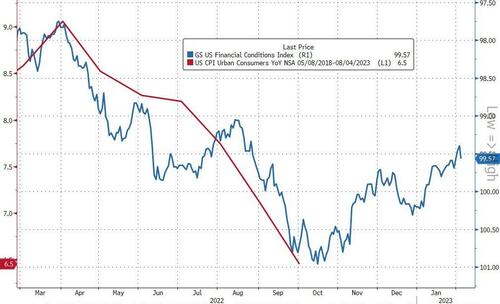 JPMorgan's Matt Reiner (cash equity trading) noted yesterday that "there is no panic or fear from my clients as we jerk lower."
This morning's silence on the desk is quite telling, however. Investors must feel good about the early price action because I have fielded ZERO "why is this up/down" questions yet... which is remarkable. Not one...

As I noted earlier, the list of reasons to be bullish is shrinking while the list of reasons to be bearish is growing, quite rapidly too – It's interesting to me how with negative macro backdrop, negative sell side research, and sentiment growing more dire how drawdowns in the mkt are short and shallow – We know investors have been adding exposure quite rapidly over the past few weeks, but are down 100bps tapes enough to excite people to put more on? – One thing is for sure, while negativity mounts, it feels like investors are "waiting for a pull back to buy" rather than "waiting on a rally to sell" and I think the logic is simple.

Investors still are NOT long enough to feel comfortable laying off risk.

In fact, the data continues to show investors are still markedly underperforming, and the gaps are widening.

The two thematic baskets I'm watching closely are Momentum Short and PURE Beta Winners since they've been market leaders YTD and quality tends to follow...

The VIX remains comfortably below 20 – The TICK has spent nearly all morning in the RED – We remain thoroughly elevated above the SPX Golden Cross...

It feels like there are a lot of mixed signals out there, but the pain trade remains up.
As Bloomberg's Vince Cignarella concluded:
"if comments by Powell tomorrow don't lean hawkish, the asymmetric risk is clearly skewed to the upside with a squeeze for a risk rally for stocks and bonds accompanied by a dollar selloff."
For those who seek a more nuanced, if perhaps unnecessarily complicated, take of what to expect from Powell, read this.
So what will Powell do? Watch live here (Powell's conversation with David Rubinstein is due to start at around 1240ET)
Loading...