---
NRA Slams "Baseless, Premeditated Attack" As NY AG Seeks To "Dismantle" Guns Rights Organization
Update (1300ET): And the NRA responds...
Lawsuits a "baseless, premeditated attack on our organization" and the Constitutional right to keep and bear arms, responds @NRA.

— Steve Herman (@W7VOA) August 6, 2020
* * *
Update (1235ET): Just as we anticipated...Trump has spoken out to slam the lawsuit as "a terrible thing".
Trump: New York Lawsuit Against NRA 'A Terrible Thing'
Trump: NRA Should Move to Texas
Trump: NRA Has Been 'Decimated' by Costly Legal Actions
* * *
Update (1140ET): James is starting off the hearing by detailing a state lawsuit against the NRA and seeking the dissolution of the pro-second amendment organization, one of several subjects she was expected to address today.
James alleges the the organization violated non-profit laws by diverting "millions of dollars away from the charitable mission of the organization for personal use by senior leadership," who awarded contracts that benefited friends and family. That would be a slam-dunk if she were going after politicians. But at a non-profit, things are more blurry.
BBG published an update on the lawsuit almost immediately, suggesting that the financial news organization - owned by a former mayor of NYC - had the story under embargo ahead of time. Here's a snippet from their reporting, which accuses NRA of "massive fraud".
New York is seeking to dissolve the National Rifle Associationas the state attorney general accused the gun rights group and four senior officials of engaging in a massive fraud against donors.

A sprawling lawsuit filed Thursday in state court in Manhattan alleges the NRA diverted charitable donations for years to enrich the organization's top executives in violation of laws governing nonprofits, New York Attorney General Letitia James said in a statement. The state is also demanding millions of dollars in restitution and penalties.

The case may pose one of the biggest legal threats the NRA has faced since its founding in New York in 1871. The turmoil began with a power struggle last year between former NRA president Oliver North and longtime leader Wayne LaPierre, which led to allegations of self dealing. A subsequent state probe found wrongdoing blamed for more than $64 million in losses in the last three years alone, James said.

"The NRA's influence has been so powerful that the organization went unchecked for decades while top executives funneled millions into their own pockets," James, a Democrat, said in the statement. "The NRA is fraught with fraud and abuse."
For those who aren't familiar, this is the culmination of what Trump once called "an illegal investigation" by Cuomo and the AG, which stems from a power struggle that rocked the NRA last year.
The news sent shares of gun makers lower.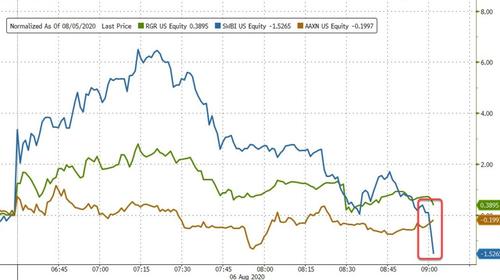 The NRA must "get its act together quickly, stop the internal fighting, & get back to GREATNESS - FAST!" Trump tweeted at the time.
We imagine he'll be chiming in on Twitter about this new lawsuit any minute now.
* * *
New York Attorney General Letitia James is delivering a press briefing on Thursday where it's widely suspected that she will share "bombshell" allegations about President Trump and his finances, after subpoenaing documents from Deutsche Bank.
In recent days, stories about DB scrutinizing Trump's former banker, and the Manhattan AG subpoenaing the bank over records pertaining to Trump, have stoked suspicions that something "big" might be coming.
Will this briefing live up to the hype? We're about to find out.