---
Watch Yield Curve For When Stocks Begin To Price Recession Risk
Authored by Simon White, Bloomberg macro strategist,
US large-cap indices are currently diverging from recessionary leading economic data. However, a decisive steepening in the yield curve leaves growth stocks and therefore the overall index facing lower prices.
Leading economic data has been signalling a recession for several months. Typically stocks closely follow the ratio between leading and coincident economic data.
As the chart below shows, equities have recently emphatically diverged from the ratio, indicating they are supremely indifferent to very high US recession risk.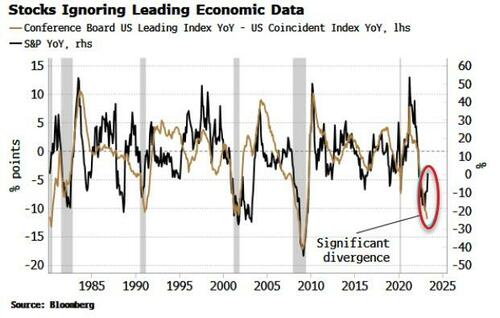 What gives? Much of the recent outperformance of the S&P has been driven by a tiny number of tech stocks. The top five S&P stocks' mean return this year is over 60% versus 0% for the average return of the remaining 498 stocks.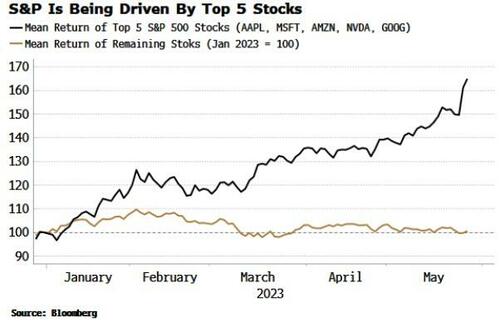 The belief that generative AI is imminently about to radically change the economy and that Nvidia especially is positioned to benefit from this has been behind much of this narrow leadership.
Regardless on your views whether this is overdone or not, it has re-established growth's dominance over value. Energy had been spearheading the value trade up until around March, but since then tech –- the vessel for many of the largest growth stocks –- has been leading the S&P higher.
The yield curve's behaviour will be key to watch for a reversion of this trend, and therefore a heightened risk of S&P 500 underperformance. Growth stocks tend to outperform value stocks when the curve flattens. This is because growth companies often have a relative advantage over typically smaller value firms by being able to borrow for longer terms. And vice-versa when the curve steepens, growth firms lose this relative advantage and tend to underperform.
The chart below shows the relationship, which was disrupted through the pandemic. Nonetheless, if it re-establishes itself then the curve beginning to durably re-steepen would be a sign growth stocks will start to underperform again, taking the index lower in the process.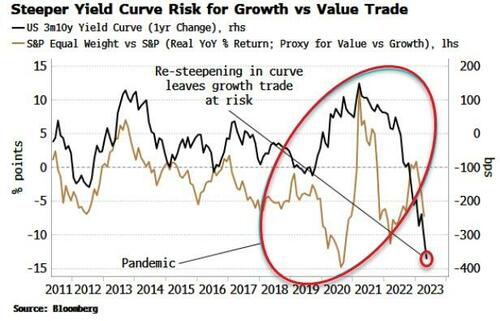 Equivalently, a re-acceleration in US inflation (whose timing depends on China's halting recovery) is more likely to put steepening pressure on the curve as the Fed has to balance economic growth more with inflation risks. Given the growth segment's outperformance is an indication of the market's intensely relaxed attitude to inflation, its resurgence would be a high risk for sending growth stocks lower.
Loading...