---
Robinhood Says Platform Is Back Online Minutes Before Billions Pour Into To Sell On Close
Update 15:59PM EST: Robinhood has taken to Twitter to tell its customers that with just minutes left in the trading day and $3.3 billion piled up to sell on close from funds likely looking to puke their equities onto unsuspecting retail investors, that trading has re-opened on the platform. Enjoy buying the dip, Robinhood users!
Trading has been restored and Robinhood is back up and running again. Thank you for your patience as we resolved this issue.

— Robinhood Help (@AskRobinhood) March 9, 2020
***
Going for what seems like the world record of massive f*ck ups in a month's time, retail brokerage Robinhood, which left all of its customers fuming mad with outages while the market swung wildly over the last two weeks, has once again said it is "experiencing issues with trading". As a reminder, last week Robin Hood was again down allegedly due to bad (and/or missing) coding to account for the leap year; perhaps it also forgot to properly code for Daylight Savings Time?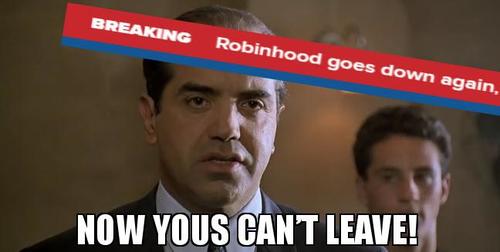 Robinhood's account confirmed the outage, which was first reported by Downdetector on Monday morning.
Trading is currently down on Robinhood and we're investigating the issue. We're focused on getting back up and running as soon as possible and we'll update the status page with the latest https://t.co/mON07oWvHy.

— Robinhood Help (@AskRobinhood) March 9, 2020
The retail brokerage, likely replete with inexperienced traders all rushing to crowd through the market's exits at once, said that it is having "issues with equities, options and crypto trading," according to Bloomberg.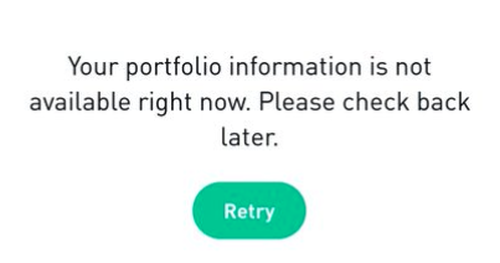 Oh, that's it? Well that leaves - well, nothing - left to trade.
Recall, the brokerage faced scrutiny not only from traders but from regulators after its massive screw ups over the last two weeks which left nervous millennials unable to panic sell their Tesla shares as U.S. markets crashed. 
Recall, a couple weeks ago, it was Fidelity shutting down, not allowing investors to trade during the market crash. 
And if this was the mood last week from Robinhood customers...
Switching back to @TDAmeritrade

Good work today @RobinhoodApp #RobinHood pic.twitter.com/0IodtmQIHK

— Will [PurdyAlerts] (@WillPurdyAlerts) March 2, 2020
...what's it going to be like after yet another outage?