---
"We Are Headed For The Worst Of The Worst" Week For Markets
Earlier today we laid out the views of Nomura's Charlie McElligott who discussed why 270 in the QQQs is the "line in the sand" for dealers, as a drop below this "trigger" level could open a trapdoor for markets leading to "things getting sloppy to the downside into next week."
BMO's Russ Visch picks up on the theme of imminent market weakness, and on Friday morning writes that "we are in the worst calendar month of the year for equities both here and in the U.S. and it's not even close. In addition, the week following the September quadruple witching has also been one of the most consistently negative weeks of the year with the S&P 500 closing lower nearly 80% of the time over the past 30 years."
So, as he puts it, "we're headed right into the worst of the worst, so to speak."
Looking at a chart, this means that to expect more downside "since momentum gauges remain mostly negative" and should the S&P close below the mid-September low at 3310, that would open the door for a test of next support at 3233: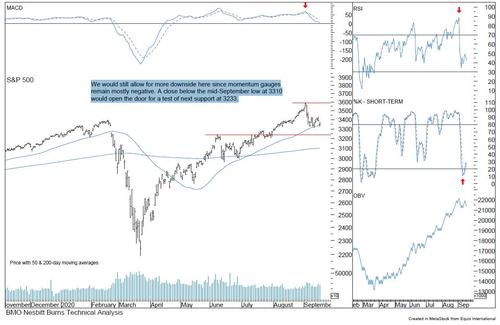 Similarly for the Nasdaq, should support at 10,850 fail (as it has already done today), a drop to 9,838 is possible: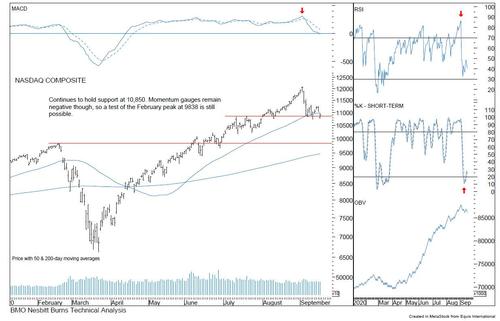 But before BMO's clients freak out and dump everything, Visch has some soothing words: the pain won't last, and the market's trend in the medium-term remains up: 
The reality is that so far, the correction that's been underway since the beginning of September has played in the manner we've expected. It's driven largely by the wildly overextended mega-cap growth names which are having an outsized impact on the major averages (SPX: - 6.43%, Nasdaq -9.64%) while the vast majority of stocks are holding up just fine. (Russell 2000 -3.32%, NYSE Composite -2.64%.)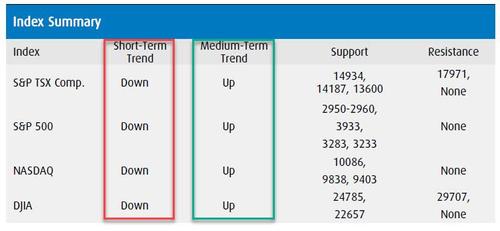 In essence, Visch concludes, "the market is letting some "steam" out of the areas that need it the most." And while he would still allow for more weakness in line with seasonal headwinds that stretch out into October, "so far nothing about this pullback has us concerned about the broader, bullish backdrop."