---
"We Won't Tolerate Yield Fluctuations": Schizoid Kuroda Fine-Tunes Market Micromanagement, Sparks BOJ Mockery
Having leaked in advance everything that it plans to announce, overnight the BOJ held its Monetary Policy Meeting (MPM), and, as was widely expected, it maintained its monetary policy framework intact including yield curve control while slightly loosening its grip on long-term bond yields and laid the groundwork to taper its huge purchases of risky assets, as part of steps to make its ultra-easy policy sustainable enough to weather a prolonged battle to fire up inflation; the changes included a wider-than-previously-thought movement range for bond yields and the scrapping of a buying target for stock funds.
Here are the key highlights:
The bank "clarified" (following some now typical confusion) that its tolerable band for fluctuations of 10-year JGB yields is around ±25 bp from the target level, widening from ±20 bp previously. At the same time, it introduced "fixed-rate purchase operations for consecutive days" to maintain the upper limit of its tolerable band.

To give itself more room to wind down its massive stimulus, the central bank also removed an explicit guidance to buy ETF and J-REITs at an annual pace of roughly ¥6 tn and ¥90 tn, respectively. Instead, the BOJ now plans to continue purchasing ETFs and J-REITs with upper limits of ¥12 tn and ¥180 bn on an annual basis, respectively. These upper limits were originally set as a temporary COVID-19 countermeasure. The BOJ also said it will focus on buying ETFs tracking the Topix rather than the Nikkei 225 (which led to selling of Nikkei 225 stocks and a rebound in the Topix).

The BOJ announced the introduction of a new scheme named "Interest Scheme to Promote Lending," under which (positive) interest rates, linked to the short-term policy rate, will be applied to financial institutions' current account balances. This scheme will be enacted when the BOJ decides to cut short-and long-term interest rates in the future, with a view to mitigating the potential adverse effect on the functioning of financial intermediation.
"We won't tolerate yield fluctuations that would have an impact on our monetary easing," Kuroda told a briefing. We absolutely need to make sure the effect of our monetary easing isn't hurt. We clarified that stance with our new guidance."
The biggest take home from Kuroda and Co is that the BOJ said the band around its 10-year bond yield target was around 0.25% either side of zero - which until now the range had been assumed to be around 0.2%, effectively a modest loosening of Japan's YCC which helped send Japanese bank stocks higher. 
BOJ officials have been dropping hints that they will allow yields to fluctuate more around the 0% target to breathe life back into a market made dormant by the bank's dominance. But the central bank faced a communication challenge of having to convince markets that any move would not lead to a withdrawal of stimulus. Kuroda stressed the near-term priority was to keep borrowing costs stably low to support an economy hit by the pandemic.
To avoid sending a message that the BOJ was tightening conditions, Kuroda said the band hadn't been widened, only clarified. Adopting a wider tolerable band for 10-year yields was initially considered the most likely adjustment, but Kuroda clearly refuted the possibility in the Diet session on March 5. Goldman attributes the about-face to financial markets settling down since then, as well as the government's decision to lift the state of emergency as of March 21.
Indeed, the BOJ said it will not apply the rule rigidly when yields move below the band temporarily, but step in forcefully with unlimited bond purchases to prevent sharp rise in yields. The conflicting goals made the BOJ's tweaks so modest it will barely revitalize markets, some analysts say.
"It's a very minor change. The difference between 0.25% and 0.2% is quite small," said Masaaki Kanno, chief economist at Sony Financial Holdings in Tokyo. "There's a long way to go before we even get close to 2% inflation," he added.
As previewed earlier this week, the BOJ also ditched its 6 trillion yen ($55 billion) guide for annual purchases of exchange-traded funds, while sticking with an upper limit of 12 trillion yen so it can still step into the market if needed. By maintaining the larger annual guidelines as upper limits, the BOJ aims to sound dovish, but it is quite unlikely to actually purchase those amounts, judging from its purchase pace in recent months. In this manner, the BOJ wants to enhance flexibility in the ETF/J-REIT purchase program.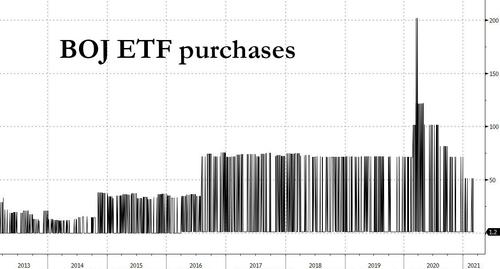 The central bank also unveiled bank lending incentives and a plan to revise its three-tier reserve system if it lowered its target rates. That is to counter the perception it cannot lower its negative rate further. This move in itself was widely anticipated in the market. That said, measures to counter potential side effects took the form of additional interest rates on the lending scheme, rather than the adjustment to the three-tiered system for the current account balance itself that had been reported by many media outlets beforehand.
Economists, leery of calling out naked BOJ emeperor, described the moves as "a balancing act that allows the BOJ greater scope to buy fewer assets but also shore up the effectiveness and sustainability of its measures." Currency and bond markets largely took the moves in stride with the decision to focus only on ETFs on the Topix index briefly driving down shares on the Nikkei 225.
The best summary of the BOJ's schizophrenic approach to micromanage the market came from Bloomberg's Garfield Reyonds who wrote the following:
BOJ Governor Kuroda states Friday's decision to set the 10-year yield range at -25bps to +25bps was a move to clarify the target, not to raise it. What is instead becoming clear is that the BOJ's massive and persistent asset purchases are ineluctably drawing the central bank to expand its role in assets and the economy.

The BOJ's increased focus on 20-year notes, and concern they not get too low, implies that YCC is advancing up the curve, and potentially becoming more vague.

The central bank's stock-market ambitions have also become both more focused (dropping NKY for the Topix), and less focused (eliminating the 6t yen lower target). And Kuroda announced a plethora of measures to try and better engineer the right sort of mix of behaviors from banks. To sum up, the BOJ:

Raised where it will in practice allow 10-year yields to go, but claimed that in theory it did nothing
Appears to be favoring value stocks over growth
Is certain it can somehow safeguard banks against the impact of negative rates, despite so far struggling to do so
Couldn't have said it better ourselves.