---
Wealthy UBS Investors Stockpile War Chest Of Cash, Wait For Deals As Market Froth Evaporates
The latest UBS Global Wealth Management survey finds high net worth people and business owners are stockpiling cash amid a stock market rout and expected flurry of interest rate hikes this year. 
UBS Global Wealth surveyed 3,000 people with at least $1 million in assets and 1,200 business owners with $1 million or more in annual revenue between Jan. 4 to Jan. 24 and found 61% of respondents said they had more than 10% of their portfolio in cash and equivalents, up from 59% heading into 2021. 
High net worth people and businesses increased their cash position last month as financial conditions tightened the most on record, which sparked turmoil in equity and bond markets. The S&P500 tumbled into a "correction" (-12.4%) last month, one of the worst starts to a year in more than a decade. Since Jan. 24, the main equity index, heavily weighted in technology, has staged a 6% rebound. Though profitless technology companies were slaughtered underneath the broad index, some are down more than 50% as real yields screamed higher and crushed valuations on mounting rate hike expectations. 
Market froth has evaporated and back down to near pre-COVID levels. 

In a separate question, more than 80% of respondents said the Biden administration needs to get a hold of raging inflation. 
"Against a backdrop of inflation and rate hikes, investors are waiting for the 'right opportunity' to invest in sectors such as healthcare and technology," according to the UBS report. It appears respondents are stockpiling cash and on standby to buy the dip (though the smart money is patiently waiting). 
Many of the respondents are on edge about how quickly the Federal Reserve will tighten monetary policy. Short-term interest rates are pricing in 5 rate-hikes this year (and a 25% chance of a 6th) as well as a 30% chance that The Fed surprises in March with a 50bps hike...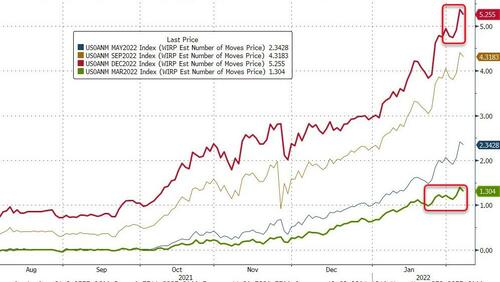 Goldman Sachs' Cecilia Mariotti told clients Monday in her latest strategy research note that our RAI PC2 "Monetary policy" is signaling the most hawkish pricing across assets on record (outside the COVID-19 shock)...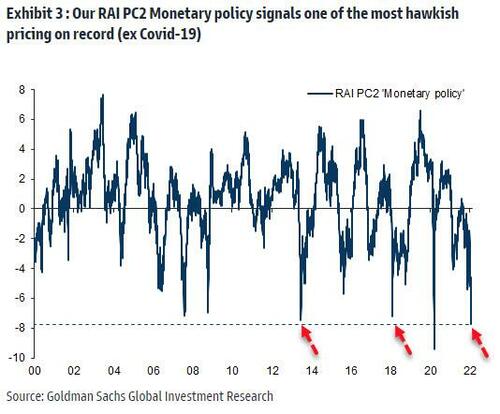 However, Mariotti points out that while equities have been more under pressure, it is mostly longer duration, growth pockets of the market that has suffered - value has outperformed and cyclicals are flat vs. defensives.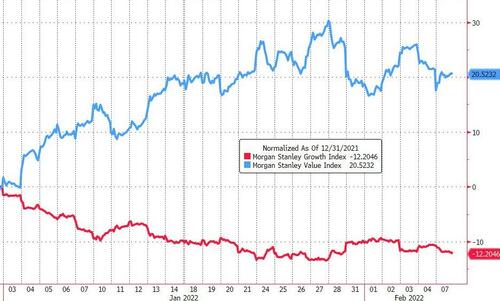 The current level of extreme monetary tightness expected by the market is the same as was priced-in in 2014 and 2018 - during which both times The Fed flip-flopped and reversed its hawkish stance (in the interest of 'financial stability).
And maybe that's why the smart money is stockpiling cash because they believe there's not a snowball's chance in hell the Fed can embark on such an aggressive rate hike strategy this year (especially ahead of midterms). The Fed might have to reverse its super hawkish stance. 
Besides building up their war chest of cash, respondents take out new mortgages, refinance existing ones, and tap security-backed loans ahead of potentially higher interest rates.