---
​​​​​​​WeWork Default Looms As COVID DOwnturn Sparks Fitch Downgrade
Even though Global Head of Real Estate at WeWork, Peter Greenspan, recently told Ken Biberaj, US Managing Director at real estate services firm Savills, in an interview that the firm's balance sheet is "strong," Fitch Ratings downgraded the struggling co-working company on Thursday evening, warning about the increased default risk because the virus pandemic has resulted in a permanent shift in lower office space demand. 
The rating agency slashed WeWork's long-term issuer default rating to CCC from CCC+. The CCC tier, essentially the lowest level in the junk bond market, implies the once high-flying startup has a significant chance of defaulting on its obligations. 
Fitch's downgrade is due to the "viability of WeWork's business model in light of a potential lasting shift by companies to a hybrid office model that leads to permanently lower office space demand." 
Fitch said, "WeWork has made material progress to reduce its cash burn rate, in a scenario where demand is structurally lower, Fitch sees WeWork as potentially requiring additional liquidity sources inclusive of and beyond the full $3.3 billion SoftBank financing commitment." 
Maybe that's why SoftBank's Masayoshi Son plowed $1.1 billion into the sinking ship, known as WeWork, in August to help it weather the coronavirus pandemic.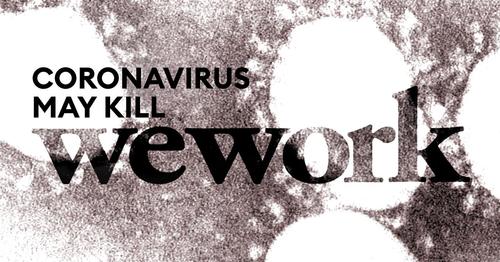 Fitch said WeWork's cash burn rate had been cut by nearly 40% from $4 billion in 2019 to $2.5 billion in 2020. Under one scenario, absent of a second coronavirus wave and structurally lower office demand, Fitch sees WeWork's burn rate decreasing to about $900 million, with much of the funding coming from SoftBank unsecured notes.
As for the scenario with a second wave and structurally lower office demand, which at the moment, appears to be in play, Fitch sees WeWork with a cash burn of about $1.5 billion in 2021 and 2022. Fitch questions if the struggling co-working company can receive funding in this scenario. 
The virus pandemic forces a new era of remote working, and a permanent demand shift lower for office space. Fitch warns:
"WeWork's business model is potentially compromised due to the coronavirus pandemic..." 
Fitch believes the company will have to "negotiate exits" rather than "walk away from committed leases," so it can preserve its "reputation" without "destabilize its business model." 
And rather than negotiating exits, WeWork, at some of its buildings, just stopped paying rent. 
A previous concern held by the rating agency is that a reduction in leasing demand by WeWork in top cities could result in lower rents for other commercial spaces that would reduce the relative attractiveness of WeWork spaces. 
WeWork's bonds maturing in 2025 trade around 63 cents on the dollar as more downside is possible.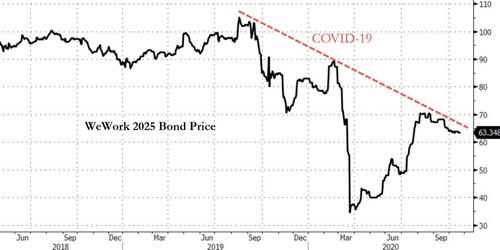 As for SoftBank's Vision Fund's upcoming SPAC, well, it remains to be seen if it will be the vehicle to take struggling WeWork public. 
We give the last word to Fitch: "WeWork would be considered a going concern in bankruptcy and that the company would be reorganized rather than liquidated."