---
What Americans Are (And Aren't ) Spending On During The Pandemic
Yesterday we showed that following the July 31 fiscal cliff, spending among unemployed workers - those impacted the most by the end of the emergency Unemployment Insurance fiscal stimulus program - declined substantially just as many had expected...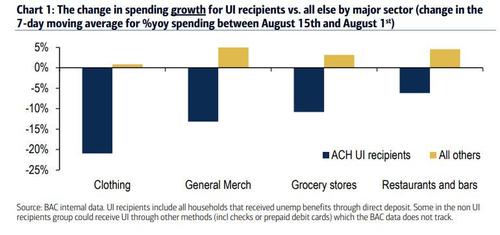 ... with the decline affecting virtually all income cohorts, as the YOY growth rate slowed by 12% for the unemployed cohort (formerly) earning under $50K vs. a roughly 5% drop for the middle and upper income cohorts (more here), even as spending among all other Americans posted a healthy increase.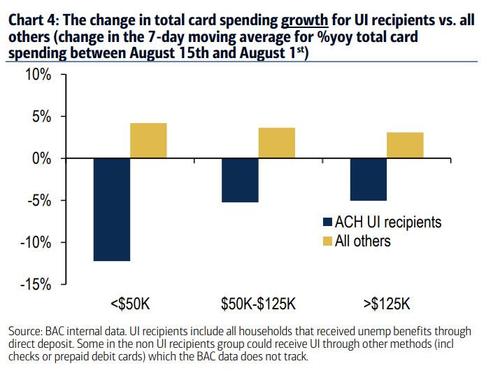 Yet despite some marginal fluctuations, spending continued as per the norm for a society where 70% of GDP comes from consumption (mostly funded by debt).
So using the latest Bank of America data, what have Americans been spending more - and less - on during the pandemic? Well, as the chart below shows, the latest weekly data shows that total card spending, as measured by aggregated BAC credit and debit card data, dipped a modest -0.1% yoy for the 7-day period ending August 15th, meaning that overall spending is virtually identical compared to last year, and is also consistent with the rate of growth since late June. In fact, excluding autos, spending is up a whopping 8% likely reflecting the tail end of the government's extra generous benefits.

However, the composition of spending has changed dramatically, with spending on "person to person" service industries still dismal, with airlines, entertainment and lodging all down between 42% and 83%. Separately, spending on restaurants & bars, transit, gas and clothing is down double digits Y/Y.
At the same time spending on online shopping for electronics has exploded, up 95% compared to a year ago, and everything home related - in a time of universal Work From Home - also soaring (Home improvement up 29%, furniture up 27%) to go along with the great migration from cities to suburbs.  But the biggest beneficiary is overall online spending - read Amazon - where Americans have spent a massive 69% more compared to last year.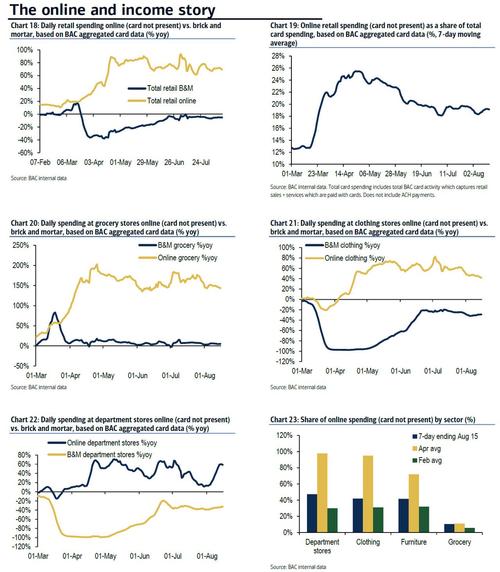 Another notable observation: spending on credit remains depressed on a Y/Y basis, down 12% Y/Y, as Americans remain unwilling to incur more debt in a time of great uncertainty about the future (unlike their corporate peers). So where is the funding coming from? As the chart below shows, it's all debit cards - which are up 10% Y/Y - as Americans for once drain their savings generously funded by Uncle Sam.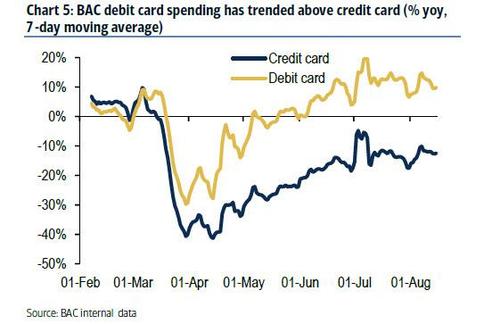 So with all that in mind, here is how aggregate US spending by major category has changed compared to this time last year: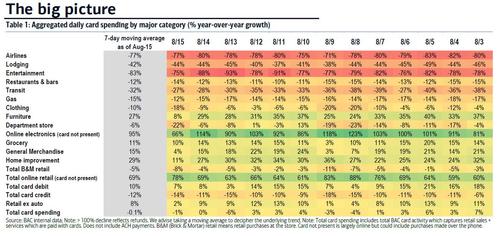 Below is some additional spending spending as broken down by state of reopening...

... and which shows that for the most part spending across various segments has caught up regardless of when a state reopened. As BofA notes, over the past several weeks, there has been a convergence in spending trends between the states regardless of the timing of the initial reopening and path of the virus. That said, there is some differentiation in beauty salons and recreation services which likely reflects the decision of some states – most notably California – to roll back the reopening.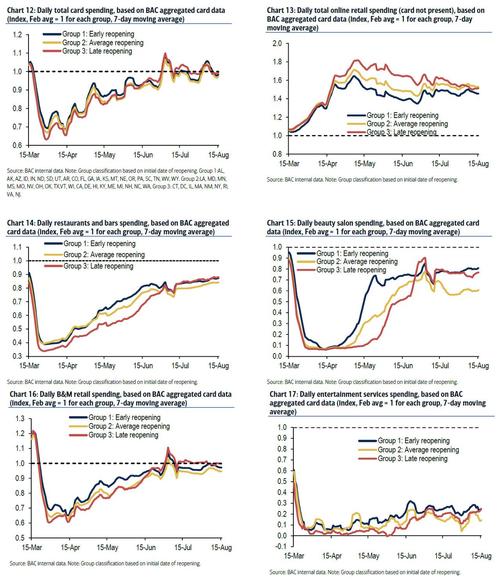 We next look at spending on a regional basis, comparing the largest US Metro Statistical Areas to find that the biggest declines can be found in liberal West Coast cities - San Fran, Seattle and Portland - while the most notable rebounds have been observed in Detroit and such sunbelt MSAs as Atlanta, Tampa and Miami.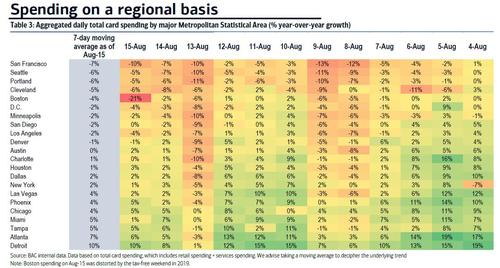 The same chart but broken down by state: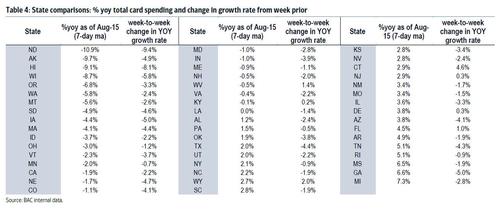 One final observation: the bulk of the spending boost continues to be led by low income (those making <$50K) Americans, while those in the mid-range ($50-$125K) are unchanged from last year, while the upper cohort of Americans making >$125K remains subdued compared to 2019.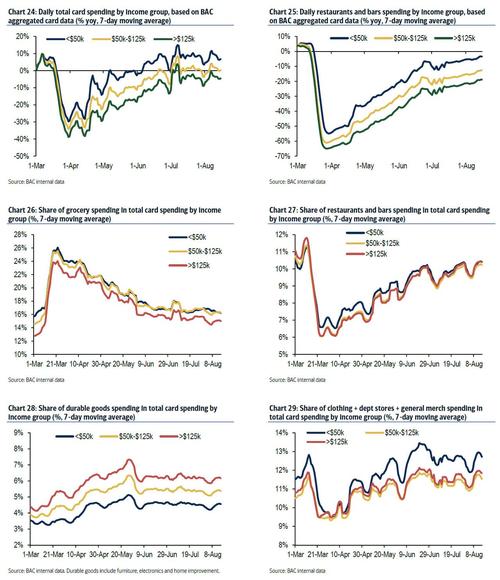 This is problematic because as noted above, it is these lowest-income Americans that will be most adversely impacted now that the fiscal cliff has resulted in a material decline in government stimulus checks, and implies that - all else equal - consumption, and US GDP in general, are about to post a sharp decline.