---
This Is What The S&P Would Look Like Without The 5 Megacap Tech Stocks
We have previously shown the following remarkable chart from Goldman breaking down the post-March lows rally, and showing that while the 5 FAAMGs stocks have soared from the covid shutdown crash, the rest of the market remains well underwater.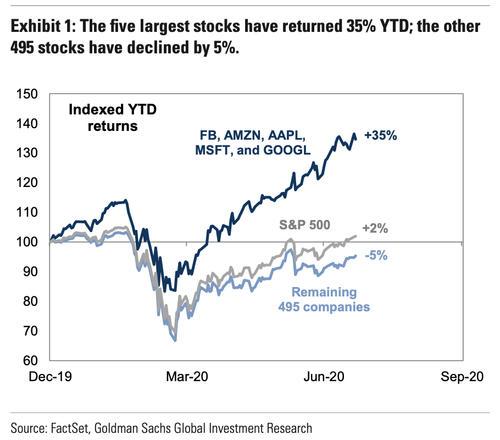 The reason we are showing it again is because the market's dismal breadth took a new, striking turn yesterday when the S&P500 ramped to close green yet again led by just a handful of tech stocks even as 70% of the S&P500's constituents closed red.
The cause behind this "bad breadth" is well known: as the following Goldman chart shows, the market cap of the five largest S&P companies has hit a record high 23% while the top ten companies alone now account for nearly a third, or 29%, of the S&P500's entire market cap: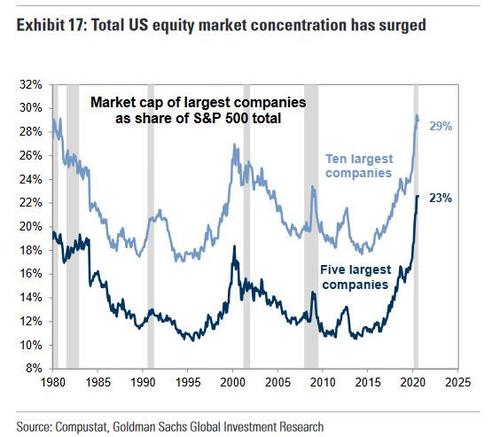 Maybe it's high time to rename the S&P500 to the S&P5?
So to normalize for the unprecedented impact of the handful of record outperformers, we decided to look at the S&P on an equal-weighted bases instead of cap-weighted. The result is amazing, and shows that if it wasn't for the 5 mega caps - which as we noted previously have been aggressively repurchasing their shares which goes a long way to explaining their historic outperformance - the S&P500 is roughly flat from its March lows.