---
What Trade War? Chinese Trade Surplus Hits All Time High On Soaring Exports Of Pandemic Goods
China's Covid-driven export boom continued into December, pushing China's trade surplus to a record high in the last month of 2020 and further bolstering what is already the world's best-performing major (mercantilist) economy.
Here are the details from the December data:
Exports: 18.1% yoy, beating consensus of +15%, if a slowdown from November's +21.1% yoy. Month-over-month export growth was +0.3% non-annualized in December vs. +5.1% in November (RMB denominated Exports: +10.9% yoy in December vs. +14.9% yoy in November.)

Imports: 6.5% yoy, also beating consensus of +5.7%, and stronger than November's: +4.5% yoy. Month-over-month imports growth also rose by +1.5% non-annualized in December vs. +1.0% in November (RMB denominated Imports: -0.2% yoy in December vs. -0.8% yoy in November).

The trade surplus of $78.2 billion for the month was higher than the $72 billion median estimate in a Bloomberg survey of economists. For the full year, the trade surplus reached $535 billion, a 27% increase from 2019 and the highest since 2015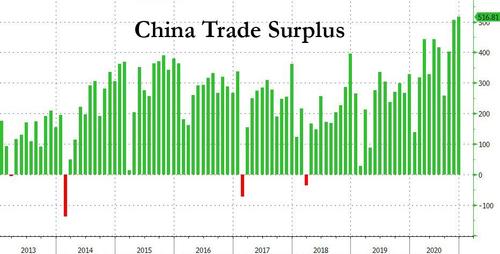 According to Bloomberg China economist David Qu, "the data showed external demand is driving China's economic recovery, and this will likely continue in the coming months. Exports should jump in the first quarter, partly due to stronger U.S. demand from the expected economic relief package."
Chinese exports to the U.S. surged 34.5% in December from a year earlier, while imports of American goods rose 47.7%, the most since January 2013. For the full year, the trade surplus with the U.S. was $317 billion, 7% higher than in 2019: not exactly what Trump had in mind when he launched the trade war with Beijing.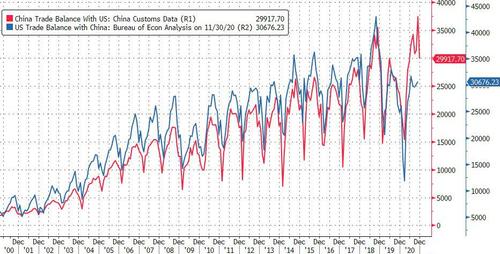 And yes, the surge in Chinese exports to the US was almost entirely on the back of healthcare/covid-related products. So once again, Beijing "lucked out" by releasing the deadliest pandemic since the Spanish Flu.
Li Kuiwen, an official at China's General Administration of Customs, said the trade surplus may keep growing this year, supported by an expected recovery in the global economy and stable domestic growth.
Meanwhile, Jian Chang, chief China economist at Barclays Plc in Hong Kong, said the data supports regional evidence from South Korea and Vietnam of booming demand.
"The external recovery has continued," said Chang. "Chinese manufacturers have flexibly adjusted their production lines to produce goods to meet the demand through the new Covid era." Both pandemic and non-pandemic related goods are growing strongly, she said.
The data probably won't shift the central bank from its stance of gradually withdrawing monetary stimulus but without any sharp turn in policy, Chang said, adding there's unlikely to be an interest-rate cut or hike this year.
Some more in depth observations from Goldman on the latest trade data:
By major trade partner, exports to the US decelerated to +34.5% yoy in December from +46.1% yoy in November, and growth of exports to EU moderated to +4.3% yoy from +8.6% yoy in November. In contrast, exports to Japan and Korea accelerated to +8.2% yoy and 16.4% yoy, respectively. Exports to ASEAN also surged 18.4% yoy from +10.0% yoy in November.

By major export category, "working from home" related exports accelerated further in December - growth of exports in automatic data processing machines rose 54.5% yoy in December vs. 34.3% yoy in November. Growth of exports in electronic integrated circuits improved to 39.4% yoy in December from 26.4% yoy in November. Exports growth of Covid-19 related personal protection products moderated but remained relatively strong in December - exports of textile & fabric goods rose 11.7% yoy, moderating from +21.0% yoy in November and exports of plastic articles grew 90.2% yoy, vs. 112.9% yoy in November. Other major contributors to the export strength include furniture and toys. Exports of furniture grew 27.5% yoy, vs. +41.9% yoy in November. Toy exports stayed strong and rose 31.5% yoy in December, moderating from 49.9% yoy.

For major commodity imports based on released information (a full set of commodity trade data is not released yet), in value terms, the decline in crude oil imports widened to -43.2% yoy from -34.5% yoy in November. Iron ore imports rose 32.0% yoy, vs. +43.4% yoy in November. Imports of coal surged 905% yoy, driven by high heating demand amid colder-than-usual winter and partially on a low base. Imports of integrated circuits accelerated to +26.5% yoy in December from +13.0% yoy. In volume terms, crude oil imports fell sharply by 15.4% yoy, vs. -0.8% yoy in November. Iron ore imports contracted by 4.5% yoy, reversing from +8.3% yoy in November. Coal imports grew 13 times from December 2019.

China's export growth remained strong in December, pushing trade surplus to a record high. Solid external demand for Covid-related products and work-from-home related products supported China exports amid resurgence in infections in major trade partners last December. Ongoing virus wave suggests such categories may remain strong in Chinese exports in January.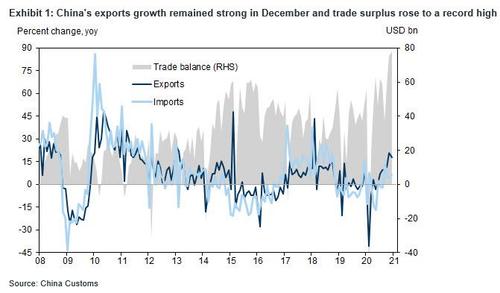 As Bloomberg notes, behind the relentless surge in shipments is insatiable global appetite for work-from-home technology and health care equipment - conveniently, as Covid emerged out of a lab in China - as the coronavirus panbdemic continues to ravage the world. Demand is so strong that's it's contributing to a widelye discussed bottleneck at ports as manufacturers complain of a shortage of shipping containers and surging costs.
"Demand for China's goods may remain strong in the next few months with the recent surge of Covid infections in the U.S. and Europe," said Ding Shuang, chief economist for Greater China and North Asia at Standard Chartered Plc in Hong Kong.
However, that outperformance will inevitably wane as the virus is controlled in big markets including the U.S. and Europe and industrial production recovers, he added.
The figures also showed shifts in China's trading partners last year, with the 10-member bloc of Southeast Asian nations rising to the No. 1 spot, followed by the European Union and the U.S.