---
What's Behind The Sudden Plunge In Oil Prices? Goldman's Trading Desk Explains
From Goldman floor trader Michael Nocerino
Tons of questions on the weakness in Crude – Thoughts from our trading desk: believe the move is more of a "catch-up" to weaker physical markets as we moved past WTI options expiration yesterday & as Middle East risk premium has now come out of the market in our view.

Bigger picture:
Margins have remained weak for a while
OPEC continues to export
Spreads & DFLs have been signaling weaker fundamentals for several days now
Brent breaking through the 200dma…approaching oversold levels (RSI 32.7)…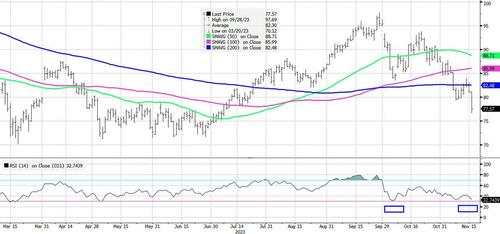 On the vol front, it's interesting to note that front-end gamma is well bid on this selloff which is a re-engagement of the negative spot/vol correlation we saw from late September until the early October Israeli attacks flipped that abruptly. We're also seeing put skew rally sharply here with front-end 25d RR's rapidly approaching the September wides of ~5v for puts.) Options desk think there is some gamma around $75 from sov hedging/other prod strikes and worth noting PMI moved their OSP lower yesterday which brings strikes closer to the money.
We haven't seen too much fresh on the fundamental side. There are some thoughts that an Iraq flows resolution is imminent, but nothing confirmed and that doesn't warrant a sell off of this magnitude.
Our models have CTA selling continuing and timing of the move was around the time that their flow normally ramps up.
Fitting that GIR Published their 2024 Outlook today: "We believe that OPEC will ensure Brent in a $80-$100 range by leveraging its pricing power, with a $80 floor from the OPEC put, and a $100 ceiling from spare capacity." (link)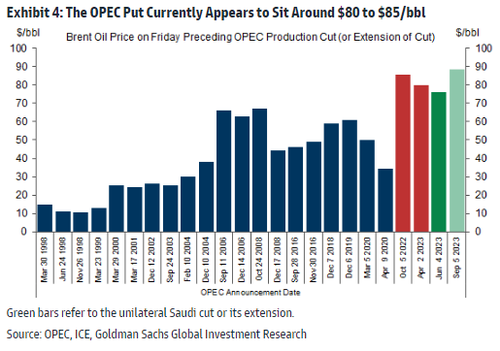 Loading...