---
What's Behind Today's Sudden Selloff: The Answer Lies In Georgia
There has been some confusion about the catalyst behind this morning's sudden market selloff which followed promptly after the S&P hit a fresh all time high.
While there has been no single, definitive news catalyst, the answer for the risk weakness is to be found in Georgia, which goes to the polls in special run-off elections for its U.S. Senate seats. As a reminder, if Democrats win both, then the Senate will be split 50-50, and they will control it thanks to the vice president's casting vote.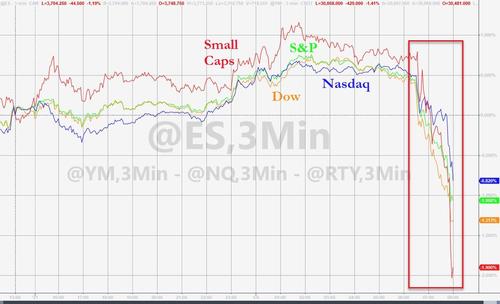 So why is Georgia suddenly a concern?
As Bloomberg's John Authers explains overnight, while there have been few polls over the last two months, and with so much depending on getting people out to vote in the middle of winter during a pandemic, much must be left to conjecture, "but the prices on the Predictit prediction market show it is close."
First, this is the race between the Democrats' Raphael Warnock and Republican Kelly Loeffler: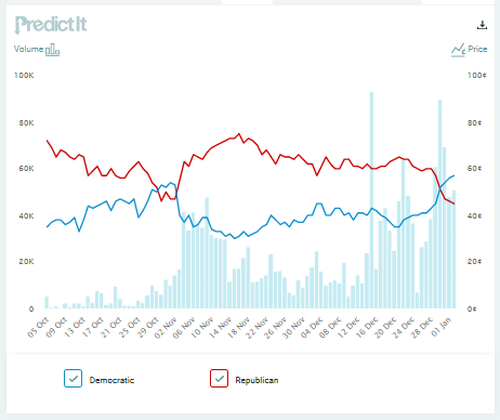 The same trend is at work in the contest between the Democrats' Jon Ossoff and Republican David Perdue, who is still hanging on to a lead: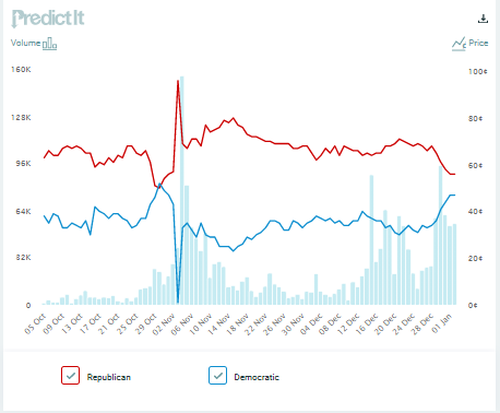 Strikingly, while online betting markets priced in a relatively modest 25-30% probability of a blue sweep (i.e., Demorats winning both GA runoffs tomorrow), the Predictit odds for a "blue wave" have soared in the past few days, surging just shy of 50%.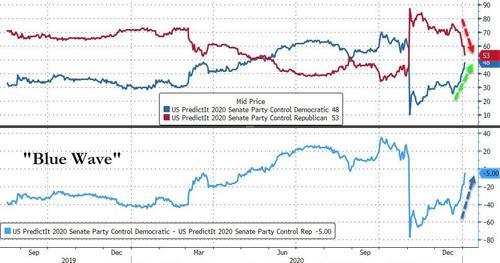 The sudden realization that a blue wave appears likely has also inverted the VIX term structure, with the one-week volatility rising in addition to spot as the tenor includes the Georgia race.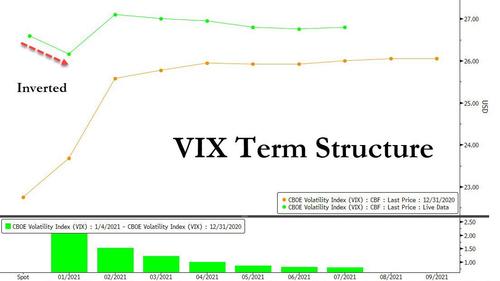 As a reminder, should Democrats win in GA and regain control of the Senate agenda, that would be a huge deal as "obstructionist tactics would become almost impossible for the Republicans" while the chances of more fiscal spending to alleviate the coronavirus, or a bigger push on infrastructure, would look much stronger. This, needless to say, "would boost the reflation trade" while more aggressive fiscal policy would also mean higher interest rates, while reducing the pressure on the Federal Reserve to keep them low.
It's also why 10 Year breakevens just hit 2.01% earlier today...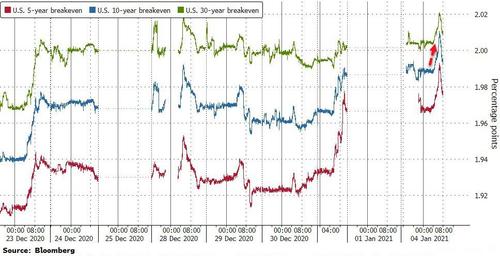 ... the highest level since 2018.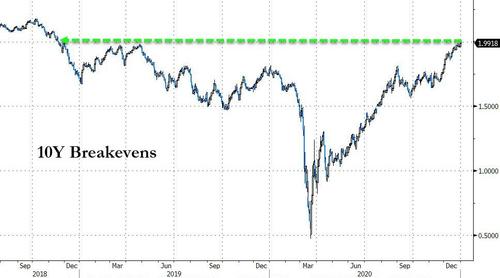 This, as Authers concludes "is an outcome for which investors aren't positioned, so it could cause a market mess."
Morgan Stanley's Michael Wilson agrees, and this morning repeats his recent recurring warning that a notable market correction is imminent, writing that "the "risk-reward" of the US equity market has deteriorated materially and the market is ripe for a drawdown" and he lists the Georgia Senate seat run-off election as a potential downside trigger.
To be sure, while one can't find much fear about a spike in inflation in the otherwise somnolent 10Ys nominals, Wilson writes that "the big surprise of 2021 could be higher inflation than many, including the Fed, expect. Currently, the consensus is expecting a gradual and orderly increase in prices as the economy continues to recover. However, the move in asset prices like Bitcoin suggest markets are starting to think this adjustment may not be so gradual or orderly.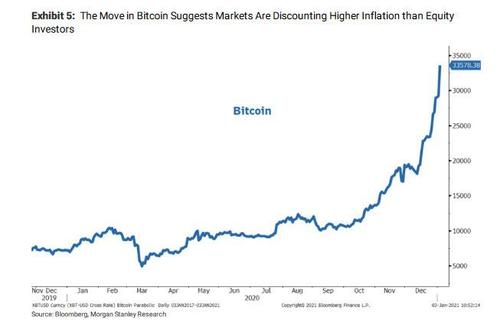 The Morgan Stanley strategist concurs and adds that "with global GDP output already back to pre-pandemic levels and the economy not yet even close to fully reopened, we think the risk for more acute price spikes is greater than appreciated. That risk is likely to be in areas of the economy where supply may have been destroyed and ill prepared for what could be a surge in demand later this year—e.g. restaurants, travel and other consumer/business related services."
Finally, while the best inflation hedges are stocks and commodities in the intermediate term, "inflation can be kryptonite for longer duration bonds which would have a short term negative impact on valuations for all stocks should that adjustment happen abruptly."
We may be seeing the start of that adjustment this morning.