---
White House Steps Up Pressure On Turkey: "Time Is Now" To Admit Sweden Into NATO
The United States and the Western allies are stepping up the pressure on Turkey to admit Sweden into NATO. It began with President Joe Biden's Monday phone call to congratulate Turkey's Recep Tayyip Erdogan on his re-election as president.
Erdogan in the phone call reportedly repeated his country's desire to acquire more F-16 fighter jets, to which Biden responded that the US wants Ankara to drop its objection to Sweden's NATO application. 
"I spoke to Erdogan. I congratulated Erdogan. He still wants to work on something on the F-16s. I told him we wanted a deal with Sweden, so let's get that done. And so we'll be back in touch with one another," Biden said to reporters of the call.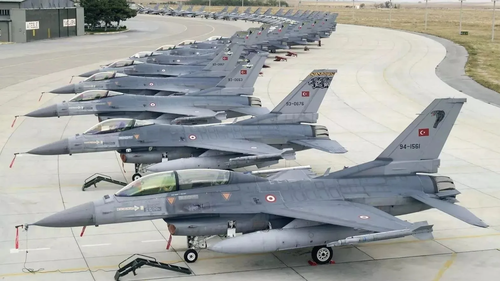 Biden was asked about if the two spoke about Sweden's entry into NATO, to which he responded, "I raised that issue with him. We're going to talk more about it next week."
Sweden had launched its application with Finland, and while the latter has since been formally admitted to the Western military alliance, Sweden's accession is still pending, given Hungary and Turkey has continued to exercise a veto. Turkey especially has required that Sweden crackdown on dissident Kurdish groups and activists which have found refuge in Sweden. 
Turkey has also asked that Stockholm extradite wanted persons, but many of these cases appear to simply be free speech related, meaning Sweden can't legally take action. Ankara as responded by demanding Sweden update its laws.
US Secretary of State Antony Blinken is now stepping up the pressure on behalf of the administration in the wake of the Biden-Erdogan call, saying Tuesday "the time is now" to admit Sweden.
"From the perspective of the United States, the time is now to finalize Sweden's accession," Blinken said. "Again, it's taken very significant steps to address very legitimate concerns and I think in terms of its own qualifications for membership from day one, it was qualified." 
According to Financial Times, the two issues of the F-16 modernization program and Turkey dropping its veto on Swedish accession are indeed linked, but not officially: 
The Biden administration has also said that Ankara should be provided with upgraded F-16 fighters "as soon as possible." And while Blinken maintained that the administration had not linked the two issues, he also acknowledged that some US lawmakers had.

US President Joe Biden implicitly linked the two issues in a phone call to Turkish President Recep Tayyip Erdoğan on Monday.
Meanwhile, Sweden's prime minister Ulf Kristersson wrote in the Financial Times that Sweden has adequately responded to Turkey's concerns on counter-terrorism issues. He said his country as delivered "on the last part" of an agreement with Ankara, given a new counter-terrorism law enters force on Thursday.
"It is time to seriously consider Sweden's application for Nato membership . . . Only [Russian president] Vladimir Putin has anything to gain from Sweden remaining outside Nato," Kristersson asserted. Indeed political momentum on the issue seems to be picking up, and yet Erdogan - now newly elected to yet another 5 year term and with a mandate - has long proven unpredictable and at times unbending.
Loading...