---
Who's The Incremental Buyer If Powell Shades Dovish?
Currently, the market is 'expecting' a 25bps hike (80%-plus odds) and a dovish-leaning message of hope (for the financial system) from Powell (as the Fed Funds curve has shifted back in line with where it was at the last FOMC meeting)...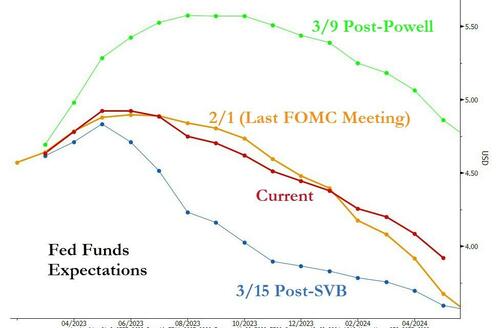 If Powell delivers (or over-delivers), Goldman Sachs trader Michael Nocerino says the question of who is the incremental buyer keeps coming up in conversations.
His answer is shocking.
While many still believe that CTAs are potential sellers, it turns out they've derisked massively already.
Nocerino gives a nod to a good flag from his colleaugue Lee Coppersmith:
Our CTA positioning metrics estimate positioning in SPX is at the LOWEST LEVEL OF ALL TIME (-$31bn)...

The asymmetry is massively skewed towards repurchases (up to $60bn to buy over a month vs. a worst-case scenario of negligible flow).

Our client conversations have leaned massively bearish as of late, but this is something to make sure folks are aware of.
With the S&P 500 trading right around the 50DMA, the technical breakout from this covering flow could be more impressive than many suspect.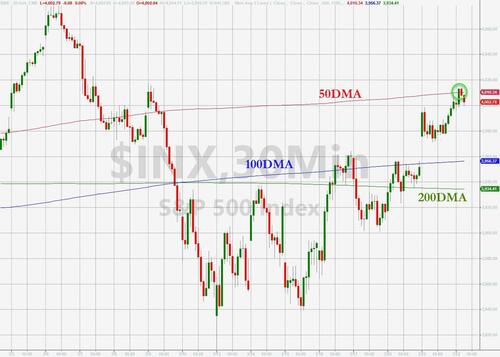 SpotGamma suggests 4065 as an upside resistance/pin level base don options positioning with 4100 having persistently seen a big drop-off in call-demand (acting as resistance).
Loading...