---
Wildfires Rage In California As Emergency Crews 'Stretched Thin', Grid Faces Further Rolling Outages
At least two dozen fast-moving wildfires have forced thousands of people in Northern California to flee their homes Wednesday amid the second week of record-setting temperatures. 
California is under a state of emergency following a two-week heatwave, wildfires, and widespread power outages. 
Uncontained wildfires in Northern California have spread across tens of thousands of acres and forced rushed evacuations. Here's the latest. https://t.co/bc0IMNLikP pic.twitter.com/iyxc45I0er

— The New York Times (@nytimes) August 19, 2020
"Throughout the state of California right now, we are stretched thin for crews" because of the fires, said Will Powers, a state fire spokesman, who was quoted by CBS News.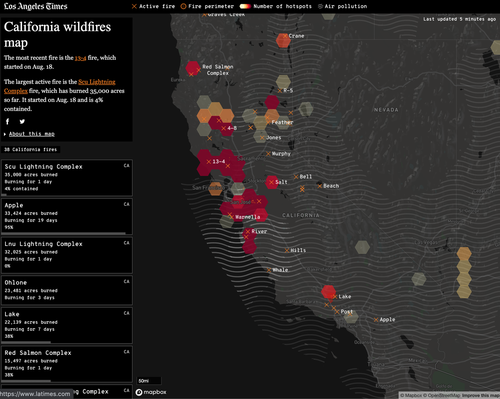 Powers said, "Air resources have been stretched thin throughout the whole state."
A major wildfire is burning in Solano County, where homes and other structures have been torched. 
Some video from @BeasomONE from Vacaville. The flames have destroyed several homes already. Everyone be safe out there as the LNU Lightning Complex Fire has spread from Napa County into Solano County. #wildfires #napacounty #solanocounty #fire pic.twitter.com/WTSeCZGKwH

— Anthony Leong (@anthonyleong83) August 19, 2020
#UPDATE: The LNU Lightning Complex Fire in the North Bay spreads into Solano County, prompting evacuations in Vacaville and other areas, officials say. https://t.co/5FQyQbkRW4 pic.twitter.com/3YuKzAEhJS

— NBC Bay Area (@nbcbayarea) August 19, 2020
Another fire was burning in the southwest of Silicon Valley. Evacuation orders were seen in Big Basin Redwoods State Park, Año Nuevo State Park, Butano State Park, and Pescadero Creek County Park.
The current map of evacuated areas, this is expected to expand. Please be prepared.#CZUAugustLightningComplex pic.twitter.com/GpVeArkz5J

— Santa Cruz SO (@SantaCruzSO1) August 19, 2020
About 20 fires are burning in five counties, including Alameda, Contra Costa, Santa Clara, Stanislaus, and San Joaquin. 
Firefighters have been battling flames in a two-week heatwave. The National Weather Service said temperatures in Death Valley reached over 130 degrees this week, possibly the highest temperature ever reliably recorded on Earth.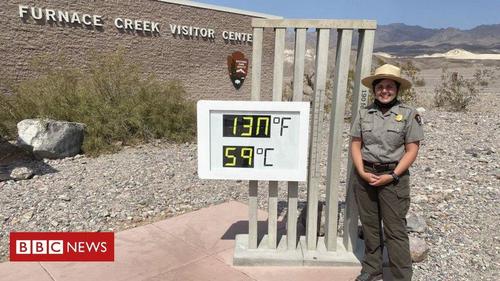 There is a sign of relief. 
Western Cooling degree days (CDD) appears to have peaked this week and is set for a 45-day slide. What this means is that the amount of energy it takes to cool a structure in California could decline, an indication temperatures are set to fade from triple-digit levels.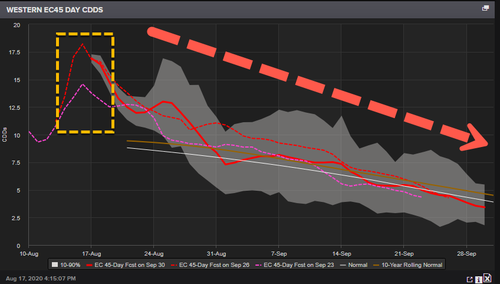 The California Independent System Operator (California ISO), which operates the state power grid, announced a Flex Alert on Tuesday afternoon and didn't trigger rolling blackouts later in the day. The Flex Alert remains in place for Wednesday. 
Readers may recall, just days ago, nearly 3.3 million customers in the state experienced rolling blackouts. Residents have been asked by California ISO to conserve electricity. 
Excessive heat warnings are expected for many parts of Northern California through Thursday.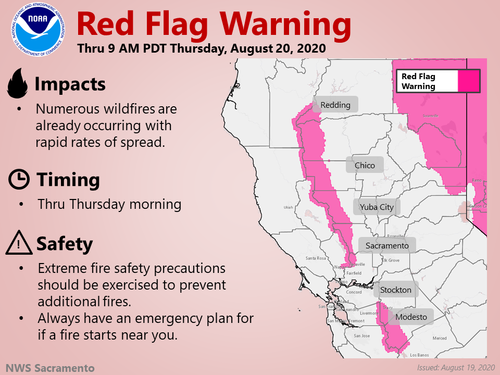 The latest heatwave to strike the US appears to be unprecedented (see: America Has Never Experienced A Heatwave Quite Like This).