---
Wood Rides Again: ARKK Sees Record Inflows, ARKX Trades Almost $300 Million In Debut
Despite some of its questionable holdings, which we outlined days ago, the ARK Invest Space Exploration ETF saw more than $294 million of shares change hands during its debut on Tuesday. Bloomberg's Eric Balchunas reported:
For more context, $ARKX saw more 8x more volume on Day One than Fidelity Magellan ETF (a pretty big name) has in total in two months on the market. (Fidelity is doing fine, it's not to bust on them but rather how insane $300m is)

— Eric Balchunas (@EricBalchunas) March 31, 2021
It marked the eighth best ETF debut in history, Bloomberg noted. ARKX's inflow bested the $280 million initial inflow for Dave Portnoy's VanEck Vectors Social Sentiment ETF (BUZZ). 
On Wednesday, ARKX traded $150 million, according to Balchunas. 
Pretty shocking Day Two volume for $ARKX. I would have guessed $50m (as most ETF's volume tends to drop like stone on second day after hype fades a la $BUZZ) but it traded $150m. It very well could end up having best opening week of all time (until a bitcoin ETF launches that is) pic.twitter.com/aooU8xS3Fx

— Eric Balchunas (@EricBalchunas) March 31, 2021
Additionally, on Tuesday, ARK's flagship Innovation fund saw record inflows of $717 million. 
Matthew Weller, global head of market research at Forex.com, said: "That performance naturally attracts more investments, especially on the part of retail traders. The optimism evoked by Cathie Wood and her team is almost infectious -- that's something that has legs."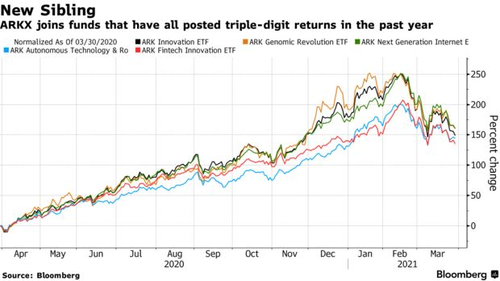 ARKX is the first new "product" from Cathie Wood and ARK since 2019. Wood already has five actively managed funds and two that track indexes. While 2021 has been rocky for many of them, ARK continues to get play in the financial media due to ARKK's meteoric rise of 154% over the last 12 months (which, again, was mostly attributable in our opinion to a gamma squeeze in Tesla and the NASDAQ). 
Matt Benkendorf, chief investment officer of Vontobel Quality Growth, said: "It's certainly what the market has appetite for right now. Ark has shown a tremendous propensity to attract money, and all eyes are on them."
"They've certainly built up a loyal following of investors that will seed that fund well. It just seems like a good encapsulation of the market moment that we started the year in, with all the money going into these super high-growth, long-term ideas," said Ross Mayfield, investment strategy analyst at Baird.