---
Work-From-Home Trend Costs Manhattan $12 Billion Per Year In Lost Revenue
A new report has put a price on exactly what the "work from home" trend has cost the office-laden city of Manhattan: a stunning $12 billion per year. 
Working at home means that office workers who would normally be out and about are spending $12 billion less than what they spent before the pandemic, according to a new Bloomberg News study.
The average worker is spending about 30% less time in the office, meaning that spending on food and entertainment has fallen by about $4,700 per person, data from Stanford University shows.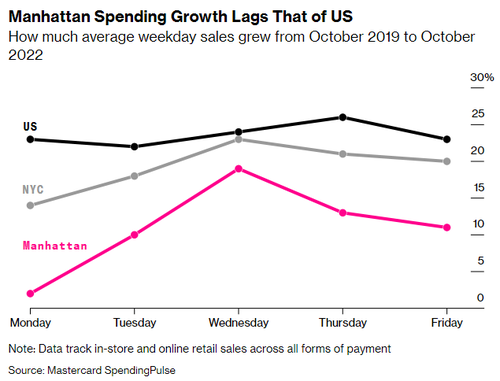 On a per-person basis, the figure is higher than anywhere else - by more than 50%, the report shows. "People simply have not returned to full-time in-office work," NBC News wrote in a follow up. 
Bloomberg wrote:
That means the average worker is spending $4,661 less per year on meals, shopping and entertainment near their offices in New York. That compares to $3,040 in San Francisco and $2,387 in Chicago. These behaviors are most entrenched in cities with longer commutes, a higher proportion of white-collar workforces and longer-lasting pandemic restrictions.
They also noted that worker attendance at most offices rose in Q4 2022, but just to the level of 43% of pre-pandemic. The number falls to just 23% on Fridays and peaks at 51% on Tuesdays.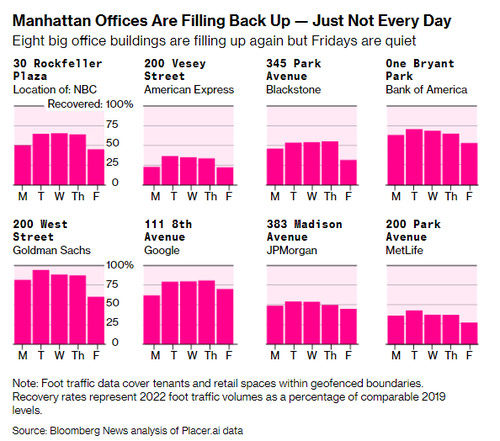 Even food truck owners are witnessing the fall off. Sam's Falafel owner Emad Ahmed said that he only makes about 30% of his pre-Covid revenue on Mondays and Fridays. He is stationed in Zuccotti Park.
"Monday, Friday, forget about it," he said. "You lose money when nobody is here."
The ultimate result for the city could be a 40% drop in office market value going forward. It could cost the city $5 billion in tax revenue, Bloomberg estimates. 
Columbia University professor Stijn Van Nieuwerburgh called the trend an "urban doom loop" and said that the tax shortfall is a "big hole that will need to be plugged with new taxes, lower spending."
Michelle Meyer, North America chief economist at Mastercard Economics Institute, told Bloomberg: "People have changed their lifestyle and their behavior. If you are working from home that day, you're not commuting into your office, and going to the bodega next to your office."
"New York City can't run from home," Mayor Eric Adams commented, after directing government employees back to the office. "It's time."
Loading...