---
World Bank Head Sees "Quiet" Financial Crisis Brewing As Pandemic Lingers 
In an interview Wednesday morning with Bloomberg, World Bank Chief Economist Carmen Reinhart bluntly said, "don't confuse the rebound with a recovery." 
Reinhart said, "a rebound this year still leaves per capita income below where it was before the covid crisis - calling it a recovery is misleading."
She went onto say that one year later, the world is still facing "record" infection rates, adding that "the longer this (virus pandemic) goes on, the more disruption in terms of jobs, in terms closures of business that can really get back to anything resembling normality." 
Reinhart said she is "very concerned the longer this goes on the more strain on balance sheets of individuals, households, firms, and countries - it's a cumulative toll that I think will create classic balance sheet problems."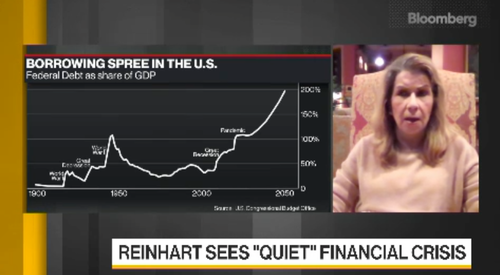 Blaming the resurgence on the virus pandemic, she said economic growth for 2021 is being "marked down." 
She also said, "there's been a problem that has been delayed but not avoided" - that is the households' ability to repay their mortgage and service any other debt. During the virus pandemic, financial institutions worldwide agreed to grace periods for businesses and households, so they don't have to repay their debts. 
Reinhart then asks the trillion-dollar question: What happens when those grace periods come to an end?
To sum up, Reinhart suggests the world faces a financial crisis if the pandemic continues to ravage the global economy. 
This was a similar message that SoftBank CEO Masa Son warned about a couple of months ago of an impending "disaster" that could tank global markets.
More recently, GMO's co-founder Jeremy Grantham's latest research note suggested "this bubble will burst in due time, no matter how hard the Fed tries to support it, with consequent damaging effects on the economy and on portfolios. Make no mistake – for the majority of investors today, this could very well be the most important event of your investing lives." 
And with 10Y nominal yields surging in recent days, maybe the bursting of the bubble is much closer than we think.