---
World Trade Continues To Slide As Recovery Sputters 
New data published by CPB Netherlands Bureau for Economic Policy Analysis on Friday reveals world trade fell 1.1% in May after a 12.2% plunge in April. 
Highlights from the CPB report indicate world trade continues to decelerate:
World trade volume decreased 1.1% month-on-month (growth was -12.2% in April, initial estimate - 12.1%).

World trade momentum was -11.6% (non-annualised; -6.9% in April, initial estimate -7.2%).

World industrial production increased by 0.8% month-on-month (having decreased 8.5% in April, initial estimate -8.1%).

World industrial production momentum was -7.1% (non-annualised; -5.8% in April, initial estimate - 5.6%).
To visualize the collapse in world trade, CPB published several charts showing world merchandise trade volume to industrial production volume, all suggesting the global recovery is far from a "V." 
World Merchandise Trade Volume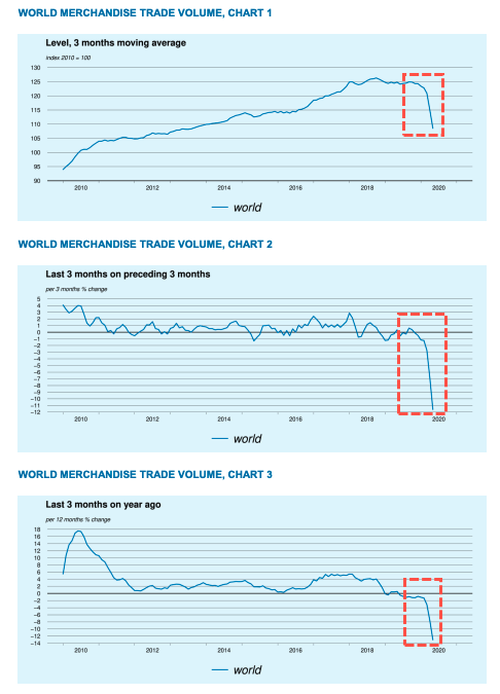 Industrial Production Volume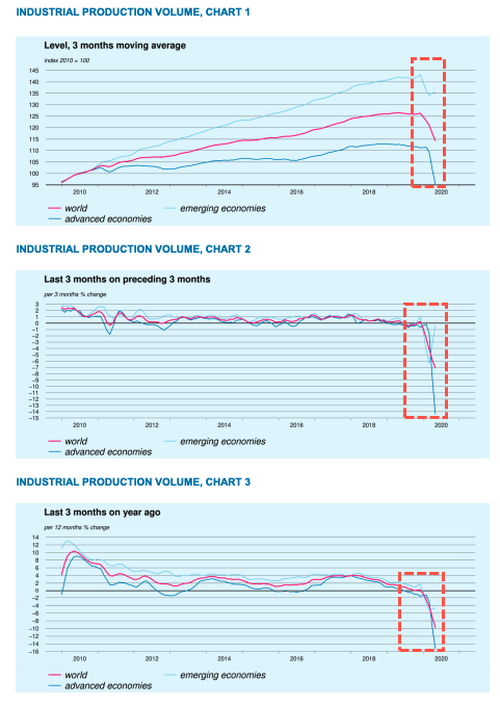 "Although the full impact of the pandemic is not yet reflected fully in trade statistics, it is expected to be very substantial", said WTO director-general Roberto Azevedo, who presented the trade report to its 164 member states on Friday. 
WTO said last month that 2Q20 world trade YoY could plunge upwards of 18%. Along with slumping world trade, we noted earlier this week (July 21) that the global recovery is running on fumes.
To get a better sense of what collapsing world trade means for global stocks. Here is world trade volume versus MSCI World.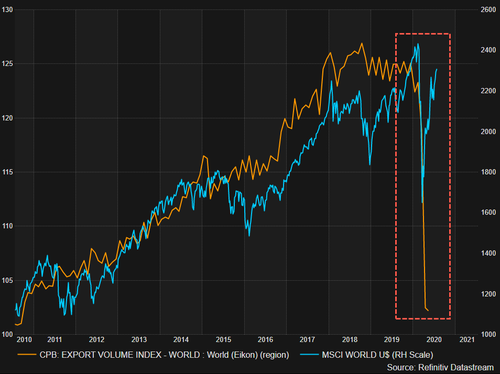 The reason for levitation in stocks is because of the unprecedented central bank money printing.
If readers want a hint at what could come next - here's Gary Shilling, the president of A. Gary Shilling & Co., who belives a 1930's-style depression in stocks is ahead.