---
World's Biggest Oil Hedge Fund Plunges 8% In January Following Two Years Of Losses
Back in 2008 Forbes Magazine placed Pierre Andurand in its list of the top 20 highest-earning hedge-fund managers. That was the year after the French commodity trader co-founded the hedge-fund BlueGold with $300 million AUM. In June of 2008, just before oil crashed, BlueGold's returns were described by the New York Post as "eye-popping" and "monstrous". although it was a very different story just a few months later when oil plunged from $145 to $40. In any case, riding the dramatic recovery in the price of oil from 2009 to 2011 helped BlueGold cement its position as one of the largest oil-focused hedge funds, with AUM hitting $2.4 billion after returning 210% in 2008, 55% in 2009, 13% in 2010, and -34% in 2011.
Then, after BlueGold shuttered in April 2012, Andurand launched a new hedge fund: Andurand Capital, which once again invested mostly in oil but also has a secondary focus on other commodities such as metals and as of May 2018, the firm managed $1.2bn in assets.
And while Andurand timed the 2014 oil crash perfectly, returning 38% the year when the near OPEC-breakup sent oil plunging from above $100 to $30, it has been a challenging time for the commodity investor who turned bullish on oil in 2016, only to suffer a very choppy oil market for the past several years. So choppy, in fact, that after two years of losses, Andurand suffered another dramatic loss in January, when oil prices once again tumbled, this time on fears the coronavirus was hurting global economic growth, which in turn hit demand for oil and roiled global commodity markets.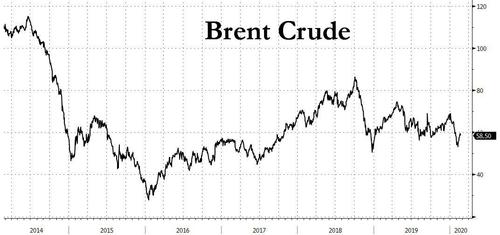 The furious January drop was so unexpected that the Andurand Commodities Fund, dubbed by Bloomberg as "one of the oil market's last remaining hedge funds", plunged 8.4% last month, according to Bloomberg. The loss was the fund's biggest monthly decline since October 2018 when it plunged 21% as global stocks swooned amid fears the Fed was hiking rates into a recession. Last month's loss followed two prior painful years for Andurand who was down 7.1% in 2019 and 20% a year earlier.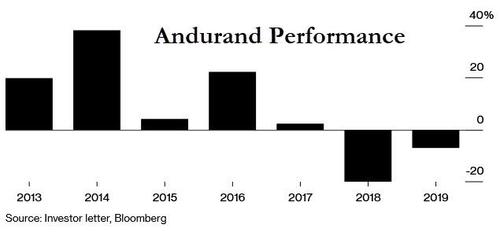 So is another name for "brilliant hedge fund investor" just "that guy who uses a ton of leverage to boost his beta" and picked the right side of the coin toss? What about picking the wrong side for three years in a row? If so, one wonders if an even better description for someone like Andurand is just "lucky", something has has not been for the past three years when he desperately hoped that oil prices would skyrocket higher even as China's economic slowdown meant that oil demand would suffer so much even OPEC now agrees.
As Bloomberg notes, oil had its worst start to a year since 1991 on concern the spread of the coronavirus will curb demand in China for energy. Brent fell 16% in January as China, the world's largest oil importer, locked down its cities in a bid to prevent the spread of the virus.
According to various sources from Goldman to commodities trading giant Vitol, the market is facing a 200 million-barrel demand loss in the first quarter, culminating in a 4 million-barrels-a-day decrease in China currently as the virus hits economic activity and restricts travel.