---
World's Top Polishing Diamond Hub Warns "Difficult Year" Ahead On Weak US, China Demand
Another sign of a possible consumer downturn is unfolding in India, recognized as the world's top polishing gem hub. The country is bracing for a challenging year as diamond demand from key markets in North America and Asia is expected to soften. 
For the fiscal year ending in March, India reported a 10% drop in cut and polished diamond exports to $22 billion, driven primarily by inconsistent Russian rough-diamond supplies and waning demand in the US and China, according to Bloomberg, citing a new report from Gem & Jewellery Export Promotion Council.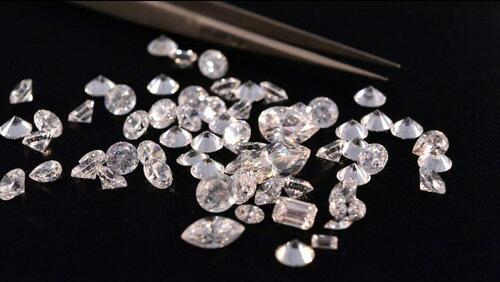 On Wednesday, Vipul Shah, chairman of the state-backed industry group, spoke with Bloomberg TV about the souring diamond demand in top global markets:
"It is going to be a difficult year," Shah said. Elevated inflationary pressures in the US, China's slower-than-expected recovery after pandemic restrictions lifted, and volatile gold prices will make it "tough and challenging" for Indian diamond merchants, he noted.

"Supply is also one of the constraints," while factories in the key hub of Surat, Gujarat state, have been slow in building inventories, with working shifts staggered in light of the weak demand, Shah said.

India, which considers Moscow a close political and trade partner, imports oil, weapons, and commodities from Russia despite the threat of sanctions due to the war in Ukraine. Shah's group is in talks with the Indian government to resolve a payment issue with regard to procuring rough-gem supplies from Russia, he said. Still, the industry's biggest challenge was waiting for "the US economy to pick up, consumer demand to pick up," Shah said. --Bloomberg 
Another sign that consumers in the world's largest economy might be under pressure is a report last month from French luxury group LVMH which pointed out a "bit of a slowdown" in luxury spending in the first quarter. 
The luxury spending slowdown comes as the seemingly invincible US consumer starts to break, first at the low end (as we explained two months ago in "First Signs Of A Notable Low-Income Slowdown") and now at the top.
One month ago, we used the latest Bank of America card spending data to (correctly) predict that the first post-bank crisis retail sales data would be ugly, well uglier than consensus had expected. However, while spending was clearly slowing down, it was mainly impacting the low end of the middle class.
Now according to the most recent debit and credit card data published by the Bank of America Institute, the recent higher-income job market slowdown is also starting to impact spending. Yes: the upper-income cohort is finally starting to crack too.
And what are some of the first things consumers dial back spending as macroeconomic headwinds mount? Well, it's jewelry and other forms of luxury spending. 
Loading...