---
WWE Shares Skyrocket As Ex-CEO Vince McMahon Returns To Board, Seeks Possible Sale
World Wrestling Entertainment (WWE) shares jumped more than 18% -- one of the largest intraday surges since June 2021 -- as the company announced founder Vince McMahon, who retired last year amid allegations of sexual misconduct, will return to the board as the company explores a possible sale.
"Today, we announce that the founder of WWE, Vince McMahon, will be returning to the board.

"We also welcome back Michelle Wilson and George Barrios to our Board of Directors. Together, we look forward to exploring all strategic alternatives to maximize shareholder value," Chairwoman & Co-CEO Stephanie McMahon, Co-CEO Nick Khan and Chief Content Officer Paul Levesque, wrote in a statement. 
Shares of Stamford, Connecticut-based WWE skyrocketed to as high as $85.89 per share -- nearing an all-time high. 
Nearly 20% of WWE's float is short.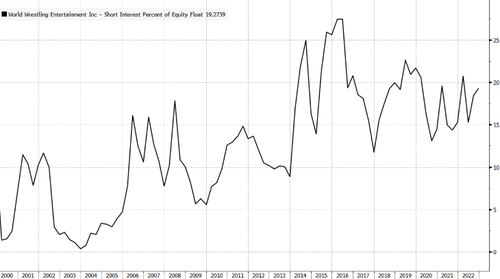 Maybe a good ole' squeeze.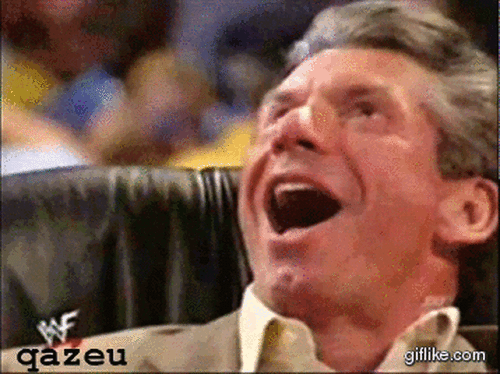 McMahon stated that he wouldn't have an active role in day-to-day operations:
"WWE has an exceptional management team in place, and I do not intend for my return to have any impact on their roles, duties, or responsibilities."
WWE added more color about maximizing shareholder wealth in a possible sale:
In connection with the change in the composition of the Board of Directors and in cooperation with Vince McMahon as majority shareholder, the company intends to undertake a review of its strategic alternatives with the goal being to maximize value for all WWE shareholders. There is no assurance that this process will result in a transaction.
Here's what Wall Street analysts are saying about WWE (courtesy of Bloomberg): 
MKM Partners analyst Eric Handler (buy, PT $90)
If McMahon attempts to push for a sale the firm will be an "attractive asset" that could be of interest to a sizable bidding pool of major players like Comcast, Fox, Disney, Amazon and Netflix 
"There is a scarcity of independent content creators that can match the global popularity and size of WWE" *
Guggenheim analyst Curry Baker (buy, PT $94)
WWE could be attractive to several larger media platforms and companies 
Optimistic about WWE's renewal prospects — the US rights for RAW and SmackDown are up for renewal this year 
While the content is relatively cheap to produce, the value of sports rights continue to rise
Loading...