---
Xi Tells Macron & Scholz China Opposes Russia Sanctions, Warns Crisis "Spinning Out Of Control"
Caught between the West and its growing closeness over the years with Moscow, China is facing a dilemma on Ukraine. On Monday Chinese Foreign Minister Wang Yi emphasized that "The China-Russia relationship is valued for its independence." Wang added: "We are determined [to keep the relationship] free from interference or discord sown by third parties."
On Tuesday President Xi Jinping held a virtual meeting with French President Emmanuel Macron and German Chancellor Olaf Scholz, wherein the Chinese leader urged "maximum restraint" in Ukraine to prevent a humanitarian crisis and said China is "pained to see the flames of war reignited in Europe." 
Further Xi warned that a spiraling economic war would result in blowback as sanctions over Russia "will deal a blow to the stability of global finance, energy, transportation and supply chain, dragging down the world economy amid the pandemic," according his words, for which immediate stabilizing efforts must be taken by Europe's leaders.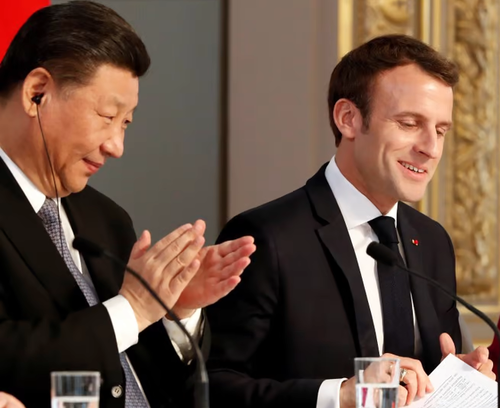 Chinese state broadcaster CCTV later said he called for the three countries of France, Germany, and China to support peace talks between Ukraine and Russia - further calling the situation "worrying" and holding the potential of "spinning out of control". 
But crucially, at a moment the West is unanimous in standing with Ukraine - along with much of the world in the wake of the invasion which is now 13 days in - China has till now refused to condemn Russia's action. What's more is that Beijing has also not used the term "invasion" and has vocalized its opposition to the far-reaching sanctions being implemented against Russia. 
Putin and Xi were last together during the opening of the Beijing Winter Olympics, where the two affirmed a "no limits" strategic partnership. More recently there have been reports that Xi and Putin may have secretly coordinated the start of the invasion, with The New York Times a week ago alleging that China requested that Russia hold off on launching the war till after the Olympics.
Despite China increasingly coming under pressure globally and now finding itself in an awkward position regarding Ukraine, it appears to have doubled-down on support for Moscow, after echoing arguments condemning NATO expansion as a threat to Russia's "legitimate security concerns."
Lately Chinese national media has even used Putin's own "denazification" of Kiev language to justify the attack. As one report details of state media's commentary:
Many countries have roundly rejected Russian President Vladimir Putin's argument that his attack on Ukraine is needed to achieve the "denazification" of that country. But the argument is alive and well in Chinese state-run media.

"Russian President Vladimir Putin mentioned in a televised speech a few days ago that the military operation against Ukraine is aimed at protecting the people who have suffered abuse and genocide by the Kyiv regime for eight years. For this reason, Russia will seek to demilitarize and de-Nazify Ukraine," one article on the state-backed site Wen Wei Po read.
Thus it's now wonder that Xi while opposing the West's sanctions conveyed to his German and French counterparts that they must "play an active role" in settling the Ukraine crisis, but "according to the needs of all parties concerned."
Loading...