---
Xi's Decision To Turn Inward Is Dangerous For Trade
By Ye Xie, Bloomberg macro commentator
Three things we learned last week:
1. A major pivot by Xi has China turning inward
At the Politburo meeting on Thursday, President Xi Jinping reiterated his recent call for "dual circulation," emphasizing self-sufficiency in supply and demand. The combination of a weak global economy and anti-China sentiment in the West means China has to rely more on itself. The shift suggests China will substitute some imports, including technology, with local supply, and reorient some exports to domestic markets. In other words, global trade, which is already contracting, is likely to remain sluggish due to Xi's pivot inward. This isn't good news for countries that sell to China, including Germany and most emerging markets. The chart below shows how closely correlated China and U.S. imports are to the performance of global stocks.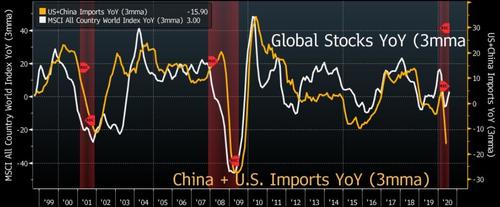 Trade data this week is likely to confirm that imports and exports remain weak in China.
2. Dollar's decline is about to slow down
The Bloomberg Dollar Index fell to a two-year low last week. But its decline may start to slow. The pandemic is showing signs of leveling off in the U.S., and it's picking up in other countries, including Spain and Japan. A reversal of the virus's trend globally would remove one of the negatives for the dollar. European stocks underperformed the U.S. last week, underscoring that the dynamics may already be at play.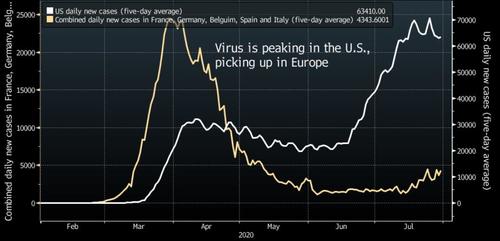 Still, investors are bracing for radical changes in the Fed policy in September, which sent five-year Treasury yields to record lows. The long-term structural weaknesses for the dollar -- including valuation and twin deficits -- are still there. That means any respite is likely to be short-lived for the U.S. currency.
3. Volatility may pick up in August with a looming fiscal cliff in the U.S.
The U.S. and Europe posted record GDP contraction last quarter. And American jobs data this week is likely to show that employment growth slowed significantly in July. While most companies have managed to beat low expectations for their earnings, U.S. lawmakers are struggling to pass another economic relief package, and the extra federal unemployment benefits of $600 a week that had been helping to prop up the economy have expired. Expect some volatility in August -- that's when it tends to pick up.
Things to Know:
China's ByteDance Ltd. is prepared to sell its music-video app TikTok's U.S. operations after President Trump threatened to order the move, according to people with knowledge of the situation
The grace period for wealth management rules will be extended to the end of 2021 due to impact of the coronavirus on the finance industry, China's central bank said in a statement
Hong Kong delayed a key Legislative Council election scheduled for September for a year due to a recent surge in Covid-19 cases, fueling more outrage among the city's opposition
The U.S. Treasury announced sanctions against a Chinese company and two individuals linked to it, amid tensions between the two nations over issues ranging from trade to Beijing's treatment of ethnic minorities
Gold surged to a fresh record, fueled by a persistent dollar weakness and low interest rates