---
The Year Black Friday Died: Brick-And-Mortar Traffic Slides While Online Spending Soars
New consumer data shows retail traffic at brick-and-mortar stores during Thanksgiving Day and Black Friday was widely unimpressive as the shift towards online shopping is one of the most significant consumer trends of the year, reported AP News.
Data from Sensormatic Solutions, a global retail analytics firm, indicates shopper visits over the two days declined 3% over the prior year. Traffic rose 2.3% on Thanksgiving Day YoY, but there was an alarming 6.2% plunge in traffic on Black Friday over the year.
"There is no longer one way to shop on Thanksgiving Day and Black Friday. As omnichannel retail and online shopping continue to grow in popularity, consumers turned to emerging fulfillment solutions, like buy online, pick up in store (BOPIS), this year," said Brian Field, senior director of global retail consulting for ShopperTrak.
We noted on Black Friday that "Black Friday Is Dying" - Shopping Malls Turn To "Ghost Towns" Amid Online Shift.
Retail of the Damned: plenty of associates available at Forever21, Builda-a-Bear and Express.

Discounts matter not. Customers don't care.

50% off Santa Furry costumes, for Cosplay ("FancyDress") people. pic.twitter.com/qQ02fTkfAN

— Jeff Macke (@JeffMacke) November 29, 2019
Damn web shoppers. https://t.co/cniUWpROy2

— Jeff Macke (@JeffMacke) November 29, 2019
A report via KeyBanc Capital Markets found traffic "somewhat muted at malls" during Thanksgiving and Black Friday.
KeyBanc's analyst Edward Yruma attributed the decline to more online sales.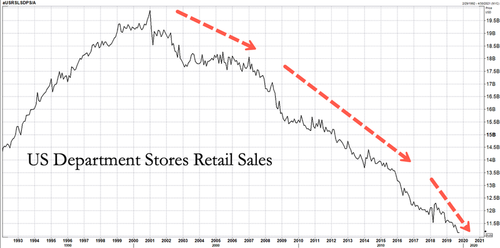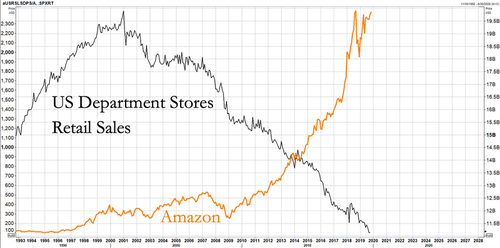 KeyBanc's note said Gap, Banana Republic, Express, and Zara offered 50% discounts, but that still wasn't enough to attract shoppers. 
Adobe Analytics said Black Friday shoppers spent $7.4 billion online, the second-largest internet shopping day ever. 
The $7.4 billion almost eclipsed last year's Cyber Monday's $7.9 billion. 
"With Christmas now rapidly approaching, consumers increasingly jumped on their phones rather than standing in line," said Taylor Schreiner, principal analyst and head of Adobe Digital Insights, in a statement. 
Adobe said online sales on Friday jumped 20% YoY, which suggests that 2019 is the year Black Friday died.