---
Yellen: "We Have To Default On Something" If No Debt Ceiling Deal
Janet Yellen delivered some great news today: in an interview with Bloomberg TV, the Treasury Secretary and former Fed chair, who has been desperately fearmongering to present the most terrifying "fire and brimstone" scenario imaginable should Congress Republicans refuse to yield to Biden on debt ceiling negotiations, said that the federal government will have to renege on some payments if Congress doesn't raise the debt limit, though no plan on how the department would proceed has yet been presented to President Joe Biden. Which, of course, is great news for the US which is already suffering under an unprecedented, unsustainable debt load, because while the US can easily prioritize debt payments, much of the massive bureaucratic and Deep State bloat in the form of 20+ million government workers would finally be relieved if only temporarily.
"If Congress fails to do that, it really impairs our credit rating. We have to default on some obligation, whether it's Treasuries or payments to Social Security recipients," Yellen said Friday in an interview with Bloomberg Television. "That's something America hasn't done since 1789. And we shouldn't start now. So we've not discussed what to do."
Yellen was pressed on whether the assumption of many market participants that the Treasury would prioritize payments of interest and principal on Treasury securities was accurate. That presumption is based on discussions between Federal Reserve and Treasury officials during the 2011 debt-limit showdown, revealed in a transcript of a Fed policymaker discussion.
"My understanding — I was at the Fed in 2011 — is that this plan was never presented to the president and never approved," said Yellen, who was vice chair of the Fed at that time.
As TD's Priya Misra wrote earlier this week, historically the Treasury has openly rejected the idea of payment prioritization as operationally impossible. Although this idea resurfaced during each recent debt ceiling crisis thus far, both Treasury Secretaries Lew and Mnuchin rejected the idea of prioritization. Yellen also rejected the idea that prioritizing payments as a viable solution.
This means that Treasury will either make all coupon and principal payments or if they do not have sufficient cash to make all payments, they will make none, and according to Misra, "there will be no situation in which Treasury will make some payments but not others. We believe that payment prioritization would offer the market little respite as the act of not paying even some obligations could send markets into a tailspin."
Asked whether she would now present that plan to prioritize Treasuries to the president, Yellen said, "we are working full time to work with Congress to raise the debt ceiling. That's where our focus is." Of course, if and when the market panic finally strikes, Yellen's priority to prioritize payments will quickly shift.
"We've not discussed what to do, if that doesn't occur, with the president — our focus is on getting it done," she said in the interview on the sidelines of a Group of Seven gathering of finance officials in Niigata, Japan.
Meanwhile, adding to the stress, late on Thursday the White House announced that a debt ceiling negotiating session scheduled for today had been postponed because as Punchbowl reported "the two sides haven't narrowed down the policies they might want to include in a debt-limit or spending-cut package." Biden and congressional leaders are planning to resume discussions on the debt ceiling next week, but while the equity market is largely ignoring all the latest developments, the bond market is clearly starting to freak out.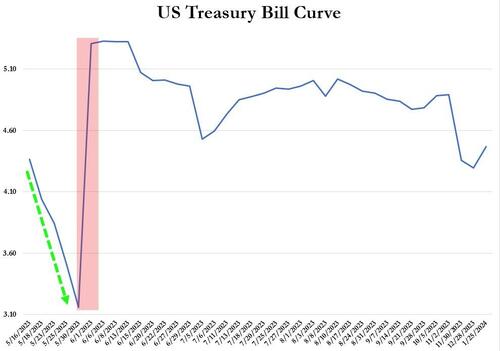 Biden and congressional Republicans have been locked in disagreement for weeks over raising the US federal government's $31.4 trillion borrowing limit. GOP leaders have demanded promises of future spending cuts before they approve a higher ceiling. Biden has insisted on a "clean" increase, with budget talks kept separate, but the ball is in Biden's court as Republicans have already passed a debt ceiling extension however one which also incorporates spending cuts, so the upcoming blame game will be quite exciting. This is how Rabobank summarized the current state of play:
With the adoption of Limit, Save, Grow Act by the House of Representatives, and Biden's demand for a "clean" raise of the debt limit, a game of chicken has started between Republicans and Democrats. Both parties want to avoid a government default, which would cause significant damage to the financial markets and the economy. Consequently, the so-called X-date, when the extraordinary measures are exhausted, is the deadline for the game of chicken. In the time before the deadline, we are not likely to see any party blink, unless a financial market panic breaks out. Once the deadline passes, neither party has an interest in keeping the US in default. By this time, financial markets will definitely be in turmoil.

It could be argued, especially by Democrats, that as the Republicans are the party attaching conditions to the debt limit increase necessary to avert or end the default, they are likely to bear most of the pressure to concede. This argument frames the current game as a repeat of 2011 and 2013. However, the crucial difference is that the Limit, Save, Grow Act is actually a bill to raise the debt ceiling! So it is misleading to claim that "House Republicans are holding our economy hostage and threatening default" as the White House press secretary did on April 27. In fact, it could be argued, in particular by Republicans, that the Democrats are the obstacle to a raise in the debt ceiling. After all, if the Senate – where Democrats are needed to get the 60 necessary votes – adopts this bill and President Biden signs it into law, the debt ceiling is lifted. The truth is that after the difficult process to confirm McCarthy as the new House Speaker in January, the Democrats hoped that the House Republicans would not be able to agree on what they wanted in exchange for a raise in the debt limit. That would have strengthened the Democrats' demand for a clean raise, i.e. without conditions. Now, it seems reasonable to start negotiations about spending cuts attached to the raise in the debt ceiling. However, a game of chicken with financial market turmoil as leverage is more likely to unfold. In the end, i.e. close to the X-date, the game of chicken is likely to be resolved under pressure from financial markets. So how are markets reacting to the developments regarding the debt ceiling so far?
And speaking of the coming financial panic, the Treasury chief said she hadn't spoken with banking executives about the debt limit "within the last few weeks," but did so when she first advised Congress in January of the potential for the Treasury to exhaust its special accounting maneuvers to avoid running out of sufficient cash as soon as early June. Yellen said she had, however, spoken with business leaders from different sectors of the economy more recently, and plans to meet with senior bankers next week.
"Wall Street executives and American businesspeople have always spoken out about their concerns about the debt ceiling," Yellen said. "We want to hear voices of people who will be affected by this."
Also in advance of the coming panic, JPMorgan has set up a "war room" looking at contingencies if the US debt limit isn't increased in time, Jamie Dimon told Bloomberg TV interview Thursday.
The Treasury chief also reiterated her warning that a default would be "an economic and financial catastrophe." Yellen added that it was still unclear exactly when the Treasury would run out of funds. She told Congress earlier this month the Treasury could run out of available cash as soon as June 1.
"I will update Congress as we have available information," Yellen said Friday. "As we get closer I may be able to provide more refined guidance."
Loading...