---
Yields Spike After Ugly 30Y Auction Sees Biggest Tail Since 2021 As Sentiment Whipsaws
After a horrific 3Y auction, and a stellar, record-demand 10Y auction all in the span of just two days, moments ago the Treasury concluded the refunding week with the sale of 30Y paper. Some expected yesterday's solid demand to continue while others were worried that we may see a reversal and demand would tumble. Well, the latter group was spot on because today's 30Y auction was almost as ugly as the 3Y earlier this week.
Let's start at the top: the auction stopped at a high yield of 3.686%, which was above last month's 3.585% and the highest since November. More importantly, the yield tailed then When Issued 3.654% by 3.2bps, the biggest tail since Nov 2021's 5.2bps tail, and the third highest on record (going back to 2016).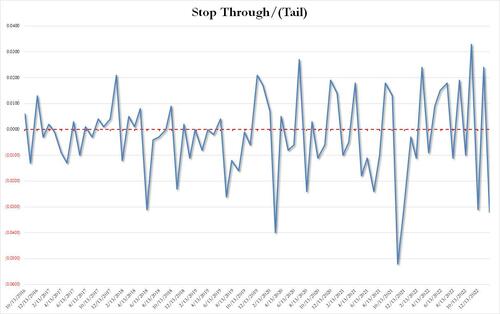 The bid to cover was a lowly 2.247, down from last month's 2.451, well below the six-auction average of 2.37% and the lowest BTC since Dec 21.
The internals, while not catastrophic, were also ugly: Indirects slumped from 74.6% to 65.2%, the lowest since December and below the average foreign award of 69.7%. And with Directs  taking 18.9% or up from 16.3% last month, Dealers were left with 15.8% of the auction, above both last month's 9.0% and the recent average of 11.3%.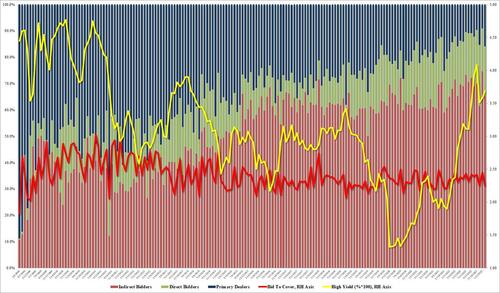 Overall, this was an ugly, tailing 30Y auction, and a far cry not only from yesterday's stellar, record-breaking 10Y auction but also last month's solid 30Y sale which stopped through by a whopping 2.4%, and it's no surprise why yields across the curve have spike to session highs.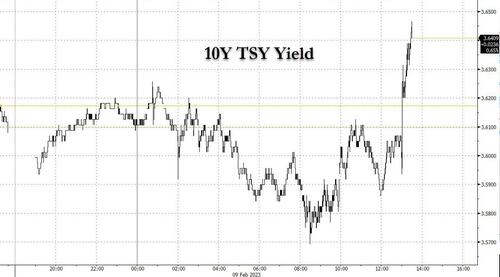 Loading...