---
Biden Admin Funding Free Crack Pipes To Promote 'Racial Equity'
The Biden administration is finalizing funding to promote "racial equity" by handing out free glass crack pipes for drug addicts to smoke crack cocaine, crystal methamphetamine or any other "illicit substance."
The new $30 million grant program from the Health and Human Services (HHS) department will provide funds to local governments and nonprofits for "smoking kits/supplies," according to the Washington Free Beacon.
HHS said the kits aim to reduce the risk of infection when smoking substances with glass pipes, which can lead to infections through cuts and sores. Applicants for the grants are prioritized if they treat a majority of "underserved communities," including African Americans and "LGBTQ+ persons," as established under President Joe Biden's executive order on "advancing racial equity."
Not everyone's a fan.
"If we look at more of a preventive campaign as opposed to an enabling campaign, I think it will offer an opportunity to have safer communities with fewer people who are dependable on these substances," Sgt. Clyde Boatwright, president of the Maryland Fraternal Order of Police told the Beacon.
The move follows those by Democratic-run cities such as San Francisco and Seattle, which have distributed smoking kits to residents.
This is the view of the taxpayer-funded supervised drug consumption and drug dealing site in United Nations Plaza, a public space in downtown San Francisco.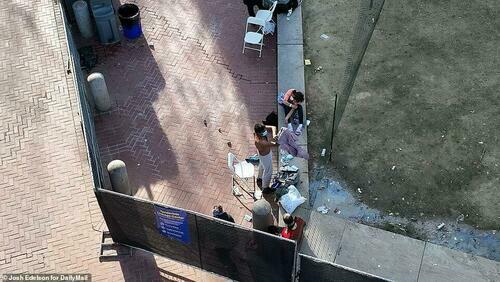 Around this site, which was taken over without authorization, are armed and violent drug dealers whose deadly, addictive, and intoxicating products kill two San Franciscans per day.
"We're literally paying people in the form of cash welfare, housing, and other services to live in tents on the street, use hard drugs, defecate publicly, and commit crimes," says Michael Shellenberger, author of "San Fransicko: Why Progressives Ruin Cities."
Other municipalities such as Louisville, KY, have backed away from said programs on the grounds that they enable drug abuse.
Funding for the program comes from the Democrats' American Rescue Plan, which narrowly passed along party lines. It also includes money for other equipment such as condoms, fentanyl strips and disease screenings. It will last three years and includes 25 awards of up to $400,000.
Perhaps Hunter Biden can be his father's new crack czar - for which he's infinitely more qualified than serving on the board of a Ukrainian energy company.
Joe Biden & Hunter Biden on crack pic.twitter.com/wwWZfSeN64

— The Master Plan (@MasterPlan216) January 3, 2022