---
CDC Data Show 'Most Important Virus You've Never Heard Of' Surged This Spring
Authored by Jack Phillips via The Epoch Times (emphasis ours),
Human metapneumovirus, or hMPV, has risen across the United States this winter and spring, according to recent data published by the U.S. Centers for Disease Control and Prevention (CDC).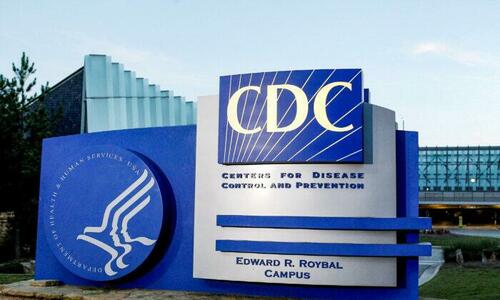 The percent of tests positive for hMPV increased 19.6 percent for antigen and 10.9 percent for PCR tests at the start of March, when the virus surged this year, the CDC data shows. Around the same time, the percentage of positive COVID-19 and respiratory syncytial virus, or RSV, stood at 7 percent and 2 percent, respectively.
"That peak itself is about 36 percent  higher than what is normally seen before the pandemic," Dr. Bruce Lee, a professor of health policy and management at City University of New York School of Public Health, told ABC News this week.

"So, it's an indirect way of getting a sense of the prevalence of hMPV infections out there. It does suggest that there is at least significant activity."
The virus causes generally mild symptoms for most people and goes away on its own, without any need for additional treatment.
The virus, discovered in 2001, can cause upper and lower respiratory disease, but it especially impacts older people, young children, and those with compromised immune systems, according to the CDC. It says that cough, fever, nasal congestion, and shortness of breath are the primary symptoms.
But it noted that "clinical symptoms of HMPV infection may progress to bronchitis or pneumonia and are similar to other viruses that cause upper and lower respiratory infections. The estimated incubation period is 3 to 6 days, and the median duration of illness can vary depending upon severity but is similar to other respiratory infections caused by viruses."
Dr. John Williams, a pediatrician at the University of Pittsburgh, said that hMPV isn't well-known and claimed it is "the most important virus you've never heard of." And blood tests, he said, show that most children have had it before the age of 5.
RSV, influenza, and hMPV are " the three major viruses," he told CNN. "Those are the big three in kids and adults, the most likely to put people in the hospital and cause severe disease, most likely to sweep through nursing homes and make older people really sick and even kill them."
Read more here...
Loading...