---
Court Rejects Johnson & Johnson Bankruptcy Strategy For 1000s Of Baby-Powder Lawsuits
Authored by Jack Phillips via The Epoch Times,
A U.S. court on Monday rejected pharmaceutical company Johnson & Johnson's bankruptcy strategy to resolve billions of dollars in lawsuits that alleged the firm's talc products cause cancer.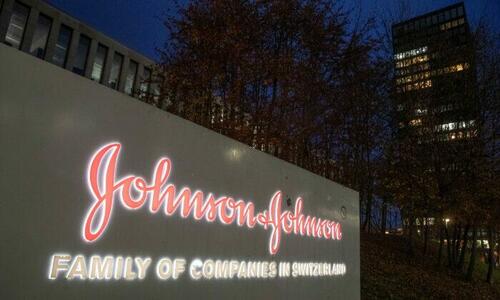 A decision handed down by the U.S. Third Circuit Court of Appeals in Philadelphia dismissed a Chapter 11 petition filed by a recently created J&J subsidiary LTL Management in October to address more than 38,000 lawsuits from plaintiffs alleging the company's baby powder and other talc products caused cancer.
Before the bankruptcy filing, J&J faced costs from $3.5 billion in verdicts and settlements, including one in which 22 women were eventually awarded a judgment of more than $2 billion, according to court records.
"Applied here, while LTL faces substantial future talc liability, its funding backstop plainly mitigates any financial distress foreseen on its petition date," wrote a three-judge panel on Monday.

They noted that "good intentions" like protecting the "J&J brand or comprehensively resolve litigation … do not suffice alone," they wrote.
A spokesperson for the company, which manufactures Tylenol as well as a widely used COVID-19 vaccine, said J&J will appeal the decision. The spokesperson maintained that the company's talc products are safe and don't cause cancer.
"As we have said from the beginning of this process, resolving this matter as quickly and efficiently as possible is in the best interests of claimants and all stakeholders," J&J spokeswoman Allison Fennell told news outlets in response to Monday's ruling.

"We continue to stand behind the safety of Johnson's Baby Powder, which is safe, does not contain asbestos, and does not cause cancer."
The decision throws into doubt J&J's long-planned strategy for disposing of talc litigation after it lost a bid to reverse a watershed verdict that eventually awarded more than $2 billion to 22 women who blamed their ovarian cancer on baby powder and other talc products.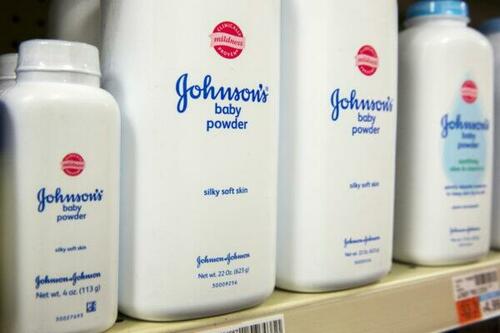 Bottles of Johnson & Johnson baby powder line a drugstore shelf in New York, on Oct. 15, 2015. (Lucas Jackson/Reuters)
Attorneys for people who claim J&J's products caused their cancers welcomed Monday's ruling.
"The Third Circuit's decision is a point-by-point rejection of J&J's attempt to pervert the bankruptcy system and trample the constitutional right to a jury trial of all Americans harmed by deadly products," Jon Ruckdeschel, a lawyer representing victims of mesothelioma, said in a statement to the Financial Times. 

"Bankruptcy courts are for honest companies in financial distress, not billionaire mega-corporations like J&J, 3M, and Koch Industries that seek to close courthouse doors to their victims."
Last September, attorneys representing some 7,000 talc personal-injury claimants wrote (pdf) that "bankruptcy court relied on unsupported speculation and improper evidence" and "used unfounded estimates."
A legal scholar with the University of Richmond told the paper that J&J will now have to appeal to the U.S. Supreme Court. "The only prospect left for J&J is an appeal to the Supreme Court," Carl Tobias said, "which grants review in a minuscule percentage of appeals."
A jury in Missouri ordered the New Jersey-based company to pay some $4.7 billion in damages to dozens of women who asserted their cancer was caused by the company's talc products. The company appealed to cut the payout in half, but it has still paid more than $2 billion in damages.
More than 1,500 talc lawsuits have been dismissed without J&J having to pay anything, and the majority of cases that have gone to trial have resulted in defense verdicts, mistrials, or judgments for the company on appeal, according to the J&J subsidiary's court filings.
Since the lawsuits prevailed, J&J has stopped selling its talc baby powder in the United States and Canada. It will phase out sales of those products around the world in 2023.
As of Monday's close, J&J's stock price was down nearly 4 percent on extremely high volume...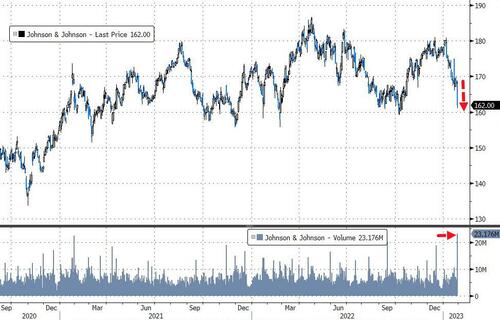 ...it's largest drop since June 2020.
Loading...