---
COVID-Narrative Dissenters File Lawsuit Against Legacy Media Over Coordinated Censorship
Authored by Bill Pan via The Epoch Times (emphasis ours),
A coalition of outspoken critics and skeptics of the mainstream narratives on COVID-19 has brought an antitrust lawsuit against some of the world's largest news organizations, accusing them of working in collaboration to suppress dissenting voices surrounding the pandemic.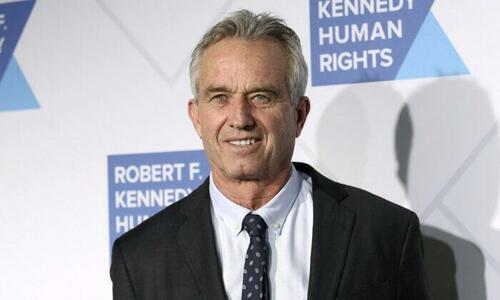 The lawsuit (pdf), filed on Tuesday in a federal court in Texas, targets The Washington Post, the British Broadcasting Corp (BBC), The Associated Press (AP), and Reuters—all of which are members of the "Trusted News Initiative (TNI)," a self-described "industry partnership" formed in 2020 among legacy media giants and big tech companies.
"By their own admission, members of the TNI have agreed to work together, and have in fact worked together, to exclude from the world's dominant internet platforms rival news publishers who engage in reporting that challenges and competes with TNI members' reporting on certain issues relating to COVID-19 and U.S. politics," the complaint reads.
Robert F. Kennedy Jr., a critic of the Biden administration's COVID-19 vaccination policies, led the lawsuit. He is joined by Creative Destruction Media, Trial Site News, Truth About Vaccines founders Ty and Charlene Bollinger, independent journalist Ben Swann, Health Nut News publisher Erin Elizabeth Finn, Gateway Pundit founder Jim Hoft, Dr. Joseph Mercola, and Ben Tapper, a chiropractor.
The plaintiffs, the lawsuit alleges, are among the many victims of the TNI's "group boycott" tactic, defined as a coordinated effort to facilitate monopoly by cutting off the competitors' access to supplies and necessities.
In this case, the TNI members are accused of engaging in group boycott—in concert with their big tech partners—against small, independent news publishers by denying them access to internet platforms they need to compete and even survive in the online news market.
"As a result of the TNI's group boycott, [the plaintiffs] have been censored, de-monetized, demoted, throttled, shadow-banned, and/or excluded entirely from platforms like Facebook, YouTube, Twitter, Instagram, and Linked-In," the lawsuit states.
For example, the lawsuit claims, TNI members have been working with Big Tech to censor what they condemned as "misinformation," such as reports that COVID may have originated in a laboratory in the Chinese city of Wuhan, that the COVID vaccines do not prevent infection, and that vaccinated people may still transmit COVID to others.
This alleged effort to establish a dominant media narrative by shutting off nonestablishment outlets, according to the lawsuit, has violated both federal antitrust and freedom of speech laws.
"Federal antitrust law has its own name for this kind of 'industry partnership,'" the lawsuit states. "It's called a group boycott and is a per se violation of the Sherman Act."
Read more here...
Loading...